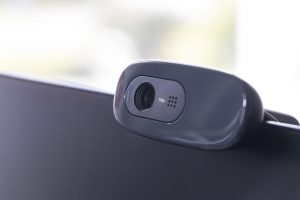 The evolution of webcams has come a long way. From the early days of analog video to the high-definition digital webcams of today, the quality of webcam recordings has increased exponentially. 
We no longer have to worry about poor video quality or laggy recordings. And we can say goodbye to squinting and watching ourselves on a blurry screen. As online video production and video calls become essential to most organizations, we need high quality webcams now more than ever before. 
So which webcam should you buy? What should you look for when choosing one? And what are the best webcams to meet your specific video needs in 2023? This blog post will dive into the wonderful world of webcams to answer all of the above questions, and more. 
How webcams impact video quality
It's difficult to have a high-quality video without a high-quality webcam. It's that simple. Your webcam is responsible for the clarity of the picture and the overall quality of your video. When you're recording a webcam, the last thing you want is a blurry, pixelated picture. 
For example, one of the most important factors to consider when choosing a webcam is the resolution. The higher the resolution, the clearer and more detailed the picture will be. In contrast, more basic, lower-quality webcams have lower resolutions and frame rates. This means that they can't capture as much detail as some of the best webcams available, resulting in a blurrier picture. 
Built-in vs. external webcams
One of the first decisions you'll need to make when choosing a webcam is whether to go with a built-in webcam or an external webcam that you purchase separately.
Built-in webcams include a laptop webcam or monitor with built-in webcam. A default laptop or desktop webcam is typically lower quality than external webcams. Not everyone who purchases a computer or monitor will be recording videos or need a quality webcam so manufacturers often incorporate a more basic, more affordable webcam monitor that's compact.
Built-in webcams are usually good enough for most purposes. For example, if you're only going to be recording webcam videos for personal use, such as Skype calls or YouTube videos, then a built-in webcam will probably suffice.
On the other hand, if you're looking to record professional-quality videos with your webcam, such as for a webinar, conference, or tutorial, then you'll likely want a separate device. Many external webcams are specifically designed for video recording, and as such, they have much higher quality lenses and sensors. 
Some people record their webcam and computer screen at the same time by using a screen recorder. This can be useful if you want to show your audience what's on your screen while you're talking. You can choose to record just your webcam as well if you prefer.  
What to look for in the best webcams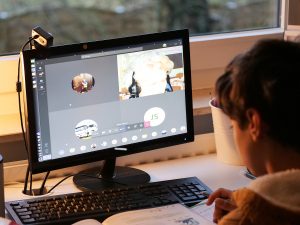 Not all webcams are created equal. Many factors differentiate one from another, such as price, resolution, frame rate, autofocus, brightness, color correction, and more.
Let's take a look at some of the most important factors to consider when choosing a webcam in 2023 for your video recordings.
1. Price
For those on a budget, it's essential to consider the webcam's price.
You can find webcams for as little as $20, but those are usually of lower quality. As we mentioned earlier, a low-quality webcam is likely to have a lower resolution, which means that the picture will be less precise. In addition, it may have a lower frame rate, which means that the video will be less smooth.
If you're looking for a high-quality webcam, you can expect to pay anywhere from $50 to $290, or even higher if you want a top-tier model. Of course, the price will also depend on the features and specs of the webcam. It may be evident to most, but it's important to remember that you get what you pay for when it comes to webcams.
If you're planning on screen recordings or video editing for your organization, don't skimp on quality just to save a few bucks. It's not worth it in the long run. Clear, high-quality videos are more engaging and easier to watch, especially when it comes to training videos, promo videos, slideshow videos, and other business videos. 
2. Resolution
As we mentioned before, resolution is one of the most important factors to consider when choosing a webcam. The resolution is how many pixels the webcam can capture, and the frame rate is how many frames per second it can capture. The higher the resolution and frame rate, the better the video quality will be.
3. Frame rate
The frame rate is how many frames per second the webcam can capture. The higher the frame rate, the smoother the video will be. 
4. Autofocus
Autofocus is the webcam's ability to adjust the focus of the lens automatically. This is important because it ensures that the picture is always clear, even if you move around in your webcam recording.
It's worth noting that not all webcams have this feature, so if it's something you're looking for, be sure to check for it before making your purchase. You may not think it's important now, but trust us, you'll be glad you have it once you start recording videos.
5. Brightness
Believe it or not, webcam brightness plays a significant role in the quality of the video, especially if you don't have lighting carefully set up when recording your video.
A bright webcam will produce a clear and vibrant picture, while a dim webcam will produce a dark and dull picture. If you're going to be recording videos in low light conditions, it's especially important to have a bright webcam.
You want to aim for a webcam with an adjustable brightness level so that you can easily change it depending on the lighting conditions.
6. Color correction
Have you ever noticed that some videos look more natural than others? That's because of color correction. Color correction is the process of adjusting the colors in a video to make them look more accurate. It can be the difference between a video that looks dull, and a video that looks vibrant and full of life.  
7. Clip/Stand
The type of clip or stand that comes with the webcam is also worth considering. Some webcams come with a standard clip that you can attach to your monitor or laptop. Others come with a more flexible stand that you can position however you want.
The webcam location is typically a matter of personal preference, especially considering how much space you may have at your workstation or the lighting of your room.
8. Lens
Some of the best webcams available in 2023 have lenses that are specifically designed for video recording.
The lens is what captures the image, so a good lens will make a big difference in the quality of the video. If you're serious about recording high-quality videos, then we recommend getting a webcam with a high-quality lens, often glass rather than plastic.
9. Microphone
If you're planning on recording videos, then a high quality microphone can be just as important as your webcam. Similar to an external webcam, you may want to consider a dedicated external microphone for the highest quality audio. However, a microphone built into a webcam could be a step up from the computer's internal microphone. You can test your mic to ensure it suits your video and screen recording needs.  
Now, while this is an optional feature, getting a webcam with a built-in microphone can help provide you with better audio in addition to a clearer picture for your webcam recordings.
10. Lighting
Last but not least, we have lighting. If you're going to be recording videos in a low-light environment, then it's especially important to have additional lighting for your webcam. But even if you're recording in well-lit conditions, additional lighting can still help improve the quality of the video. 
Some of the best webcams in 2023 also include a built-in ring light to help improve the lighting of your video as well, though this feature typically comes at a higher cost. You can also try our free webcam test to ensure your camera is fully compatible with our screen recording software.
What are the best webcam features for recording videos?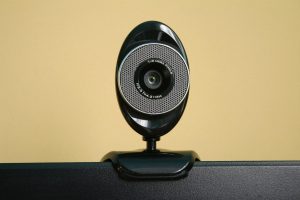 Now that we've gone over some of the key features to look for in a webcam, it's time to answer the question: which specs are most important for recording webcam videos?
The three main features that will likely have the best impact on your video quality include: resolution, frame rate, and autofocus. But there are also special considerations that you need to take into account, such as your room lighting, as well as the make and model of computer you're using.
You will want to find a webcam that's compatible with your computer's operating system, especially if you're using a Mac or Linux computer. It's all in the details, so ensure you find a webcam that's compatible and has the features that you need.
Websites that offer the best webcams
There are many websites that sell webcams, but one of the most popular is Amazon. Amazon is one of the largest online retailers in the world, so they have a huge selection of products to choose from. Not to mention, product prices are often cheaper than buying directly from the manufacturer.
Another benefit of Amazon's popularity is that there are often many customer reviews you can read before making a purchase. This is a great way to get an idea of what other people think of the product, and it can help you make a more informed decision.
Websites like Best Buy and Newegg are also popular retailers to buy webcams. They may have a smaller selection than Amazon, but they're still worth checking out, especially to see if they have any exclusive models or deals available at the time of your purchase.
How to find the best webcam deals
Bargain hunters, rejoice! If you're serious about finding the best deal on a webcam, then you'll be happy to know that there are a few common ways to do it.
Holiday deals:

One of the best times to shop for webcam deals is during the holiday season. Many retailers offer discounts on electronics during Black Friday and Cyber Monday, so this is a great time to buy a new webcam. Just be sure to compare prices across different retailers before making a purchase.

Wait for a sale:

Another way to find deals is to wait for a sale. Many retailers have sales throughout the year, so it's worth checking their websites periodically to see if there are any good deals on webcams if you're not in a hurry to make a purchase.

Amazon Prime Day:

Amazon Prime Day is also a great time to find webcam deals. This annual event is where Amazon Prime members can get exclusive discounts on various products, including electronics. If you're an Amazon Prime member, be sure to keep an eye out for webcam deals during this time. Even if you're not an Amazon Prime member though, many other retailers will offer discounts at this time as well in order to compete with Amazon's prices.

Coupon codes:

Lastly, when you check out, you can try using coupon codes. Many retailers or manufacturers offer coupons and promo codes at times to provide an extra incentive to buy. Just do a quick search online for "coupon codes" before you checkout, and you may find a code you can use for the brand you are looking at.
Best webcams in 2023 by category
Best Webcam Overall: Razer Kiyo Pro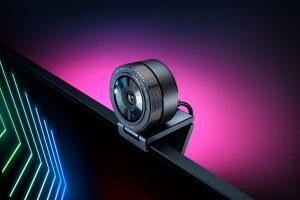 The Razer webcam family is a force to be reckoned with, and the Kiyo Pro is their newest and best webcam yet. It's designed for gamers and streamers and other high end professionals, so it has all the features that you need to look your best when recording webcam videos.
First, the Kiyo Pro has a resolution of 1080p, which is great for high-quality recordings. It also has a fast refresh rate of 60fps, making your videos look smooth and fluid. The Kiyo Pro also has built-in lighting, so you'll always look well-lit no matter what time of day it is. And if that's not enough, you can even add an external light source to really make yourself stand out. 
The Kiyo Pro also has fantastic software that lets you customize your settings and add special effects. You can even use the webcam software to create custom backgrounds, so your viewers will always be impressed with your setup.
In addition, three different fields of view make this best webcam perfect for any situation. Whether you're recording a tutorial, in a work meeting, or just chatting with friends, the Kiyo Pro will help you look your best.
The Kiyo Pro is pretty expensive compared to many other webcams. But if you're serious about streaming or creating videos, then it's definitely worth the investment. If you are on a budget and looking for something more affordable, there are other webcams that could meet your needs.
Specs:
Connection type: USB-A 3.0
Image resolution: 2.1 Megapixels
Video Resolution: 1080p @ 60/30/24FPS / 720p @ 60FPS / 480p @ 30FPS / 360p @30FPS
Video encoding: H.264 codec
Still Image Resolution: 1920×1080
Image Quality Settings Customization: Yes
Diagonal Field of View (FOV): 103°, 90°, 80°
Focus Type: Auto or manual
Mounting Options: L-shape joint or Tripod
Cable Length:

1.5 meters braided cable
 Features:
Autofocus

Super sharp and smooth

Fully customized profiles via Razer Synapse

Flexible mounting options

Plug and play

Complimentary Razer Virtual Ring Light when you buy the Razer Kiyo Pro from Razer

1-year warranty

Price:

$199.99 (currently on sale for $99.99) on Razer's website

(price checked 8/31/23)
Best Webcam for PC: Logitech C920s Pro HD
You've likely seen the Logitech C920s before. It's one of the most popular webcams on the market, and for good reason. It's one of the best webcams for Zoom calls, Skype calls, and just about any other type of video call. But it also works great for recording videos and streaming games.
The Logitech C920s has a resolution of 1080p and a refresh rate of 30fps, which meets the needs of most video creators. Similar to the Razer Kiyo Pro, this webcam comes with customizable backgrounds and avatars, along with a privacy shutter that allows you to block the camera when you're not using it.
Use Logitech's webcam software to easily adjust the webcam's settings, including the field of view, focus type, and image quality. You can also use the software to add special effects to your videos.
The C920s is compatible with all major video conferencing platforms, including Zoom, Skype, Google Hangouts, and more. It's also very easy to set up and use, so you'll be ready to go in no time.
The Logitech C920s is more affordable than the Razer Kiyo Pro, and definitely worth the investment if you're looking for a high-quality webcam.
Specs:
Max Resolution:

1080p/30 fps – 720p/ 30fps

Camera megapixel:

3

Focus type:

Autofocus

Lens type:

Glass

Built-in mic:

Stereo

Mic range:

Up to 1 m

Diagonal field of view (dFoV):

78°

Digital zoom:

1.2x

Tripod-ready universal mounting clip fits laptops, LCD or monitors 1

Tripod not included
Features:
Best Webcam for Mac: Elgato Facecam
If you have a Mac, then you know that the built-in webcam is pretty basic. Most Macs only provides 720p resolution on their webcam, which can be outperformed by many external webcams on the market.
Enter the Elgato Facecam. This webcam is specifically designed for Mac users, creators, and streamers. Unleash your creativity with the Elgato Facecam's 1080p resolution, 60fps refresh rate, and 78° field of view.
With eight built-in lenses, users can easily switch between four different FOV settings. This allows you to find the perfect setting for any situation.
This is one of the best webcams for Mac users. The simplicity of the design makes it easy to set up and use. The Elgato Facecam also comes with a convenient carrying case, so you can take it with you on the go.
Specs:
Connection type:

USB-A 3.0, type C

Focus Type:

Fixed

Focal length:

30cm – 120cm

Video Resolution:

1080p at 60 fps max

Microphone:

No

Image Quality Settings Customization:

Yes

Diagonal Field of View (FOV):

82° (diagonal)

Mounting Options:

L-shape joint, Tripod
Features:
Best 4k Webcam: Lumina 4K AI Webcam
Who could've ever imagined a webcam powered by artificial intelligence? Well, the future is now with the Lumina Smart AI-Powered Webcam. This webcam uses AI to enhance your video quality in real-time, providing you and your viewers with a powerful and engaging experience.
The Lumina Smart AI-Powered Webcam comes with a built-in sensor that automatically adjusts the webcam's focus, white balance, and exposure. With this webcam, you'll never have to worry about your videos being too dark or blurry. You'll also be able to take advantage of the webcam's night vision mode, which is perfect for recording videos in low-light conditions.
If you want to take your online meetings and webinars to the next level, you need Lumina in your corner. Users can record and stream in stunningly clear 4096 x 23040 resolution at 40 frames per second. This webcam also features face tracking, so you'll always be in focus no matter where you move. 
What's even more impressive is that Lumina uses proprietary technology to intelligently remove background noise and optimize your audio in real-time. So whether you're participating in a video call or recording a webcam video, you can be confident that you'll sound your best.
Specs:
Maximum Resolution:

4K @ 30fps

Minimum Resolution:

1080p & 720p up to 40fps

Megapixels:

8.3 MP

Sensor Type:

24.84mm² 4K SONY Sensor

Lens Type:

5 Element Glass Lens

Field of View:

Configurable 65-95 Degrees

Mount:

1/4" Tripod Compatible

Body Dimensions:

22 x 22 x 70 mm
Features:
Powered by modern AI

Deep Fusion activates in mid- to low-light scenes.

1-year limited warranty

One-step setup

Adaptive color correction system

Ultra-wide camera

Depth-sensing technology

Focus on you mode

AI Cameraman follows you throughout the call

Current Price:

$250 (currently on sale for $175

) on Lumina's website

(price checked 8/31/23)
Best 1080p Webcam: Obsbot Tiny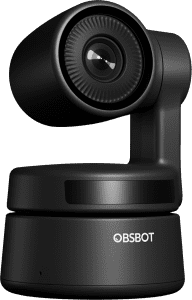 The Obsbot Tiny is one of 2023's best webcams. Seriously, this little guy packs a big punch. The Obsbot Tiny is perfect for vloggers, gamers, and video content creators who are ready to enter the world of 1080p video recording and streaming.
What started as a Kickstarter project a couple of years ago has quickly become one of the most popular webcams on the market. Full HD 1080P at 30fps, this webcam gives you the power to record and stream high-quality video content without breaking the bank.
Auto tracking and auto framing give users the ability to move freely while still being in the frame. At the same time, the premium sensor ensures that your videos are always crisp and clear. Obsbot Tiny webcam uses HDR and auto-exposure (AE) technology to ensure that every aspect of the view is displayed correctly. Whether you're in bright or low light, you'll always look great on camera.
Advanced gesture control and facial recognition software make it easy to take control of your webcam without ever having to touch a button. Instead, simply wave your hand in front of the camera to activate various functions. The Obsbot Tiny also features an integrated microphone that uses noise reduction technology to ensure that your audio is always clear and free of background noise.
Finally, sleep mode ensures that your webcam only turns on when you need it. This not only saves you energy but also protects your privacy when you're not using the webcam.
Specs: 
Max video resolution:

1080p/60 fps, MJPEG, H264

Supported resolutions:

3840×2160, 1920×1080, 1280×720, 640×360

Zoom:

2x

Focus Type:

AF/MF

HDR:

Yes

FOV(D):

86°

Built-in Audio:

Built-in dual Omni-directional mics with noise reduction
Features:
Plug and play

Magnet mount

¼" Interface

OBSBOT TinyCam software

Auto sleep

Motion mode

Headroom mode

Advanced gesture control

Face Focus

AI-powered convenience

HDR and auto-exposure (AE) technology

1080p Resolution

1/2.8 image sensor

Price: $269 (currently on sale for $199.00) from Obsbot's Website (price checked

8/31/23)
Best Budget Webcam: NexiGo N60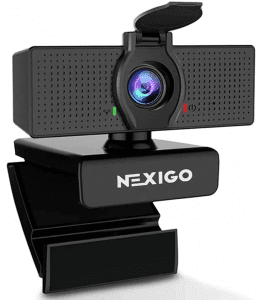 Last but certainly not least, we have the NexiGo N60. This webcam is perfect for anyone on a budget who doesn't want to sacrifice quality or features. The NexiGo N60 records and streams in full HD 1080p at 30 frames per second, but is more optimized for group calls within its 110-degree viewing angle.
NexiGo offers some basic software assistance to adjust colors and contrasts. Additionally, the microphone is rather effective in picking up your voice while drowning out any unwanted background noise.
Similar to its competitors above, the NexiGo N60 has a Full HD 1080p sensor, but at a little more budget-friendly price. However, it's essential to bear in mind that there is no HDR support or low-light compensation, so if you're planning on using this webcam in a dimly lit room, be aware that your image will likely suffer as a result.
The NexiGo N60's biggest selling point is the price point. At under $40, this is one of the most affordable webcams on the market. If you're looking for a good-quality webcam that enables you to participate in video calls and record videos without breaking the bank, the NexiGo N60 is a great option.
Specs:
Max Video Resolution:

1920×1080 @30fps.

Sensor:

1/2.9″ 2.0 megapixel CMOS image sensor.

Video mode:

MJPEG/H.264/H.265.

Field of View:

D =110°
Features:
Automatic white balance and contrast optimization

High-quality glass lens

Built-in noise-canceling microphone

Plug & play – drivers load automatically

Current Price:

$39.99 on NexiGo's website

(price checked 8/31/23)
Record Your Webcam With ScreenPal
If you're looking to create high quality video recordings, you'll also want a high quality screen recorder and video editor. Our ScreenPal webcam recording software is easy to use and comes with a wide range of features, which vary by plan, to best meet your needs:
Choose to record your webcam, screen, or both

Capture any part of your screen and start recording

Move and size your webcam for picture in picture effect

Narrate as you record

A user-friendly interface

A wide range of video editing tools

Add stock music and captions to your recording

Trim and crop your video

One click to save to computer or upload to ScreenPal's video hosting platform

And much more!
Whether you need to edit your videos, add captions, or anything else, our webcam recording software has you covered. Plus, we have a free version that you can try before you buy, as well as a variety of paid plans for individual and team, so you can ensure that it's the right fit for you. Don't forget to try our free webcam test to ensure your camera is fully compatible with our screen recording software.
Now go out there and start creating amazing videos!