Editing your videos doesn't have to be a hassle. With a few easy-to-learn techniques and a little help from ScreenPal's Video Editor, you can start creating high-quality videos in no time.
Throughout my career in video production, I've often had tight deadlines for video projects. Believe it or not, most of the time needed to produce a video is spent on editing. It's a creative endeavor, and you can easily waste a ton of time perfecting every single scene.
Let's not waste any more time! Follow these five beginner-friendly tips to make your next video shine.
1.  Have a plan of action for editing videos
Isn't it great when you can save yourself time and prevent doing extra work? (Answer: Of course it is!) That's why we recommend using a script.
Let's say you filmed your video, and when you go to edit it, you realize you left out an important point. Now you have to go back and record some more, or add that point in some other way. 
Working with a script will prevent situations like this one. With a video script, you can organize your thoughts, stay on message, and save yourself from making extra edits later.
2.  Get the right video editor for you
Find a video editor that suits your needs. It's okay if you've never edited a video before. You can do this! 
Just choose a user-friendly option that fits your budget. With ScreenPal, you can enhance videos for free.  Cut, crop, or resize your video.  You can also add overlays including images, text, and more! 
Don't pay extra for fancy features you won't actually use. Get it for free with ScreenPal.
3.  Organize the chaos
When editing a video, sometimes you'll have three clips to work with, and other times you may have 20 or more. In either case, know exactly which video and audio clips you want to use.
I can't tell you how much time I wasted because I didn't label a clip before I started editing. Have them organized and labeled correctly. Just take a few minutes to go through all the content you want to add to your video. This could save you hours of editing time.
4.  Choose your audio 
Decide how you will use narration
Silence is sometimes golden in a video, but often you'll need voice narration to convey your message.   There are several ways to narrate a video. You can record your own voiceover, or get a colleague or friend to do it for you. For variety, you could even have multiple people record their narration. Make sure your video editor supports these options.
Enhance your video with music
Adding music to your video will get your audience to connect with your video on an emotional level. For example, do you want your video to convey a happy tone? Then choose music that uplifts you and makes you feel joyful.
Just make sure the music isn't too loud, or it could prevent viewers from being able to hear your narration. 
5.  Use Animation Strategically
Animation can be a powerful tool to emphasize a point or take the viewer through a journey.   Having arrows or text pop up during your video, or using transitions between scenes can help hold viewers' attention. Just be careful to use this tip sparingly, as too many animations can distract your audience.
Keep Practicing
There are so many ways to visually tell a story. The more you practice, the easier and faster it will get. 
Editing videos on ScreenPal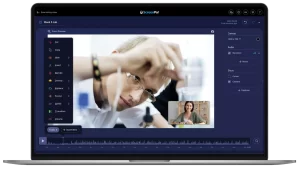 ScreenPal's Free Video Editor takes the guesswork out of editing. It's easy to use, full of helpful features, and affordable. I've spent years editing on various systems and ScreenPal has the easiest one around.
As a Deluxe user, you have full access to the video editor and all of its awesome features. You can insert video clips, narrate with your own voice, add music and even overlay text or images in your video.
All you have to do is click 'Edit' and you have access to the 'Tools' menu for a list of options.
These editing tips will get you off to a great start. You can find even more inspiration on our blog.