Video has become a powerful and essential part of modern communications. From education to business, videos help people communicate, collaborate and share impactful messages. ScreenPal's suite of intuitive video creation tools makes it easy for anyone, anywhere to create videos.  The All-In-One Video Editor, matches the needs of video creators of all kinds whether they are beginners or experts in video creation. 
Let's take a deeper look at the video editor and how you can utilize its tools and features to enhance your video projects.  
Mix and Match Content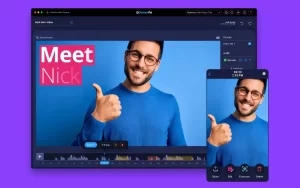 You can mix and match content by importing video files from your devices.  ScreenPal gives you the flexibility to import video from multiple devices including Windows or Mac.  Another great feature is ScreenPal's mobile screen recorder app.  It's a great way to capture your phone screen.  
You can import video from any of these devices and start editing them within the video editor.  You can also choose previous recordings you've created and add them to your editing timeline.  
Easy Tools In The All-In-One Video Editor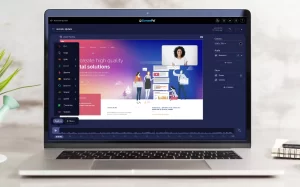 Discover all the tools within the ScreenPal Video Editor.  The toolset is located above the timeline and it has numerous options for you to choose from. Whether you are making cuts, controlling the speed, or adding overlays to your video, it's easy to edit these into any video project.   All you need to do is select the tool and implement it into your editing timeline.  Here are a few we've highlighted:
Cut 
Cutting and trimming your video is one of the most important steps in the editing process. Cutting video lets you select parts of a video you don't want.  ScreenPal makes this a simple and intuitive process within the video editor.  All you need to do is select 'Cut' to make precise edits to your video.
Transitions
If you want to add a bit of creativity to your video, transitions are great to use.  Video creators can use compelling transitions like swipe, push, slide, and wipe. For a distinctive look, transitions like circle, diamonds, and wave can be stylish and fun choices.  The video editor has dozens of transitions to choose from.  You can choose transitions to fit the 'mood' of any video.  
Overlays
ScreenPal's video editor is equipped with a number of overlay options to enhance your video.  You can add shapes, arrows, images, and more!  
Rich Text – Personalize titles and text with Overlay Rich Text.  You can change the color of words or whole sentences, change the font, adjust the size, and customize the background color of text boxes.  You can even adjust the alignment of your text.  There's so much you can do with rich text.
Images – You can add any image to your video just by adding this overlay.  There are additional options to adjust the shape or add borders to your images.
Zoom and Highlight – Users may want to highlight certain areas of their video.  The video editor gives you the ability to highlight or zoom on any area of your video. 
Blur – Users may want to 

obscure certain details in their video such as people's faces or personal information including email addresses. You can blur sections of your video with ease just by selecting the Overlay Blur tool.
There is so much you can do with the overlay options in the video editor.  Custom-colored arrows, lines, and geometric shapes can also be added.  All of these can enhance any video. Even better, you can animate overlays to move from one area of your video to another—this adds visual movement and helps engage viewers.
Stock Library For Any Video Project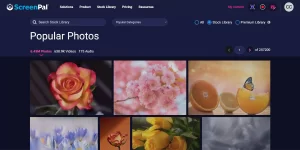 Need more visuals to enhance your video project?  Turn to ScreenPal's Stock Library. It's filled with hundreds of thousands of images and videos to enhance your work.  You can select a high-definition video or images from the stock library.  Incorporate eye-catching imagery into a social media campaign or a marketing video.
You can easily add stock images and video through the editing toolset.  For images, choose 'Overlay Image,' and for video, choose 'Insert Video.'  You'll be directed to the stock library to choose your visuals.  To take advantage of this feature, you'll need to be a Premier plan user.
Remove Your Background With Green Screen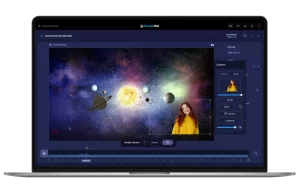 Green screen allows users to customize their videos backgrounds with ease.  They can remove their background and replace them with preferred imagery.
For instance, an astronomy teacher might add a background of planets and stars to a lecture video to increase student interest. Businesses can find green screens valuable in presentations, too. The uses for green screen (also known as chroma key) are nearly unlimited, and they all increase interactivity and add a personalized touch to your backgrounds.
Save, Share and Publish Your Videos With Ease
Once your video done, it's time to share it with your audience.  ScreenPal makes it easy for anyone to share and publish their videos.  With just a few clicks, you can share your video directly on a YouTube channel, Google Drive, Dropbox or Vimeo account.  You can also share video links directly on Facebook, Twitter or an email message.  
For those who want to save their video, there's an option to save it as an mp4 file.
Take advantage of all the great features that this video editor has to offer.  You have access to create amazing videos within minutes!