Record, edit, and share mobile screen recordings with the top-rated ScreenPal Android Screen Recorder App.  The free app allows you to screen record on Android devices to quickly capture your screen and overlay your Facecam to create high-quality videos.  
The Android Screen Recorder is loaded with easy-to-use features similar to ScreenPal's iOS app.  Both mobile screen recorders are useful in a variety of situations.  Here's a list of the features and how you can use them in your workflow.
Enhanced mobile screen recording

The ScreenPal Android Screen Recorder App includes many of the same exciting features as our industry-leading desktop screen recorder, with the added flexibility of being able to easily record on-the-go with your Android phone or tablet.  Key features include:
There's no time limit on recordings, so record as long as you want.

Record as many videos as you want.

You can record audio narration to go along with your screen recording.
Add Facecam reactions
Create picture-in-picture videos when you screen record on Android with your Facecam as well as your phone screen. Adjust the location of your Facecam on the video, and more, to compliment the information on your screen.
For a personal touch, add Facecam to your recordings.

Add Facecam to the entire video, or select the parts where you want to show your face.

Drag to reposition the Facecam where you want it.  
Enhance your videos
The Android screen recorder allows you to select the size of the screen to capture, as well as adjust the length and speed of your recording, so you can focus on the information that's most important for your video. Features include:
Trim your videos. 

Crop videos with presets for easy social sharing or apply a custom crop.

Adjust the playback speed.

Rotate your videos.
Manage and share your videos
When you screen record on Android, you can upload your videos online and share them with others using ScreenPal's content hosting platform. Manage all your videos, from all your devices, in one location with your hosting account.
Import videos from your device's camera roll.

Upload your videos to ScreenPal's hosting platform.

Share through the apps you already use on your phone, like YouTube, Facebook, and more.
Edit your videos on multiple devices
With a premier plan and above, you can transfer and easily edit your recordings with our desktop video editor as well. Import and customize your video to make it more engaging for your audience. With a premier plan or above, you can:
Use one account across multiple devices including Windows, Mac, Chromebook, and iPhone/iPad.
Automatically transfer your mobile recordings to the full-featured desktop video editor

to further enhance and personalize your videos.

Mix and match videos, add music, overlays, motion and more with the ScreenPal video editor. 
Communicate and collaborate with the Android screen recorder app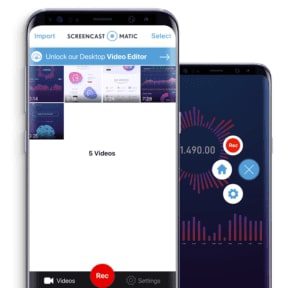 It's easy to bring mobile screen recordings into your workflow.  You can record and share your phone screen to easily communicate with your team.  Record quick videos to share your thoughts or provide feedback on work projects.
At school, students can easily record videos for assignments and submit them to their teachers.  
Here are a few scenarios where a mobile screen recorder is helpful: 
A customer service representative can visually walk customers through apps, purchases or technical issues.

Easily show someone how to use an app or troubleshoot their mobile device.

Teachers can give students quick feedback while on the go.  
The easy screen recording app is also perfect for app demos, tutorials, video feedback, game walkthroughs and more. You'll soon discover there's so much you can do when you screen record on Android with ScreenPal.  
It's never been easier to create and share your own high-quality videos.  Best of all, it's free to use.  Download the Android Screen Recorder app to get started.