You've mastered the basics of video editing. Transitions and overlays don't scare you anymore, so what's next? Building your own custom animations.
You no longer need a separate program for recording videos, editing, and creating graphics. ScreenPal does it all. 
Most users have played around with basic tools in the video editor like overlaying an arrow on their recording. But many users don't realize that these overlays can be combined to create professional, clean custom animations.
Beginner Tricks to Animate Text, Shapes, and Images
The trick is starting simple.
Even beginners can design straightforward elements to complement their screencasts. Start by building a border or slide template similar to ones found in Powerpoint and Google Slides. 
The big difference? You can customize every aspect of your design to fit your company's brand with the video editor. Even basic elements can transform a quick recording into a polished presentation.
Custom Borders For Your Videos
Stick with basic shape overlays to start, like squares and circles. All shape overlays can be turned into a frame by selecting the outline option. 
Dig a little deeper by adjusting colors and shadows to create contrast making the frame around your video pop.
Slide Templates For Your Screen
Turn your entire screen into a graphic. Using a series of overlays, you can design a slide template perfect for starting and ending videos. 
Again, start with the overlay shape tool. Expand the square feature to cover your entire screen. Tailor the rest of your slide by importing your logo as an overlay image.
Intro and outro slides usually include a logo or company title, simple design elements, and possible text. 
It's important to play with the different shapes, settings, and design options to see what's possible. Experiment with the shape overlay tool and the freehand overlay to personalize your designs.
PRO TIP:
Limit your design pallet to three colors to maintain a professional look. Incorporate branding by matching your company's color to the video graphics. The video editor can create a precise color match by entering the hex code in your element's settings. 
Intermediate Level – Combine Editing Tools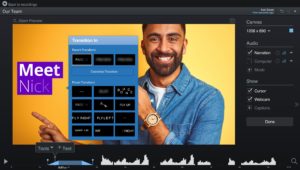 Expand on what you know by combining overlays to create entirely new design elements. Interlock shapes, lines, and freehand sketches to create your desired effect. 
Add Depth to Your Videos
Professional graphics usually feature an element of depth. The same visual effect can be created within the video editor. 
Each overlay automatically becomes its own layer. Rearrange these layers by moving to drag and drop them in the layer settings.
Another option is shadowing. You can add shadows to any overlay feature. Adjust the style and offset to create more dramatic effects. 
Become an Expert Editor In No Time
Create movie magic with your all-in-one editor by adding movement to your graphics. Most audiences won't be expecting it. So a quick animation is guaranteed to grab an audience's attention. 
Animation seems daunting to new editors. However, the payoff is worth the extra effort. Learning how to animate your design elements is a true wow factor.
Dazzle your audience by incorporating movement into presentations, video marketing, and social media posts.
The trick is to use animation sparingly and with purpose. Animate only a portion of your design elements. For example, use the edit points in the timeline to animate your company logo to expand across the screen. Or add seasonal special effects to your online marketing by adding falling snow in your social media videos.
Building Smarter Not Harder
Ideally, custom animations should be something you can use more than once. So save yourself time with this editing hack to design a template.
Launch the video editor and use the overlay shape tool to make a giant green screen. Construct your graphic or animation on top of that green screen and save it. 
Congratulations, you've created a template!
Now anytime you want to reuse a frame, custom design, or animation built on a green screen you can import it. Use the overlay image or video tool to import elements into a new project. 
You'll be able to remove the green background with one click. Check the remove color box in your settings. It's a spectacular feature used to give your graphics a transparent background. 
Now that's real editing magic because building a better video isn't harder if you're focused on building smarter.