It's time to earn a badge!  We are unveiling the ScreenPal Badge Certification Program. The program is designed for educators and is part of our partnership with the Flipped Learning Network.  It showcases educators from around the world and how they use video to engage students.  
The program consists of a series of videos.  Once you watch the videos and pass a short quiz, you'll receive an honorary ScreenPal badge to show off to your friends and colleagues.  
Beyond the Basics 
Earning a ScreenPal badge credential takes educators beyond how-to tutorials. The program focuses on how real-life educators are utilizing video. 
Within the course, you'll hear from teachers sharing creative ways they use video to engage students. Each section includes tips to easily create videos and what tools to use. Plus, you'll learn about the best features within ScreenPal's content creation tools to improve your workflow.   You'll also be well-versed in how to integrate video into any education level regardless of age, language barriers, or skill level.
Benefits of Receiving a Badge
Earning EdTech badges are an excellent way to set yourself apart professionally. Mastering a tool like ScreenPal shows added professional development.
"It is a personal accomplishment that shows professional growth without having to pay a lot of money out-of-pocket," explains third-grade teacher Angela Barnett. 
The California teacher is featured within the badge certification program. She uses video to prepare her third-graders for online standardized testing. Not only does Barnett embrace screencasting. Her students are creating videos too. 
Aside from expanding her skillset as a teacher, earning badges also increases Barnett's odds of presenting at EdTech conferences like the International Society for Technology in Education (ISTE).
What You Will Learn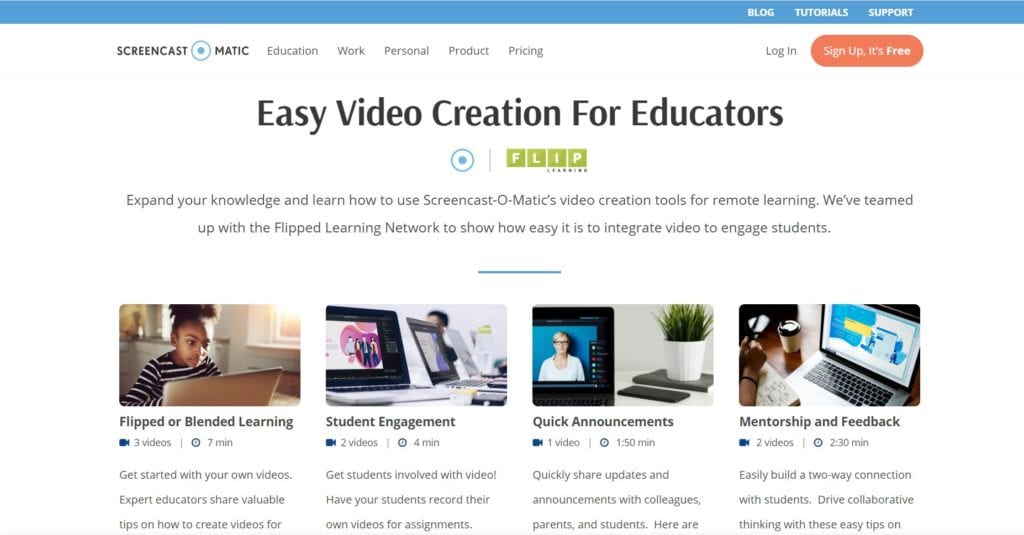 The ScreenPal Badge Certification Program is split into eight sections. Each section features a series of short videos. Don't worry, the videos are short!  They are less than 3 minutes each and the whole video series will take you about 30 minutes to complete.
Here's a quick description of each section and what you will learn.
Flipped or blended learning: You will learn the basics of video creation and how to effectively share it with students.
Student engagement: Learn from these educators and all the creative ways they use videos to engage their students.
Quick announcements: One teacher tells us how effective it is to turn the camera on and provide announcements to students and parents.
Mentorship and feedback: We'll walk you through video feedback and the tools you'll need to be successful.
Lecture capture: Recording your lectures can make great resources for students who need time to review courses, etc.
Professional development: If you're looking to create tutorials and share your knowledge with fellow teachers, you can easily create them with this tool.
Easy tools for class: Help students stay engaged. Here are a couple of tools to help you including the Google Chrome extension.
Teacher tips and tricks: A variety of different tricks to help you create accessible videos, utilize Google integrations, and/or use a green screen in your videos.
How-to Get Your ScreenPal Badge
Head to our 'Education Video Resource' page.  It's jam-packed with valuable information for educators including how-to guides, education-based articles, and more!
At the top, you will see the series of videos you'll need to watch to qualify for your badge. After watching the videos, you will be asked to take a 30-question quiz. Educators must earn at least an 80% or higher to get a ScreenPal badge.
If you pass, you will receive an email with your badge.  You will also receive a personalized Certificate of Accomplishment in a separate email.  It's that easy!
Good luck and happy badging!