One of the biggest challenges we hear companies struggling with during the pandemic is communication. As many teams continue to work remotely, it can be difficult to handle both internal and customer communications efficiently and in a genuine way. 
The best communication tools are easy to use for beginners, affordable, easy to integrate with services you already use (such as Zoom), and regularly updated to keep up with changing software requirements and trends. It should be easy to get your team up to speed with them quickly. 
Zoom Integration to Record and Edit Meetings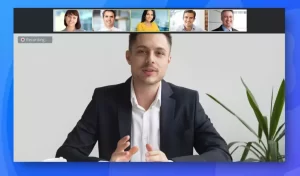 While we're all familiar with Zoom calls by now, there are a few things you can do to make them more effective and useful long term. 
Turn your meetings into shareable videos
With ScreenPal's Zoom integration, you can open your recorded Zoom meetings directly in the video editor. This is helpful in several time-saving ways. 
If you already record your team's important Zoom meetings, you may notice not everyone takes the time to watch them. That's because there's often a lot of dead space as folks filter in and out of the room or set up their presentations. Plus, it's possible parts of the meeting aren't relevant to everyone on the team. 
You can solve this problem by recording your meeting, opening it in the video editor, and making a few quick edits.
Trim out any awkward pauses to cut down the length of your video and help keep viewers focused. Then add auto-generated captions using the speech-to-text option. These edits won't take more than a few minutes, but they'll increase the odds of everyone paying attention to your meeting. 
Save and share video trainings
If you lead a live video trainings over Zoom, record and save it for future employees.
Using the Zoom integration, you can add helpful edits like photos and additional video clips to illustrate your training lesson. 
Create tutorials and demo videos
Sharing your screen during a Zoom meeting? If you're showing the team how to use a new app, record the meeting and make a few quick edits to turn it into a re-watchable tutorial video.
Video Creation to Communicate and Collaborate
We know that Zoom can be an effective method for communicating with your team but don't forget about recorded video.
Instead of scheduling a live meeting, send a screencast instead. You can easily record your screen, webcam, or both with ScreenPal's Screen Recorder.  Use it to record everything from quick feedback or update, to in-depth product walkthroughs. 
Social media company AgoraPulse encourages recorded videos as a convenient way to ask questions during the workday. "We are a semi-remote team spread over 15 countries," said Product Marketing Director Lisa Kalner Williams, "so preparing a video with an issue, idea or question, saves us from having calls that are convenient for some but really bad for others."
Integration Tools to Support Workflow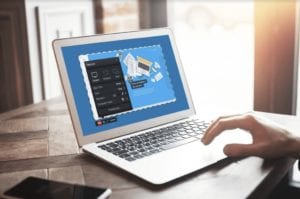 Improve workflow and communication by integrating video communication within your workplace apps.
For example, Slack and Basecamp are easy communication and project management systems. They offer a way to share ideas, give feedback, and track progress. But don't let your thoughts get lost in translation while communicating with your team. Create videos to better drive the conversation.
Add video links to Slack channels or streamline office communication by introducing video into your Basecamp HQ
Annotate videos and use arrows, text or highlights to emphasize points.  You can also use audio tracks including narration and computer audio.
Make it Easy on Your Workforce
Some companies opt to include the ScreenPal API within their own websites, apps or existing workflow tools. Custom collaborations mean leaders like Festo have the intuitive video creation technology built into their own systems making it easier for employees to communicate.
"Everybody at Festo can use it without any admin rights," explains Festo technology consultant Manuel Schmidt, "so we offer the tool as a job applet within our own management system. It can easily open up from your learning management system."
Business Tools For Remote Communication
Though many companies have adopted new practices and software during the pandemic, few expected to need them for longer than a couple of months. 
With the pandemic continuing on and remote work likely to be the norm for the foreseeable future, it's a good idea to make sure any new tools you adopt will continue to support your team both during and after the pandemic. After all, if your company invests in new tools, it's best for them to be useful long term as well.