As an educator, the time you spend with your students is limiting. You may only have 40 minutes to teach a lesson and only have a few minutes for one-on-ones with those students who need extra attention. Where traditional methods fail, blended learning strategies help fill in gaps for many teachers.
Blended learning methods are a relatively new approach for teachers to make an impact on their students. Lectures and lesson plans traditionally taught in the classroom give students an opportunity to study and learn at home through the use of multimedia tools—such as video—at their own pace.
For those looking to develop videos for blended learning, here are six video tips you need to know.
1. Presentations for Blended Learning Strategies
Creating a blended learning strategy allows you to teach your students in a way that allows them to learn in a much more practical way.
Videos are the most common piece of multimedia used by teachers because it allows students to watch, re-watch, and learn at their own pace. Video allows them to learn without outside distractions and it engages them to learn.
Educators can create engaging videos for their students with simple, easy to use tools such as ScreenPal. Not only does it have a free screen recorder but you can take your videos to another level with their intuitive video editor, giving you the ability to add text, music, videos, and more!
2. Duration of Each Video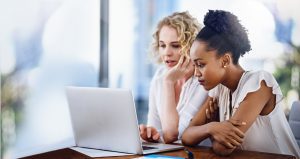 Your students are not all going to watch your videos at the same time each day. Some students prefer to watch videos in the morning and others at night, or whenever they're more alert to learning.
Students who want to pick up their laptops and watch a lecture from their teacher will do so at their own schedule. However, videos that are too short or too long can bore students quickly.
Videos longer than six-minutes result in students becoming distracted and losing focus. Videos that are too short may not provide enough information to your students for each lesson.
The best advice is to break up longer videos into digestible, bite-sized chunks.
3. Music In Your Videos
You may want to dress up your video lecture to make it more exciting for students to watch. One way is to add music to give your lectures a bit of flair and excitement.
The problem, however, is it may become too distracting for students. Pick the wrong music and students may find themselves focusing on the beat of the song more than the information you laid out for them. Instead, use music to enhance a video and have it play in the background of your video.
4. Content for All Students
Traditional teaching methods mean you have to accommodate your lesson plan for both types of students: Ones who can grasp the topic quickly and those who need a little help in understanding.
When you have to teach to the middle of the class, it can create issues for everyone. Advanced students might experience boredom due to the lesson's slow pace and others may become distracted if the lesson is difficult.
When creating video content for your students, you can create content suitable for every student. If you feel comfortable creating content for the middle of the class, this is the perfect way to accomplish that without the worry of losing your students' attention. Students can fast forward, rewind, pause, and re-watch content to better understand the topic at hand.
Instill a sense of accountability in your students with the implementation of quizzes in the classroom that correspond to the relevant lesson. Adding to the flipped classroom model, which is a derivative of blended learning, with quizzes, you can gauge where your students are in the lesson and assign work based on their progress. This way you can know if your students are watching the content laid out for them.
5. Different Ways To Engage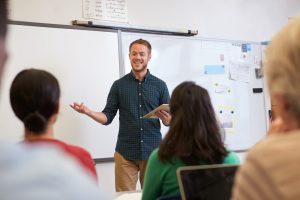 With a screen recorder, you can capture what's on your screen and record yourself lecturing with your webcam. You can place a picture-in-picture of yourself in the corner of your lecture and have your students watch you as they follow along. That's one great way to engage students.
You can also use audio narration for presentations, or break up the flow of each video with full-screen recordings of yourself. Introduce each lesson with a video of yourself, or interject yourself in the middle of a topic. There are a variety of ways to create your video and changing things up will keep students watching.
If you find yourself adding images and creating animations for your lessons, do so sparingly. Implementing a lot of images, or using the same images over and over again can become too distracting.
6. Create Content Suitable for Large Screens
You may think since many of your students have their heads in their smartphones all day, they will watch the video curriculum on their handheld device. That's not always the case.
According to Faculty Focus, they found that the vast majority of their students used desktop computers and laptops instead of phones and tablet devices to watch content. Make sure that the video content you are creating is suitable for numerous devices.
Video Is Most Preferred
Blended learning strategies can utilize anything from text, audio, slides, or pictures.  According to Faculty Focus, students prefer watching videos. It made it easier for them to follow and learn content over other forms of media.
There are other blended learning strategies you can use to enhance learning. Along with videos, you can create audio lessons, text-based assignments, or a slideshow made up of visual elements. What it comes down to is how your students respond to the content you are providing to them.  If they're engaged, keep at it!
Quick Links
5 Reasons to Use Video With Google Classroom
8 Easy EdTech Tools For Your Classroom