Chromebooks are quickly catching up to their more expensive counterparts when it comes to video editing. And the timing couldn't be better for teachers and students. Video is now an education staple. 
It's how teachers correspond with their remote classrooms. Everything from lesson plans to correcting homework is being captured on video. On the flip side, video is just as crucial for students stuck at home. 
Now figuring out how to edit those videos is easier than ever. 
The good news— your school-issued Chromebook will do just fine. Which is perfect because American schools are working to put a computer in the hands of every student with 1:1 computing initiatives. 
The push started long before the pandemic. In 2019, U.S. schools alone bought 30 million laptops and tablets. And app creators took notice. 
Chromebook Editing Tools Designed for Education
As classes shift online, apps are being redesigned to be student-friendly. Even powerful video editing platforms are now offering Chromebook versions with simpler interfaces, clear tools, and at little to no cost.
In fact, they're just a download away in Google Play store.  
Most video editors do the basics like importing video, cut, and paste. But for teachers looking to make a statement, find a Chromebook editor that offers these five tools.
1. Easy Overlay Tools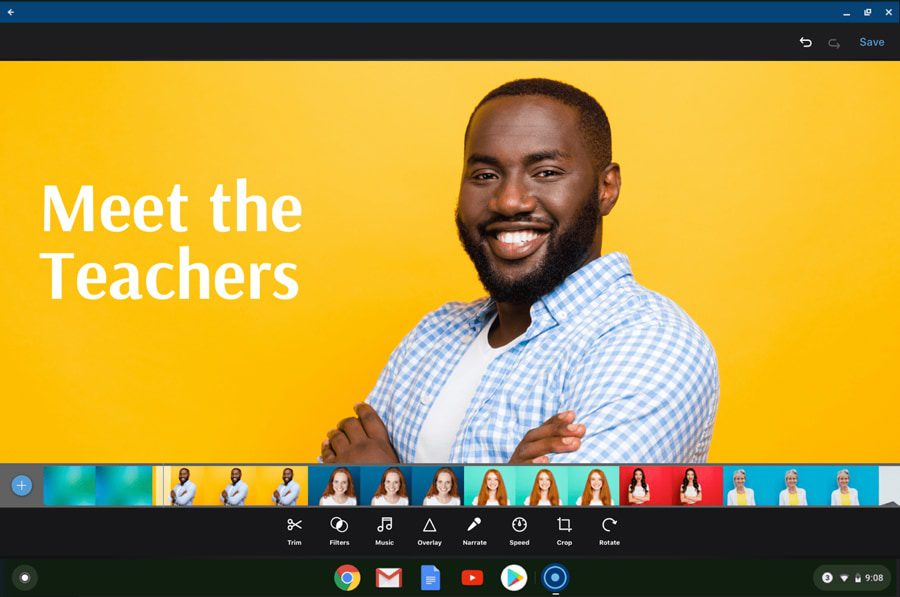 All great video editors offer a series of overlays. Simply put, these are tools you can lay over your primary video. It includes everything from virtual stickers, shapes, frames, and even the ability to blur a video.
The Chromebook video editor includes all of these editing tools and more. Users can add emoticons and text to their projects. 
Each overlay is customizable. Users can move them around the screen, change the color, size, and angles. 
The overlays don't stop there. There's even a stock library featuring thousands of images. Any of the photos can be added as an overlay to your video creation. 
2. Enhance the Mood With Filters
Look for editors offering filters to enhance the mood of your videos. Similar to Instagram, filters are a quick way to improve lighting or add an artistic touch to your recordings. 
You don't need to be a skilled video editor either. 
You can apply a filter with the click of the touchpad in the Chromebook Video Editor. The video editing app offers seven sophisticated filters. 
Vivid

Warm

Cool

Dramatic

Mono

Silvertone

Noir
Enhance your video with a vivid filter, or adjust the lighting with the cool option. Students can also give their projects a classic feel by going black and white with the noir filter.
3. Add Your Narration
Make sure you're able to add narration directly to your video. It's a tool that comes in handy if you're importing screencasts or unedited video files. 
The narration options means you can open any video in your Chromebook and add an audio track.
Record audio over your entire video or just a portion in two easy steps. Click the microphone icon and then hit record. 
4. Liven With Stock Music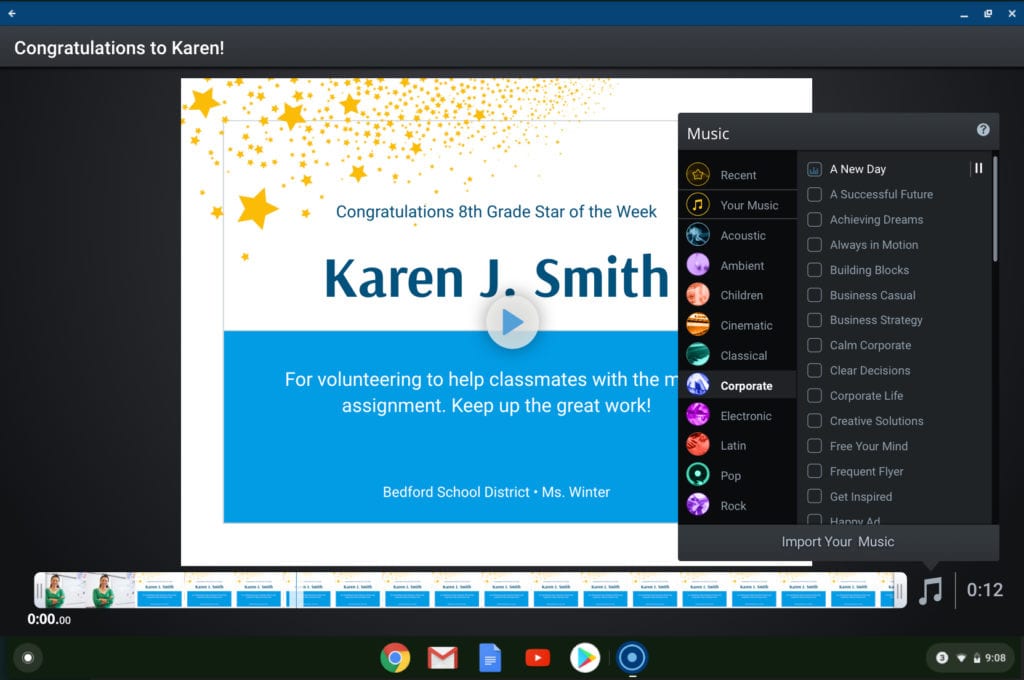 Liven up your next school project with music.
Quality video editors offer a way to upload music to your video. Some even provide free musical tracks. Select the music icon to add a soundtrack to your project. 
Music can be added even if the video already includes sound or narration. Set the tone of your video by adding a musical track and then adjusting the audio level so the music lightly plays under your narration. 
5. Hide With Blur
Don't ignore the power of the blur tool.
Blur can be placed over a video to hide sensitive information. It's perfect for teachers. Instead of editing an entire spreadsheet or image to redact names or grades, use the blur tool. 
In the Chromebook Video Editor, you can drag and expand the blur tool to cover the desired portion of your video. Control the opacity by adjusting the blur strength at the bottom of the video editor. 
Chromebook Editing Tool Tip: Undo With This Easy Button
The undo button is often the unsung hero of any good video editor. Mistakes happen fast. So undoing them should be just as easy. 
With one click a user can remove any recent changes to their video in ScreenPal. You'll find the undo arrow in the top-right hand corner of the Chromebook editor. Such a simple tool will save you time and stress.