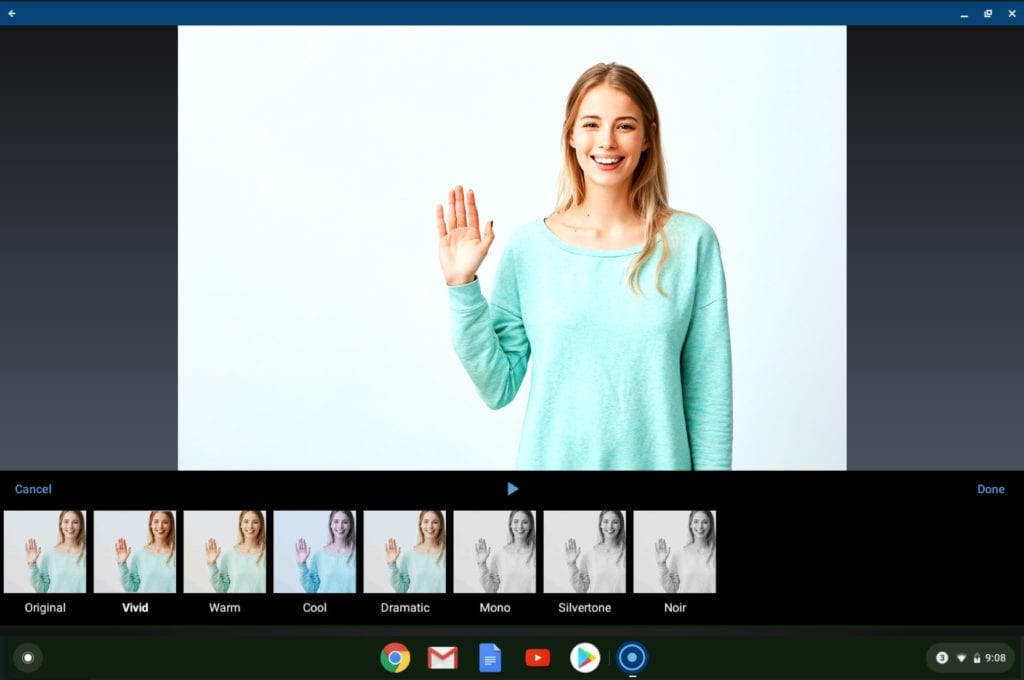 Are you a teacher struggling to keep students engaged through remote learning? With schools forced to close, videos have become a key strategy for educators looking to enhance their online curriculum. Thanks to 1-to-1 computing programs, many schools provide affordable Chromebook laptops to students each school year. While easy to use, there haven't been many options for video editing available on Chromebooks until now.
With busy educators in mind, ScreenPal released a powerful Chromebook Video Editor to complement its screen recorder. Now teachers can add quick and easy edits to their screencasts and webcam videos. The video editor lets you record your screen, webcam, or both, trim and cut your videos, add filters, image and text overlays, and much more. 
You can add depth and context to your lessons, hold students' attention longer, and even empower students to create their own videos.  Here are 5 easy videos you can create on Chromebooks.
1. How-to Videos and Tutorials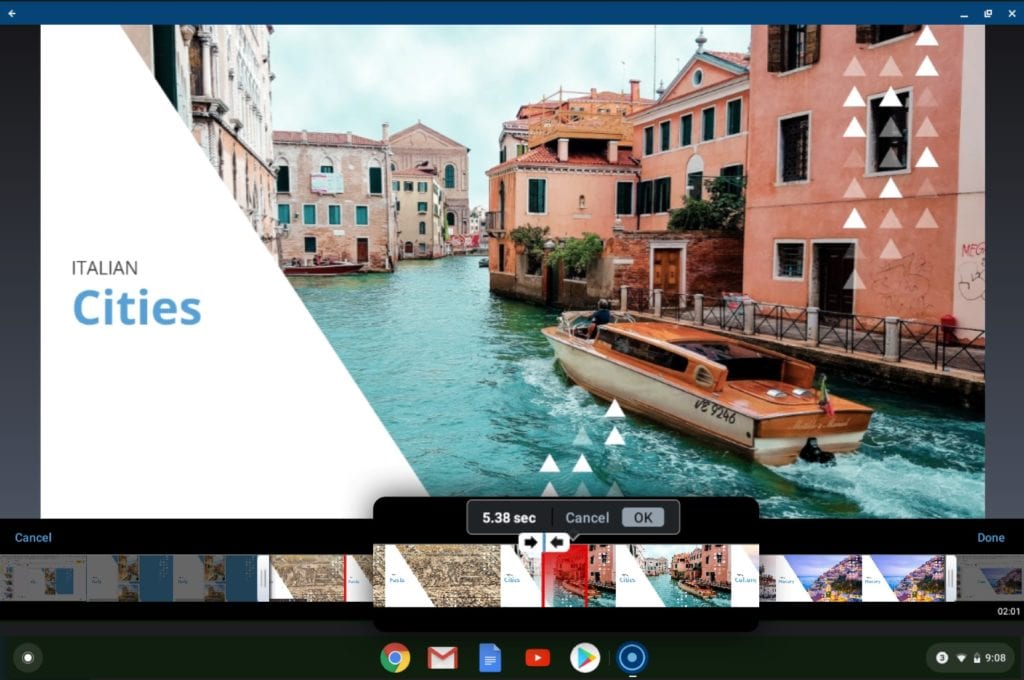 Whether you're showing parents or guardians how to use an edtech tool, or explaining to students how to upload an assignment, tutorials are your best friend. You can quickly create a screencast and then pop over to the video editor to add a few easy edits to help viewers understand and follow along with you.
To save you from answering repeated questions, store your tutorials in a shared drive, like Google Drive, so everyone can easily access these resources as needed.
2. Show and Tell Demos 
For complex and visual subjects like science or art classes, recorded video demonstrations can really encourage students to get curious and inspired to learn. Try recording a science experiment, and use the video editor to add text callouts explaining what you're doing at each step. You can even add stock music in the background to make it feel more like a fun YouTube video, which will help hold their attention. 
If you're assigning an art project, record yourself showing them how to do the assignment. If they'll need to use a new painting technique, for instance, you can record yourself demonstrating it.
With the editor, you can then zoom in extra close on your brush strokes to show more detail. Then you can give them a clear look at the finished project by overlaying a photo of your work at the end of your video. 
3. Feedback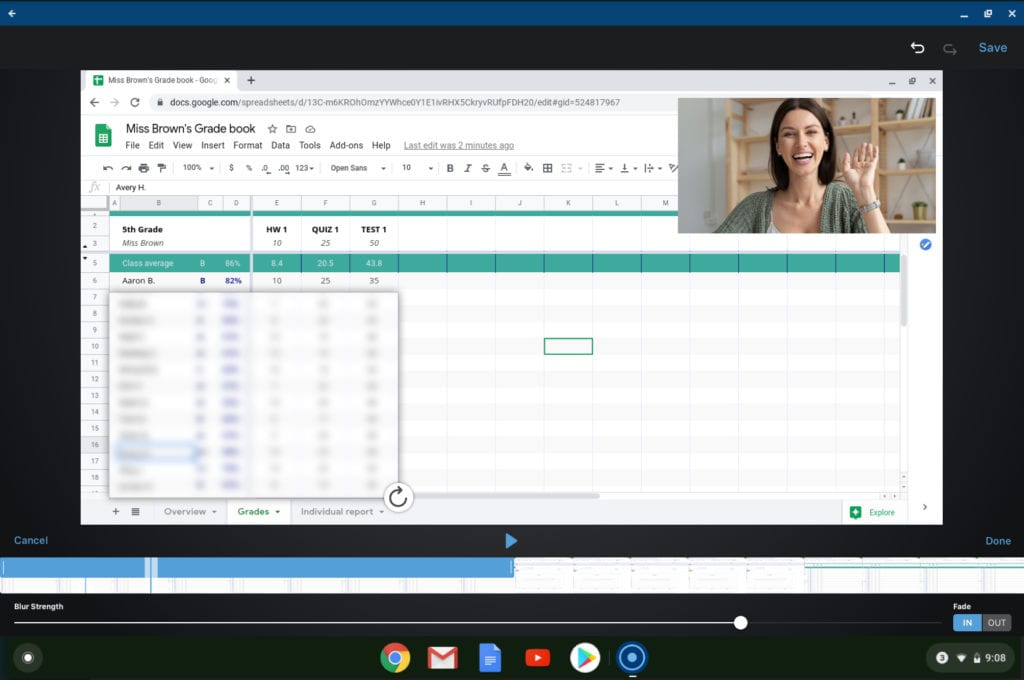 Kate de Medeiros, Ph.D., a professor at Miami University in Ohio, loves giving her students feedback via video. When a student turns in an assignment, Kate opens the screen recorder, captures the assignment on her screen, and goes through it step-by-step making comments and offering tips. Then she sends the video to the student so they can watch it and make corrections. 
You can make these videos even more helpful by adding text callouts and highlights around important information.
4. Record assignment directions
Sabrina Barilone, ceramics and IB Art Instructor at Central Fine Arts Magnet and IB High School in Macon, Georgia records her instructions and sends a video link the day before class. That way her students can get to work right away when class starts. And for those who may not have seen her video? No problem. She has a computer station where those students can watch her videos while she helps other students who need help.
To support students who are visual learners, you can add an image overlay to your video.  It shows exactly how their finished assignment should look. Then add arrows pointing out each step as you give instructions.
"The key to engagement is to give a lot of clear ideas and teach technique in a very short amount of time," Barilone says.
5. Student Videos and Portfolios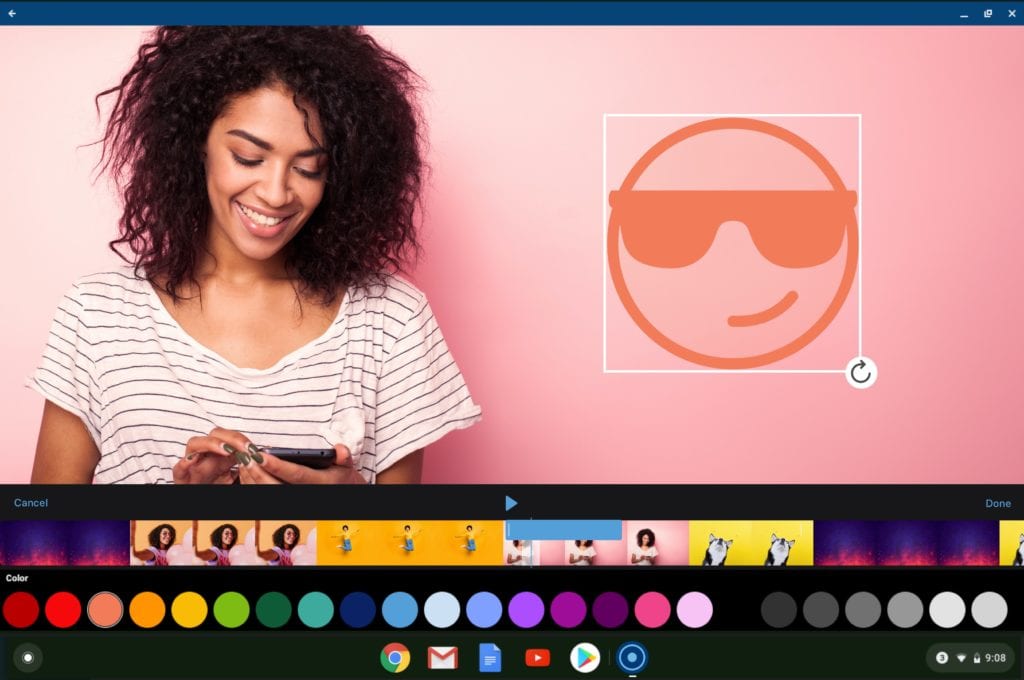 The video editor is easy for students to use too, so if they have Chromebooks, why not let them get involved? An e-portfolio is a student's 'online resume,' and it can include videos, photos, or documents showcasing all of their accomplishments. They help teachers keep track of students' progress and empower students to take more ownership of their education. 
Students can even keep adding to their e-portfolios over time and use them to apply for scholarships and internships.
Keep Learning With Chromebooks
While the world may not have expected to switch to e-learning so abruptly, it's a chance to engage students in a new way. It may even help them learn valuable tech skills of their own. The Chromebook Video Editor is here to support educators through it all.