"Kids are evolving," says Elizabeth Pitel, a computer and financial literacy teacher at Chestnut Ridge Middle School in Sewell, New Jersey. "They're exposed to different kinds of things, and they're seeing the world in a totally different way." From the very beginning of her 20-year teaching career, Pitel knew technology and the use of classroom video would play a major role in helping students thrive in a rapidly changing world. So she made it her mission to help educators embrace technology in the classroom.
We sat down with Pitel to talk about how she encourages teachers to adopt new technology, how she incorporates video into her workflow, and the impact she's making on students.
Getting teachers on board
One of Pitel's biggest goals is to persuade teachers to integrate technology into their classrooms.
"I've got some teachers doing amazing things because that's their personality. They're risk takers and they see the big picture," she says. Still, some teachers in her district have been hesitant to adopt new processes, instead favoring traditional teaching methods. While Pitel says things like writing papers and taking notes still have value, those aren't necessarily the core skills students need anymore. She wants teachers to understand that nowadays technology has the power to reach many students more effectively.
One way she's creating this change is through EdCamp, an annual professional development regional event she helps organize.  At EdCamp, Pitel addresses the importance of video in the classroom, as well as the nerves and fears some teachers feel about technology. She tells attendees how her own kids use video for everything. "Adults want to Google everything," she says, "but kids turn to YouTube because they like video answers." She cites the thousands of kids producing content on their own YouTube channels. "We need to latch onto that creativity and excitement and build from that."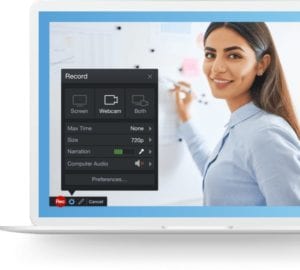 She demonstrates how tools like ScreenPal are simple to learn and offer many ways to enrich the learning experience through video.
"I try to emphasize how easy it is to use and how powerful it is for the kids to have access to it," she says.
Pitel points out that ScreenPal is especially helpful because it's web-based, so there's no need to download anything. Even though her district uses computers as opposed to a set of Chromebooks, it's a benefit not having to hassle with downloads.
Video technology is a major part of her workflow.
Not only does Pitel have her classes use ScreenPal for projects, but she also records each new lesson she teaches so students can use them as study tools later. When class starts she says, "You know the drill. We're recording it, so everything you say gets recorded for posterity." Then they all chuckle, she adds. "No matter how many little interruptions or weirdness is in there, it gets recorded as-is."
ScreenPal also gives Pitel a leg up when it comes to organization. With her Premier account, Pitel hosts her recordings on ScreenPal's server, since she prefers to host privately rather than publicly on YouTube. She then embeds the links in her school's learning management system. "I love that the link is ready so quickly, and then I can start making another video," she says. "I can catalog them and keep them in a good system."
Pitel came up with a fresh take on study guides using ScreenPal too, inspired by her 15 years as a special education teacher.
"If you're a kid with learning disabilities, and you do the study guide all wrong, you would struggle with the answers," she says. "So I would make videos of me going over the study guide with the answers."
Students were initially surprised to see all the answers online, but she assured them it was intentional. She wanted them to learn from it, or catch up if they were behind. While it took some time for her students to get used to this new way of learning, Pitel says the kids soon started to do a better job and felt more supported outside the classroom.
Making an impact on the kids
Video is changing how the classroom is defined, according to Pitel. "I think it's a huge game changer on so many levels," she says. Video allows Pitel and fellow teachers to address all students' needs, rather than only those who learn well from traditional methods.
Pitel looked at her time teaching special education as an example. "I had some kids who really struggled with reading, but when you work with them and talk with them, you know they understand what's going on and are able to follow through," she says. "They're just not able to follow written directions." When teachers replace written directions with auditory-visual accommodations like screencast videos, Pitel says they see kids not only participating in class activities at a higher level but also improve their reading skills.
Video also helps students at home. "Classroom time is so important, but it doesn't just have to be those 50 minutes you're scheduled here in my seat," Pitel says. With screencast lessons, Pitel can replicate her class content in videos for students to watch if they were absent or need extra help. "If I'm absent, I can make sub plans out of it too, so nobody really misses a day," she says.
This is all a big difference from teaching a few years ago. For instance, in a demonstration-heavy class where Pitel had to explain a process, several students would ask her to repeat the steps. She found herself doing the same thing over and over. Now she just makes a video or screencast of the directions on ScreenPal, and students can reference it for help instead.
"It frees you up to help kids get organized, catch up, and to ask them deeper questions," she says. "It really allows you to dig deeper."
Pitel says that while busy teachers, unfortunately, don't get as much time as they should to grow and change, it's worth learning new technology in order to reach every student in a meaningful way and get them ready for the future. "The world is changing," she says, "and this is one way we change with them and prepare them for what this new world looks like."
Share Your Story
ScreenPal would like to thank Elizabeth Pitel for her story.  If you have a story to share, email our marketing team (marketing@screenpal.com).
Quick Links
Professor uses flipped learning to spark passion in students
Educator shares why video is powerful job search tool
Venezuelan Professor inspires with video technology despite country's hardships