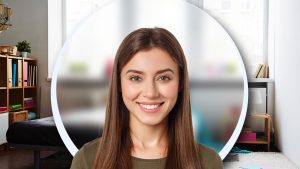 As a teacher, you want your educational videos to be engaging for your students so they learn and retain the information. But how do you achieve that? An effective way is to use a classroom virtual background for your webcam videos to set the tone for a learning environment. 
There are many benefits to using a classroom virtual background, such as making your videos more fun and engaging for students, removing distractions, enhancing your message with additional context, and even making your video more interactive. But with so many images and types of background options out there, it can be tough to know where to start.
That's why we've put together a list of the 15 classroom virtual background images that can work great for education videos. This guide takes a deep dive into the world of virtual backgrounds and provides you with everything you need to know to choose the perfect classroom virtual background for your education videos.
What is a virtual background?
A virtual background is an image or video that you can use as your background in a video or conference call meeting, such as Zoom. They can be anything from a blank wall to an image of the Eiffel Tower, or even a virtual classroom! 
The educational benefits of a virtual background is that you can use it to add a little bit of fun and personality to your video, without taking away from the content of the lesson. Virtual backgrounds are perfect for educators who want to add a bit of creativity to their videos improve student engagement. You can find virtual background images for just about any subject, including math, science, history, and even art!
Tools like ScreenPal allow for an immersive experience by giving you the ability to not only use a virtual background, but also record your computer screen and webcam at the same time. This is perfect for when you want to show your students a PowerPoint presentation or website while still speaking on camera in your video.
Benefits of virtual backgrounds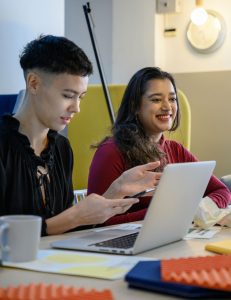 There are many different types of educational videos that use a webcam, and each one can benefit from a virtual classroom background in its own way. For example, while some videos may drive student conversations and require more engagement, such as quizzes within the videos, others may be more focused on the content itself and provide a platform for educators to share their knowledge.
Recording a lecture is one of the most popular uses of video in education. Virtual backgrounds can make your videos more engaging by adding a complimentary visual element to the lesson. You can find virtual backgrounds that match the subject matter of your lecture, or you can use a custom-designed background image, such as with the name or logo of your school.
Your virtual background may set the stage for professional development videos, tutorials, or lectures, and more. You can even flip the script and assign student assignments, where students may record themselves with a virtual background as well! 
Virtual backgrounds can help to set the tone for an educational video and provide context for the viewer. They can also help to keep long videos more interesting and add a bit of personality to your content.
Using classroom virtual backgrounds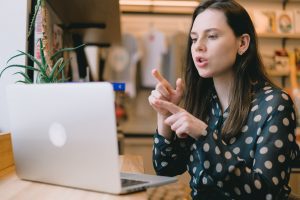 Now that we have a general understanding of what a virtual background is, let's take a look at some specific examples of how it can be used for educational videos. Here are just a few types of videos teachers can create with webcam and virtual backgrounds. 
Recording lectures
Lecture videos are one of the most popular types of educational videos, and for good reason! They're a great way to share information with students in an engaging and concise manner. When you add virtual backgrounds into the mix, you can take your lectures to the next level by adding a visual element that will help students better understand the concepts being taught.
For example, picture a virtual background with a lecture hall or whiteboard design – this will help students to feel as though they're in the classroom with you, even if they're watching the video at home.
How-to tutorials
Have you ever tried to follow along with a how-to video only to get distracted by clutter in the webcam background? Now, imagine if that same webcam video had a fun virtual background with relevant images instead – it would be much easier to stay engaged, right?
Tutorial videos are the perfect opportunity to use virtual backgrounds to your advantage. By adding a fun visual element to the video, you can help viewers better understand the concepts being taught or compliment the topic. For example, if you're recording a how-to video for a computer software program, you could use a virtual background with an image of a computer lab or the name of the computer program in the background.
Introduction / getting to know the teacher videos
For students who are new to your class, an introduction video is a great way to help them get to know you and your teaching style. Virtual backgrounds can be used in these videos to help set the tone and give viewers a glimpse into your personality.
For instance, if you're recording an introduction video for a class on world history, you could use a virtual background with an image of a map or famous landmark. This would give students a sense of the scope of the course and get them excited about learning about different cultures and civilizations.
Teacher professional development training videos
Teacher professional development videos are an excellent way to share information and best practices with other educators. What do you think would be more engaging for your audience: a video of you talking to the camera with a cluttered webcam background, or a fun virtual background that relates to the topic of your presentation?
If you're presenting on the use of technology in the classroom, for example, you could use a virtual background with an image of a computer or tablet. This would help to drive home your point and make your video more visually appealing.
Assignment/classroom instructions
When it comes to assigning student work or giving classroom instructions, videos are a great way to ensure that everyone is on the same page. Virtual backgrounds can be used in these videos to help add context and make the instructions clear.
If you're recording a video on how to complete a science experiment, you could use a virtual background with an image of a periodic table, or lab equipment in the background. This would help create an environment that puts students in the mood to learn about science.
Personalized video feedback to a student
Providing individual feedback is an integral part of the learning process. If you're giving feedback to a student on their work, a video is a great way to do it – and virtual backgrounds can help to make the experience more positive for both parties.
If you're recording a video feedback of a student's project, you could use a virtual background with an image of the topic they wrote about, or a background showing your school's name or logo. This would help to put the student focus better and make them feel as though you're really engaged with their work.
Choosing a classroom virtual background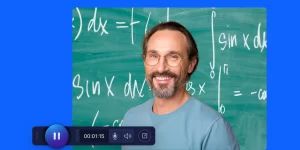 It's not all about finding an eye-catching design – you must also consider the relevancy and usability of your virtual background. In this section, we'll give you a few tips on what to look for when choosing a classroom virtual background image:
Subject matter
Try to find a virtual background image that conveys an education setting, like a classroom, teacher's office, lecture hall, blackboard/whiteboard, etc. If you feel like having a little fun, you can also use background images relevant to your video topic, such as space, a map of the world, children's art, dinosaurs, illustrations, and anything else that might be appropriate for your class!
Resolution
The resolution of the virtual background image is important so that it doesn't look pixelated on screen. Virtual background images should ideally be at least 1080p resolution. If you can find an image with a higher resolution, even better!
Educational environment 
Does it seem like the image would be appropriate for an academic setting? Is it too busy or distracting? You want your virtual background to help you create a fun learning environment, not take away from it.
Other people 
Be aware of what's happening in the virtual background image. It may appear unnatural or distracting for other people to be shown in the virtual background. Usually people move around a little over time, and if your video is more than a few minutes long, it may appear unrealistic for people in your virtual background image to remain still that long. Also, you want the focus to be on you as the speaker, and not other people in the background, so if there are people in the virtual background image, you might want them to be small and far away. The lack of movement might not be as noticeable then as well.
Webcam location 
While recording your webcam video, your computer and webcam will be in front of you, so if you're looking for a realistic background, try to pick a virtual background image that would likely appear behind a teacher's desk, such as a whiteboard, blackboard, window, or even an office or home environment.
It may look unnatural to have another desk and computer appear right behind you when it's supposed to be in front of you. If you're going for a fun, creative background rather than a realistic classroom setting, then this wouldn't be as much of a factor though. 
Depth Perspective 
Virtual backgrounds work best when there's a bit of distance between you and the background setting. This will help create the illusion that you're in a different space. Room furniture that shows up in your virtual background should be a realistic size considering the environment being shown. 
For example, if there is a glass of water in the virtual background image, it wouldn't be realistic for it to appear the same size as the speaker in the video. Try to find a balance so that your virtual background looks natural. 
Image lighting 
Virtual backgrounds are a great way to show off your personality and interests! If you love animals, you could use a virtual background with images of animals. If you're a fan of a particular hobby, such as photography you could show a camera in or scenic pictures in your virtual background. Get creative and have fun with it!
Virtual backgrounds with good lighting tend to look more realistic and less distracting. If the image is too dark or has strange shadows, it might be difficult to understand what environment you're in. Similarly, keep an eye on glare. If your virtual background is too bright, it can be distracting and make it difficult to focus on you as the speaker. It's best to find an image with natural, even lighting.
Simplicity 
It's best to keep the focus on you as the speaker during your educational videos and the webcam background as a complimentary visual. Try to choose a simple, clean background with a lack of clutter, so it's not distracting, unless it's something you're intentionally trying to convey, such as showing a well-stocked bookshelf in the background to portray that you're well-read and intelligent. 
Personality 
Classroom virtual background examples
There are a wide range of stock images or personal images you could use as a classroom virtual background. We've rounded up 15 classroom virtual backgrounds that could work well for you in educational webcam videos, ranging from lecture halls, classroom settings, office environments, or even fun, creative options! 
Each virtual background image has been chosen explicitly with educators in mind, and we think they'll help enhance your videos by helping them look fun and engaging. If you're part of the ScreenPal family, you'll be happy to know that all of these virtual backgrounds are available in our stock image library for Premier plan holders and higher. 
You can always search for your own virtual backgrounds in our stock image library as well. With over two million royalty-free images, there's bound to be something that catches your eye! And if you're not a ScreenPal user yet, don't worry – there are a few stock images available for free with our virtual background tool or you can upload your own image.
Chalkboard virtual backgrounds

Bring the classic chalkboard look into the virtual classroom with one of these chalkboard virtual backgrounds! These images are perfect for educators who want to create a more traditional learning environment.
You can use a chalkboard, blackboard, or whiteboard background for just about any type of educational video, but they can work exceptionally well when creating a video lesson or tutorial. A chalkboard background will help give it a more "school-like", learning environment.
Plus, blackboard backgrounds are great for adding text and graphics to your videos if you'd like to customize the image further. So if you're looking for a way to make your videos more engaging, a chalkboard background is definitely worth considering.
Lecture hall backgrounds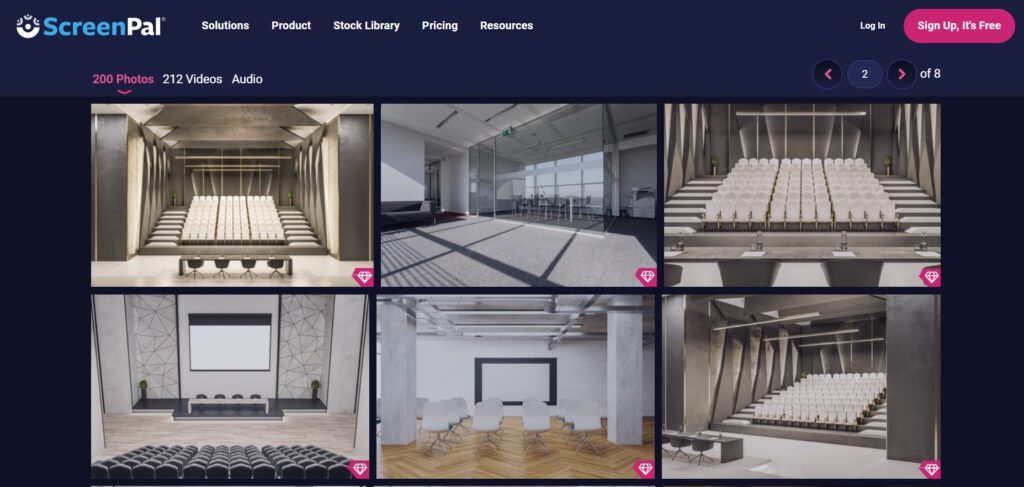 A lecture hall is a place of learning, so it's only fitting that we included some lecture hall virtual backgrounds in our list! These virtual backgrounds are perfect for educators who want to create a more traditional learning environment or collegiate setting.
Lecture hall backgrounds tend to be more spacious and formal than other types of virtual environments. They are a great way to create a fun learning environment and expertise, which can be helpful if you're trying to build credibility with your audience. Of course, lecture hall backgrounds can also be used for more lighthearted, informal content as well, such as getting-to-know-you introduction videos. 
Classroom backgrounds

Take your educational video to the next level with one of these realistic classroom virtual backgrounds! These images are perfect for educators who want to portray a practical learning environment.
Classroom backgrounds are great for making your videos feel more "real." Abstract and cartoonish virtual experiences can be fun, but they might not be the best choice if you're discussing a more serious topic in your educational video. These backgrounds will help give your videos an air of authenticity, which can be helpful in establishing trust with your audience.
Home office backgrounds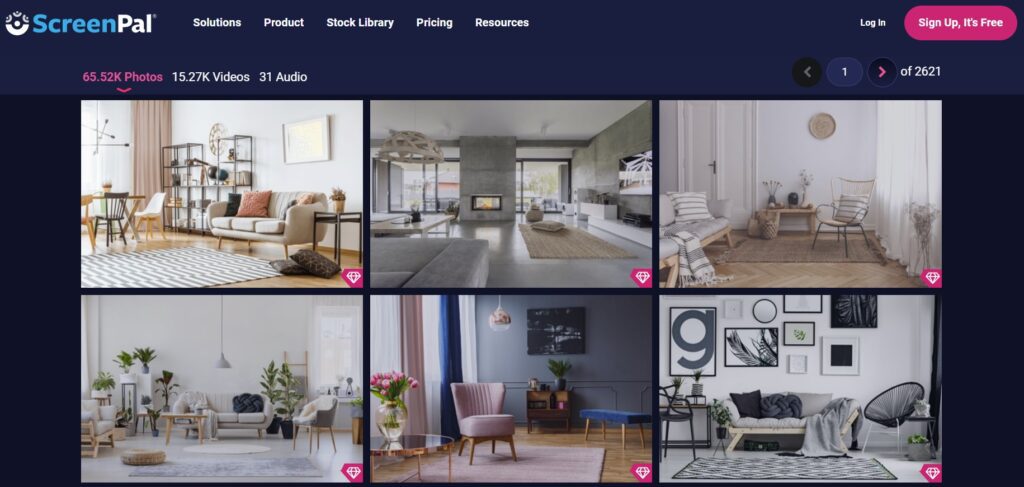 Perch yourself in front of a traditional bookshelf, or set up shop in front of a cozy window with a view of the outside world. These home office virtual backgrounds are perfect for educators who want to create a more relaxed and personal learning environment, especially for virtual classes where it's common for students and teachers to be in a home or office environment.
Home office backgrounds are great for conveying a casual, welcoming environment! If you're looking for a way to add some character to your videos, consider using one of these warm and inviting backgrounds.
Creative backgrounds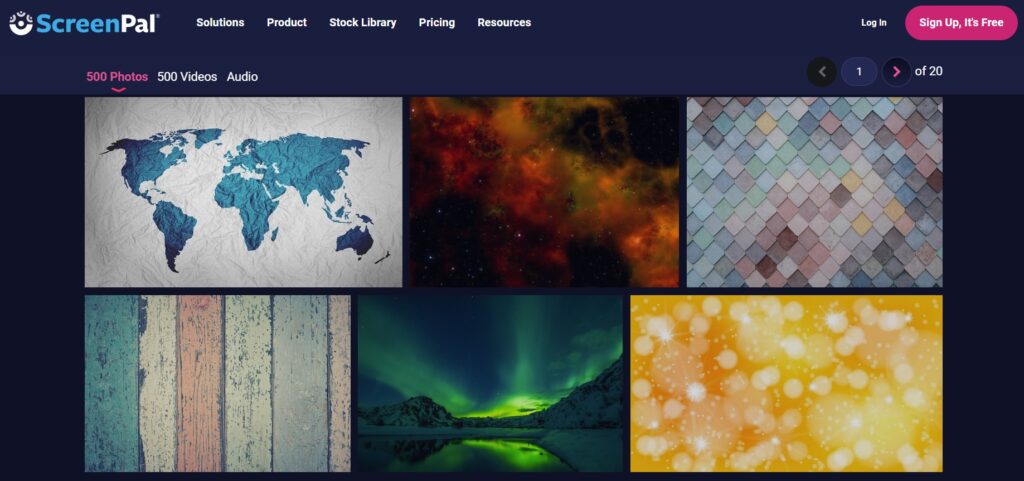 Not all learning has to take place in a traditional classroom setting! These creative virtual backgrounds are perfect for educators who want to add some fun and color to their videos. Creative virtual backgrounds are great for making your educational videos feel more unique and exciting. 
You can choose a background relevant to your video topic, or simply having fun with it. Get lost in space, explore an underwater world, or take a trip back in time. These types of backgrounds are great for children's content and videos with a more lighthearted tone, these backgrounds will surely add some personality to your videos.
How to use ScreenPal for virtual backgrounds
Once you've found the best virtual backgrounds for your video projects, it's essential to know how to use them properly with your webcam videos!
ScreenPal's background remover tool has AI software that can automatically remove your webcam background to display your new virtual background image instead. The virtual background feature is available in both our screen recorder and video editor, allowing you to apply your virtual background before or after recording your video. 
Apply before recording:

The first way you can apply your virtual background is using the background remover tool in our screen recorder prior to starting your webcam recording. This technique is best if you love planning and want to make sure you and your background image work well together before you start your recording. This can be especially effective if you plan to interact with your virtual background image during your recording, because you will be able to see your virtual background image behind you while you record the video. It can help build confidence in the quality of your recording.

Apply after recording:

The second way you can apply a virtual background to your educational video is by recording first and then replacing the background after you've finished using our video editor. This works best if you're short on time or just want to have some fun with your videos. With the video editor, you can even use multiple virtual background images throughout the video. It's also a great way to emphasize different messages at different points in the video.
Both methods are great, and it really just comes down to preference. No matter which route you select, ScreenPal has you covered with our wide variety of virtual background images to choose from. And on the off chance you can't find the perfect background in our stock library, you can always upload your own!
If you're using the virtual background feature for the first time, we recommend checking out our virtual background support article, which goes into more detail on how to get started.
Why choose ScreenPal for virtual backgrounds
ScreenPal offers easy-to-use, accessible products that empower anyone to create, collaborate and communicate with video. We want to help you make engaging, high-quality educational videos that are quick and easy to create. We offer a wide range of video creation features in addition to virtual backgrounds to help make your videos successful:
And, as always, if you have any questions or need help getting started, our friendly support team is here to help. Contact us anytime!