Transform your recordings and customize videos with overlays.  ScreenPal's video editor provides a list of overlay options for you to choose from.  You can add images, videos, shapes, text, and more to any of your recordings. They help enhance your video so that your audience stays engaged.
Overlay Tools to Enhance Videos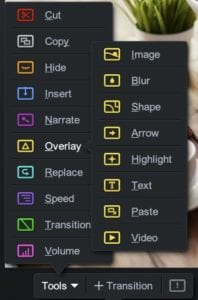 When you are editing your video, click on the 'Tools' menu located above your editing timeline.
By clicking on 'Overlays,' you are unlocking a list of creative possibilities. Below is a look at every Overlay tool you can add to any video.
Image:  You can add any image to your video.  You can import an image from your computer files, create PNGs with our PNG Maker, or you can choose from thousands of stock images from our stock library.
Blur: You can blur any part of your video.  Adding a blur is great for those needing to block out personal information they've captured on their screen.
Shape: You can add a variety of different shapes to your video.  From basic shapes to equations, the shape overlay provides you with endless opportunities to be creative.  You can also customize the color, outline, size, and shadow of the shape.
Arrow: The arrow overlay is similar to shapes.  You can further enhance an arrow by customizing the style and color.
Highlight:  You can highlight any part of your video to emphasize your message.  You can control the opacity and color of the shadow, customize the shape of your highlight, and more!
Text: Easily add text to your video.  Customize the font, color, and size of your font.  You can also add background colors to add emphasis.
Video: You can add any video layer.  You can choose to import a video from your computer files or add one from our stock library.
Save Time With Copy and Paste
ScreenPal has made it easy for you to save time editing.  Instead of adding tools and customizing them each and every time, you now have the ability to copy and paste your overlays.
Use the copy and paste tool in the video editor to reuse overlays within your video or between different videos. This is a very useful time-saver so you don't have to recreate or search your computer for an existing overlay. The tool works for all of your overlays.
Select the overlay you want to reuse and click the copy button in the Menu. Go to any place in the existing video or choose to add to a different video then paste the overlay. Your overlay remains on the clipboard so keep pasting if needed.
For a full list of video editing resources and tools, head to our video editor cheat sheet.
You can access a full list of video tutorials on our tutorials page.
You can watch the following tutorial video on how to copy and paste sections of your video: