Around one billion people worldwide live with some form of disability, according to the World Health Organization. May 16 is Global Accessibility Awareness Day, making now a great time to talk about accessibility in education.  Here are several ways to create an accessible classroom.  
Disabilities aren't always visible, and not every student is comfortable disclosing them for reasons ranging from social stigmas, to being unaware that they have one. In order to give every student an equal chance to succeed (and to comply with legal regulations), it's important to optimize your classroom for accessibility.  
So what are accessible classrooms, and why are they important? An accessible classroom has systems in place to ensure every student can understand and engage with course materials regardless of disabilities. This can include things like captions in videos, larger text in documents, files that are compatible with screen readers, and more. These adaptations level the playing field, giving every student a chance to succeed. Not to mention, it's also the law.
With that in mind, there are some easy steps you can take to create a more accessible classroom for your students, and ScreenPal is here to help you along the way.
Video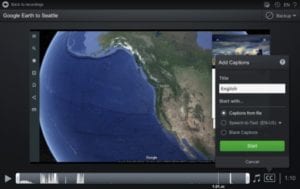 Accessible videos are an effective way to get students actively engaged in class. There are several components to accessible videos, and you can do all of them easily with ScreenPal.
Captions are an important part of accessibility. You can add captions to support the audio component of your video, which helps hearing impaired and deaf students. ScreenPal has made it easier for educators to create accessible content.  Read '4 Ways to Create Captions For Accessibility on ScreenPal.'
You can also create audio transcriptions, which describe the visual elements of the video for vision impaired and blind students.  
Be sure to use a 508-compliant video player, which allows students to navigate with their keyboards.
Text
When it comes to text-based items like documents and rubrics, arrange the information in an easily digestible format. Think bullet points, numbered lists, and smaller chunks of information, rather than a big block of text. Make sure deadlines and instructions are clearly and prominently stated.
If you're using digital documents instead of hard copies, make sure the format you choose is compatible with adaptive technologies like screen readers and specialized keyboards.
Apps and websites
When choosing computer applications and websites to use in class, look for intuitive options that students can easily learn to use. Also, look for age-appropriate features.
For instance, younger students may need bigger fonts and fewer in-app choices than college students. Not every app or website is compatible with adaptive technology, so you'll also want to check for this before getting students up and running.
Mix it up
Presenting your course material in multiple formats can also make a big impact on students. Not everyone learns the same way, so while some students do well with a printed rubric, others may benefit more from a quick video. Even verbally going over printed instructions can help students better understand what's expected of them.
Making these simple changes can make a world of difference for students. You could even get students involved in the accessibility process by having them create their own captioned videos in ScreenPal. Everyone benefits from accessible classrooms, and students can learn valuable career skills by helping to foster that environment.
Learn more from ScreenPal
Learn how to use ScreenPal's video captioning tools.  Educators can use the Scripted Recordings tool which takes scripts and easily turns them into captions for videos.  For more information on how to use this feature, check out 'Scripted Recordings.'
Quick Links
Working with scripts and captions
Automating script to text tool
Write an engaging script in 6 easy steps
VIDEO: What are scripted recordings