If you've been recording your class lectures during the pandemic, you're likely sitting on a healthy bank of educational video content at this point.
With some schools still fully remote, others trying a hybrid approach, and many opening up to the idea and contemplating the use of technology in education going forward, video will remain an essential part of teaching. At the same time, students want their teachers to slow down and focus on building supportive relationships.
While this may sound exhausting after a year of remote learning, you likely already have the material you need to keep your class engaged and connected.
With ScreenPal's video creation tools for teaching, you can turn a simple raw video of your latest lecture into many smaller types of content that will support your students in different ways. Even better, you'll be able to reuse each clip in the years to come. 
One Lecture, Countless Ways to Engage
In just a few quick minutes, you can transform your unedited lecture video into a variety of new types of content, making it easier to keep engaging students in a way that works for them. Try the video ideas below, which will also add a personal touch to your course material. 
You can import your video into the editor and if you have recorded your class lecture with Zoom or Microsoft Teams, you can connect to those recordings and import directly into the video editor.
These videos are all beginner-friendly, and all you'll need is access to the screen recorder and video editing tools to get started. 
Give your lecture an upgrade.
Though you're not there to entertain, per se, some students have a hard time following a full-length lecture video. A few quick edits can help hold their attention. Trim any silences at the beginning and end of your video. With the video editor, you can also cut pauses or other distractions that pop up during the lesson. 
For visual interest, add transitions between key points and add a few relevant images from our stock library.
As with any e-learning video, be sure to add closed captions to make your clip accessible.
Transform lectures into micro-learning.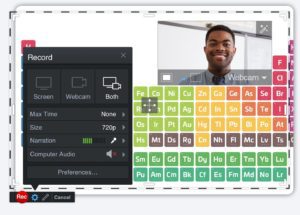 Teachers know better than anyone that students have short attention spans. Meet students where they are by turning your lecture into bite-sized mini-lessons. You can either use these to replace the full-length video or offer them as an additional study tool so students can go back and review important parts of the lesson later. 
Mini-lessons can be anywhere from five minutes (like a YouTube video) to one minute or less (like a TikTok). Try linking to relevant mini-lessons when you give an assignment so students can get even more familiar with the material.
Create a video study guide. 
Got a big exam coming up? Use Premier Hosting to organize your mini-lessons into an easy-to-navigate channel to create a handy study guide. This way, students can break the material down step by step and spend extra time rewatching the videos they need most. With shorter videos, they won't have to worry about losing their place, and studying may feel less overwhelming if they're not trying to make sense of an hour-long video.
Make a demo video with visual aids.
If your full lecture included a demonstration or a visual explanation, isolate that section of your video and add helpful elements. With the video editor, you can overlay photos, screenshots, or even other video clips onto your video. You can add helpful overlays like arrows, numbers, or zoom effects to guide eyes around the screen. 
Mix and match class lectures to create new lessons. 
Though your lesson plan may evolve as time goes on, you'll likely still cover a lot of the same topics in new ways. Instead of scrapping your old lecture videos and starting over from scratch, head to the Video Editor and pop out relevant sections to use in your new content. You can then stitch the old clips together with newer ones. 
Don't Let Your Class Lecture Videos Go to Waste
You've put countless hours into recording your lectures over the past year, so save yourself some time and get some more mileage out of that existing content. You may see the results in your student relationships and better student outcomes.