TV commercials use it. Corporate leaders do too. Even social media influencers rely on stock videos and images to create eye-catching content. 
So cut yourself some creative slack. 
Take a tip from the pros and find a quality stock library. You can mix stock videos and images into your recordings and screencasts. It's a low-cost, stress-free way to improve your work whether you're in the classroom or the boardroom. Start by merging stock footage into your video projects with one of these eight ideas. 
Supplement Business Visuals
Create Branded Intros
Design a branded intro video using the ScreenPal video editor and stock content.
Select your favorite images in ScreenPal's Stock Library to build a professional introductory clip. Choose from thousands of images to find a background image to fit your brand. Add movement to your clip by selecting a stock video coupling it with your business logo by using the overlay image tool. 
Color Blocking Transitions 
Divide up a long video by creating transitional slates using stock photos or illustrations. Start by finding an image in the Stock Library and sending it to the editor. 
Keep with your branding by color blocking the image to fit your company colors. Use the overlay shape tool to add the square shape on top of your image. Drag the square to cover the entire photo, select your brand's color, and then adjust the opacity so the image shows through the branded tint. 
Cover Presentation Mistakes
Don't stress over mistakes in your original recordings. Stock photos and video work perfectly for camouflaging issues. Try the overlay image or video tools to import stock content. Customize the cover-up by adjusting the size, shape, and length of your overlay in the editing timeline. 
Swap Out Backgrounds
Give your home office a virtual upgrade. 
A little green screen (chroma key) magic means you can replace what's in the background of your on-camera recordings. Instead of featuring your home office or bedroom, shoot future messages in front of a green screen. You'll be able to replace the green background with ScreenPal's Stock Library content specific to your business. 
Pro Tip! Stick to clean, neutral color images of workplaces. Look for backgrounds under the 'business' tab or search office background. Use videos with a blurred effect to give your recording some depth. 
Produce Promotional B-Roll
Save time and money by incorporating royalty-free stock video into promotional content. Mix company imagery and branding with related content from the Stock Library. Switch between the two using transitional ins and outs on your stock content.  
A well-curated stock library will allow you to search by category to narrow down what you're looking for. ScreenPal divides its content into ten categories. Or You can search for videos specific to your needs by doing a keyword search. 
Classroom Assignments Featuring Stock Videos and Images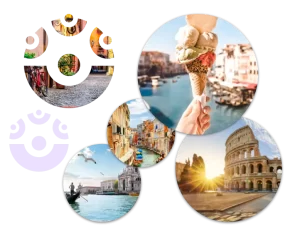 The hundreds of thousands of stock images and video clips offered to ScreenPal premier subscribers are not limited to business-related material.
Educators will find plenty of high-quality imagery to incorporate into their online classroom. Transform your video messages to students and parents by getting creative with stock footage, replacing your background, or give your class a creative advantage by teaching them how to add quality content into their video recordings. 
All About Me
Start the school year simple by introducing students to the concept of stock imagery. Assign students to record a video introducing themselves to class. Allow your class to select images or the photo library relating to their life. Teach everyone how to import stock photos, adjust the runtime, and add transitions. 
Forecast Final
Skip the science test if you're learning about the weather. Instead, turn their final into a special effects video project. Require students to create a 2:00 minute weather forecast using a green screen, stock video, and Video Editor.  Point students in the right direction by having them look for content under the 'nature' dropdown in the stock library or searching the term 'weather.'
Around the World in 80 Seconds 
Soar across the world with your class— virtually. Assign each student a country to report on in an edited video. Students can work in imagery of their country using the travel section of the Stock Library and the overlay tool. 
They'll have plenty to work with too. Looking for images of Germany? ScreenPal offers more than 1,000 images of Germany alone and dozens of high-definition videos on the topic.
Pro Tip! Make your video flow smoothly by adding overlay transitions. Video Editor gives users the option to add transitions in and out of images and video overlays. 
Once you have access to the ScreenPal Stock Library, the options are limitless. The entire gallery is royalty-free. It means there are no restrictions on how you use the stock content. Find your favorite images and use them again and again in the office, online, on television, on social media posts, or in your learning management system. Use our free image editor or video editor to take this stock media to the next level!