With more students turning to remote learning, it's more important than ever to teach responsible online behavior.  Becoming a good digital citizen involves more than teaching basic online safety.  Students need to be taught what is acceptable behavior when interacting online.
"We're all looking for that connection, but you want to control what others see before they find something you don't want them to find," said Mary Helen Hill, College and Career Readiness Coordinator for Fort Worth Independent School District in Texas.
Hill is a digital citizenship expert. She encourages educators to teach digital citizenship when students are young. Let's cover the basics and how you can teach responsible online behavior to your students.
What is Digital Citizenship? 
So what does digital citizenship mean? Broadly, digital citizenship applies to everyone who uses the internet effectively in their day-to-day life. 
Practicing good digital citizenship involves connecting and empathizing with one another, and creating lasting relationships through digital tools.
Bad digital citizenship looks more like cyberbullying, and irresponsible or unsafe internet habits.
Education in digital citizenship is essential for students today, and luckily, there are many ways to teach it. 
Elements of Digital Citizenship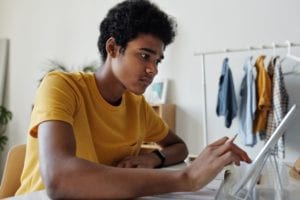 Teaching responsible online behavior extends to all aspects of a students' life.  Here are 9 elements to help navigate students with online resources and what teachers can do to teach good digital citizenship.
Digital Access – The ability to access and connect with technology.  Teachers can help students find valuable and safe information on the internet.  They may also provide children with information on how to access computers to increase access to digital resources.
Digital Etiquette – Treating other internet users with respect.  One of the most important principles to teach students is helping them understand cyberbullying and the consequences of their online behavior.
Digital Commerce – Buying and selling responsibly.  For the most part, older students in middle or high school will need to know about digital commerce. Teachers may need to discuss how to be responsible consumers online.
Digital Rights and Responsibilities – This refers to the privileges that students have while using the internet, like freedom of speech. Teachers may need to reiterate student rights and how to treat others fairly.
Digital Literacy – This is the ability to learn how to use technology and access information online.  Teachers can provide video tutorials or how-to resources for students.  Teaching basic internet skills can help bridge gaps in digital literacy.
Digital Law – These are a set of rules or guidelines for using the internet. Teachers can set some ground rules on how to use the internet and talk about plagiarism to teach digital law.
Digital Communication – There are many options for communicating online.  It's important to teach students how to use various forms of communication (text, email, social media, etc.) safely and effectively.
Digital Health and Wellness – This involves students' well-being while using technology.  Teachers may need to set 'screen time breaks' as a way for students to refresh.
Digital Security – Staying safe online is important for all students. The internet can be a great resource for information but students need to understand how to avoid scams and online 'stranger' behavior.  By providing them with safety tools to identify 'bad' behavior, you are encouraging them to become good digital citizens by looking out for other students.
Why Teach Digital Citizenship?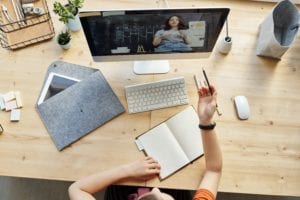 Technology is already a daily part of most kids' lives. From a young age, they can be found online interacting with family and friends.
That means it's up to teachers to instill good digital citizenship habits in students as early as possible. In doing so, you'll help them in these important ways: 
Build positive connections
You'll teach them how to build positive connections online, and treat others respectfully.
Students need to understand how their actions online affect others, and that the information they share is permanent even if they delete it later.
Advocate for themselves 
You'll equip them with the tools to advocate for themselves by building a favorable digital footprint.

"In this day and age, if your work is not online, it doesn't exist," Hill said. "We live in a time of instant gratification. Everything we do, we turn to online." Hill's students begin building digital portfolios in elementary school, which track their work and progress all the way up until college. This way when they are considered for scholarships, internships, or job opportunities, their entire body of work is easily accessible online. 
These portfolios also make it easier for students to track their own growth without having to wait for feedback from a school official. "We want to give ownership back to the students and give them a sense of pride, responsibility, and dedication," she said. "I mean they know their work best, and we can't decide what they feel and what they're proud of. That's on them."
Make smarter choices
Empower them to stay safe by making smart choices online. When you teach responsible digital citizenship, you're teaching kids how to protect themselves. They need to know how to recognize potential scams, unreliable news sources, and questionable downloads. 
Video Techniques to Encourage Digital Citizenship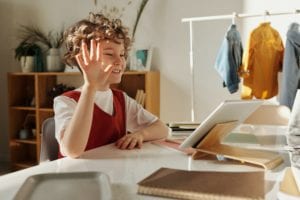 Video offers endless opportunities to get your students engaged in digital citizenship while they learn. Below are a few easy ways you can use video to encourage good digital citizenship.
Create opportunities for students to act responsibly online.
Assign a video project that requires research, like a history report. Show them how to find reputable sources, and have them properly cite their sources at the end of the video.
This will help them learn to avoid plagiarism and dig deeper for information rather than going to Wikipedia.
Help students create a favorable digital footprint.
Follow Hill's advice and have your students create digital portfolio videos using a screen recorder
Portfolios provide students with a track record of learning.  You can have students showcase projects they are proud of and provide that in a video format.  

At Animas High School in Durango, CO, they encourage students to share their work online.  Students in every grade can create their own portfolio website filled with their work and activities.
Teach and model good privacy and security practices online
Whether you're recording your lectures for students to watch at home, or having your students make their own videos as a project, you have a good opportunity to model smart privacy practices. 
With video, you can prevent them from being searchable online, which is especially important if you're storing student-made videos.  You can also password-protect your content so that it's only accessible to those you give access to.
Starting Early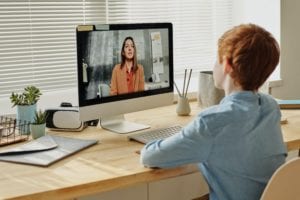 Once you begin using video for digital citizenship in your classroom, your students will likely pick it up fast. Hill said she's seen kids as young as nine making their own videos and uploading them to YouTube without any help. 
"I think that we limit our kids sometimes," she said. "We just have to give them the green light and the things that they come up with usually blow us away."