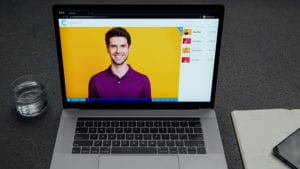 More of us rely on video in our everyday lives. It's an effective way to communicate and train.  It also helps in the learning process to better understand and retain information.  This is why many people turn to video to deliver course material.
A Pew Research study found 87% of users said YouTube is essential for helping them figure out how to do things they haven't done before. The benefits of video learning go far beyond recipes and DIY projects and will allow you to continuously train employees on new skills, technology, and techniques.
If you're looking to build a video course, you've come to the right place!  In this guide, we show you how to create your own video course and how to maximize it within a hosting platform.
How to create your own course videos 
Figuring out how to make a video course from scratch can be intimidating. What should you teach? Which tools will you need? These questions can easily be answered when you start developing your action plan.  We've put together this step-by-step approach to create a plan for your video course.  Here are some steps to follow:
1. Pick a subject

The best advice is to teach what you know best.  Choosing too many subjects or too broad a topic can overwhelm anyone.  Instead, narrow your focus and choose a specific topic. 
It's safe to say that if you're an expert on a given topic then that may be the subject for you. The keyword here is 'expert.'  To engage your audience, you'll need to be an expert who can provide information and valuable advice.  
2. Make an outline 
Once you have chosen your topic, you can start formulating an outline.  Your course outline will need to be clear and concise.  It should outline the main topics of your course, a general outcome or goal you would like to achieve, and what you want your audience to come away with.  
Once you know the main topics, you can break your course down into smaller modules.  This will help you create content in more digestible pieces.
We'll dive into this a bit later and include the elements you should consider when developing your course.
3. Create course content

Who wants to sit through hours of watching someone speak? Instead, you can create engaging content by combining multiple forms of media into your video course.  This may include images, screenshots, graphics, screen recordings, or other videos.
It's best to use a screen recorder to record your videos.  A screen recorder captures your screen and it's the best way to record presentation slides like Google Slides or PowerPoint.
You can add your webcam for a personalized touch.  It gives you the opportunity to interact with your screen and point out specific content you want to highlight in your video.  It's the best way to demonstrate a 'show-and-tell' of your screen.  Just by adding your webcam, you'll be able to elevate the video course experience.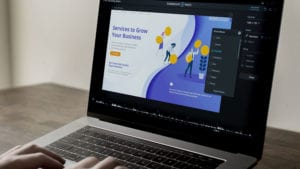 Once you're done with the screen recording, you can customize your video with an easy video editor.  Try adding rich text, use overlays including images, arrows, or highlights.  Pop in some music to keep your audience engaged.
For a consistent look and feel for each of your videos, try adding your own personalized video intro and outro.  This can be inserted into each of your videos so that it maintains a level of consistency throughout your course.  You can also add a logo at the corner of your video.  Personalize text and shapes with your own brand colors for a professional look.
ScreenPal is a great tool if you're looking for a seamless way to create videos.  You're able to screen record, edit, then host and manage your videos in one place. We'll write more about hosting in just a bit.
4. Gather feedback 
Once you are done creating your course content, you'll want to think about asking for feedback.  Share your video course with peers and ask for constructive feedback on everything including your subject matter, the way that your videos are structured, or even how you are presenting the information.
This will help you gauge whether your course is effective and if you've met your overall goal or outcome.
Send a quick survey and ask specific questions about what they think of the course.  This can help you adapt, improve, and update your course to meet your audience's needs. 
Elements of an online course video
Let's turn to the elements of your course videos.  This can be done in the planning stages when creating your outline.  These elements are something you should think about if you're looking to include a wider audience.  You want to make sure that you're creating effective and engaging content that appeals to all backgrounds. 
Inclusivity
A good video course will take social, political, and cultural issues into account to craft an inclusive learning experience. Doing so might mean curating an intersectional reading list, ensuring racial representation in graphics, and using open educational resources as course materials.
This approach will consider your audience's backgrounds and socioeconomic statuses to maximize accessibility, which ultimately means more successful scholars. 
Interactivity
This is another important element of course videos. Most watchers won't retain much information from simply watching content. The solution is to make your content interactive so they are involved in their own learning process.  
Here are a few options you can try to implement into your videos.  Try including a short survey after each video.  You can use a call-to-action button at the end of each video which sends them to a survey or quiz.  It will help them retain the information they just watched.  Once they successfully complete the survey, they can move on to the next video.
You can also use annotation buttons throughout your video.  These can link to other resources so they can deepen their knowledge of the topic.  Providing links to resources they can read or watch later can improve their learning.
Think about interacting with your audience in different ways.  You can use the screen recorder to record personalized feedback on homework or to answer questions.  This will help your audience feel supported and guided throughout the video course.
Critically challenging
Enhance their skills and apply what they are learning in your video course.  Challenge your audience by asking them to complete exercises or assessments.  Have them participate with peers and discuss your subject. This will reinforce what they are learning in your course.
You can help facilitate discussions and promote engagement just by being available to them as they continue to learn. 
Ultimately, the most essential element of a video course is effectiveness. If you're already doing all of the above, your course will naturally lead to successful outcomes. 
Managing and optimizing your course videos
Once your video course is complete, you'll need to find effective ways to manage all of your content.  Managing your videos is crucial, whether you plan to offer one course or a dozen. That's because how you record, save, organize, and share your videos directly affects functionality and navigability.
Choosing a hosting platform
With so many options on the market, it can be hard to pick the right hosting service for your needs.
YouTube is a popular choice, but your audience may easily get distracted by the recommended videos that pop up alongside your clip.  Other hosting services may include intrusive ads, slow loading times, a limited feature set, or expensive pricing.
Let's revisit ScreenPal and why managing your content on this platform works for everyone, from individuals to big businesses. It's affordable, distraction-free, fully-featured, quick to load, and offers a brand ad-free option.
How to make the most of video hosting 
ScreenPal includes robust features to organize and share your content. With a fresh user-friendly look, it's easy for you to use.
Set your video course up for success by taking advantage of these hosting features:
Custom video player
You can customize the player to match your brand with colors and player controls. You can also leave it as-is for a clean and professional look.
Custom thumbnails.
The perfect thumbnail encourages viewers to click on your video, so ScreenPal, with its user-friendly thumbnail maker, lets you effortlessly create and upload the perfect image.
Embed your video
Grab the embed code of your video and display it on your own custom website.
Update your videos without creating a new URL
You can update your video without losing analytics data or having to create a new URL.  Once you share your video link, it won't change so you can continue updating and replacing videos without having to worry about sending a new URL.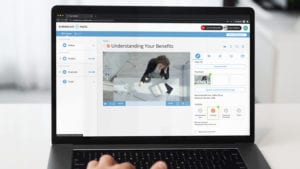 Organize with folders and channels
To get organized, you can create folders (and even subfolders) to arrange your videos by topic.  In this case, you can organize your videos as you had in your outline.  You can then create subfolders to be listed under the main topic. It keeps everything organized and manageable.
Sharable Channels
A great way to share your video course is through a channel.  Channels consist of a list of videos.
You can also create a channel to share with your audience.  Just send the channel URL and they have access to your list of videos.
Publish and share on multiple platforms
ScreenPal offers instant sharing to YouTube, Vimeo, Google Drive, and more. You can also share on popular social sites including Facebook and Twitter.  So whatever the preference, you can easily share to reach more of your audience.
Call-to-action and Annotation buttons
Like we mentioned before, you can add CTAs or annotation buttons to your video.  You have access to this in the hosting platform.
You can either add an annotation button anywhere on your video or use a CTA to help guide your audience to the next video.
Recover your files.
Accidentally deleted a video? Recover it easily. A trash can is included, so you can see what you have deleted and recover your files if necessary.
Host your video course
Getting your video course in front of your audience doesn't have to be hard. The right hosting service will make it easy.
With ScreenPal, you'll have the tools and features you need to get the job done quickly, plus all the great tools needed to make it happen.
It will save you time, money, and effort while providing an engaging experience for your audience.