It's well known that video marketing is an effective way to grow your business, but working with a video production team can be cost-prohibitive and time-consuming. Fortunately, you can create high-quality videos in-house.
The best part? You don't need video experience to bring your vision to life. ScreenPal's video creation tools were carefully designed with ease of use in mind. You'll get all the bells and whistles you need to create professional, branded videos, no experience necessary.
All the Tools You Need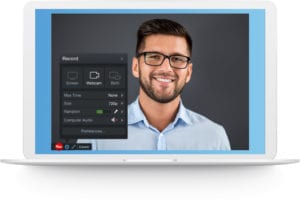 When getting started in video marketing, keep your equipment simple. Your laptop and webcam will be plenty.
Next, download the screen recorder so you can start recording. From the screen recorder, you can:
Choose how you record.

Capture all or part of your screen, and add and size your webcam for a picture-in-picture effect. Or film with just your webcam and let your personality shine. 

Add narration.

Use your selected microphone to narrate your video. Worried about missing a line? Upload a script and record section by section. 

Add stock music. The right background music can help keep your audience captivated. You can upload your own tracks, or choose one of the many free options in the screen recorder.
Take Your Videos to the Next Level
If you'd like to add some pizzazz to your videos, the video editor is your solution.
With the video editor, you can: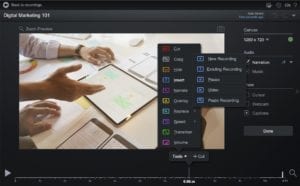 Mix and match content from multiple devices.

Add overlays like arrows, lines, shapes, images, and even additional video clips. 

Zoom in and out, highlight areas and add blurs.

Change colors, sizes, and fonts.

Speed up and slow down any section of your video.

…and more.
You can easily enhance any video without budget constraints.
Find All the Media You Need in One Place
There's no need to spend hours scouring the web for the perfect photo to use in your video. As a Premier user, you'll have access to ScreenPal's expansive stock library. It's filled to the brim with images and video clips. No license needed!
When your video is finished, sharing is a breeze. Simply save your video to your computer, or upload directly to ScreenPal, YouTube, Google Drive, Dropbox, or Vimeo. You can also embed the video on your own website. 
Need inspiration?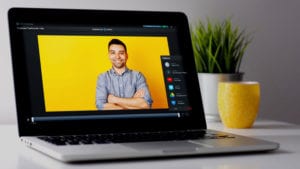 Now that you know how to make budget-friendly and effective marketing videos, all you need to do is come up with an idea. On the ScreenPal blog, we've shared video marketing ideas for YouTube, and a few impactful social media video ideas. 
We've also shared some handy video editor tricks to really wow your audience. 
With these tips, you'll be converting customers through video in no time.