Distance education can present several challenges at home.  Here are a few situations that many parents are grappling with.  You may have several children in different grades who need access to a computer or the internet. There isn't any time in the day to help your children with schoolwork. You aren't sure of all these tech tools that your children are using.  It's pretty safe to say this upcoming school year will look nothing like previous years and now you have to find a way to make it work. 
Remember one thing, everyone is learning and trying to make the new school year work for students. 
Educators have spent a better part of their summer vacation in professional development and training courses to help them with remote learning. The goal is to provide quality education in a distance learning format. Students can continue learning with or without a physical classroom.
While educators are working on their plans, you can help by learning how to adapt.  Below we've listed several learning scenarios that your school may utilize and what to do to encourage learning with your own children at home.
1. 100% Distance Education at Home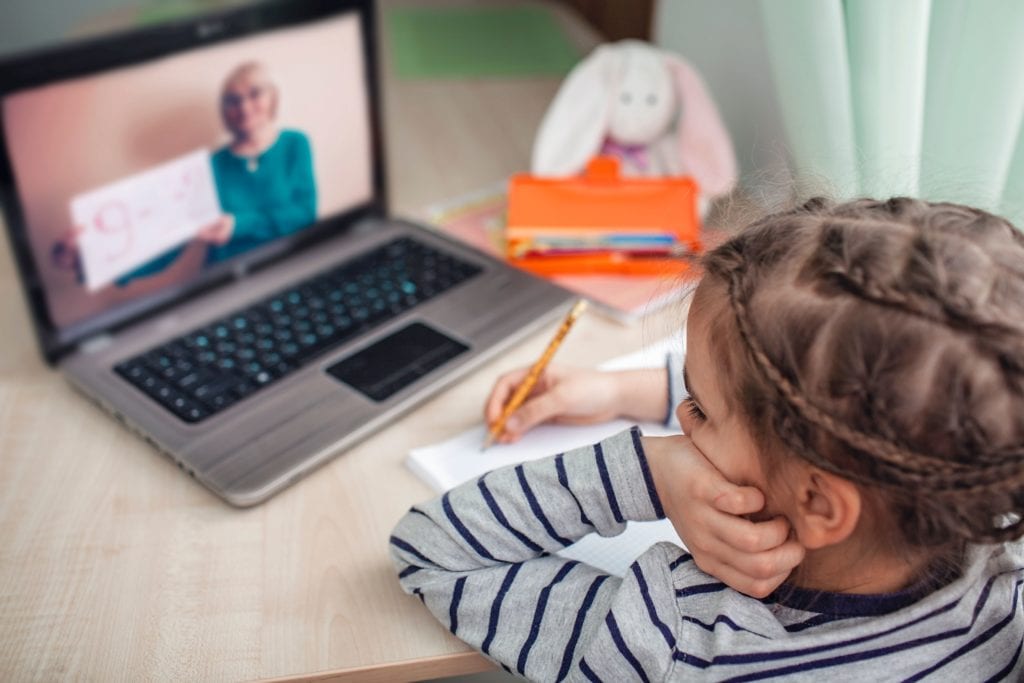 Online learning can take many forms including recorded video, live video conferencing, interactive mind maps, graphics, slide presentations, and more.  It can also be shared via the school's Learning Management System (LMS) or platforms like Google Classroom or Microsoft Teams.  Just remember, technology is the best way to teach your children during a distance learning situation.  These tools are designed to make learning easier.
How to Prepare For 100% Online
Before the school year begins, you'll likely receive an update or announcement from your school district.  This update will provide you with the district's plans on how to continue learning for your child.  Here's a list of things that parents can do to encourage learning at home.
Establish Routines and Expectations.  It's important to develop good habits from the start.  Create a flexible routine with your children.  Help them establish a routine as if they were going to school by getting them up and ready for school.
Ask your child's teacher for a list of expectations.  If you know what your child needs to do on a daily, weekly, or monthly basis then you can better manage your time. You can add assignments or projects to your child's calendar.  You can also schedule designated times to help your child with homework if needed.
Learn Tech Tools.  If your school district is going 100% online then you may want to learn a few of the tools that your child is required to use.  If you haven't received solid plans from your child's teacher then reach out to the school district's tech integration department. You can ask what tech tools they use school-wide.  A question to ask is whether they have a Learning Management System (LMS) and if it's integrated within your child's grade and classroom. If you can familiarize yourself with the tech tools that teachers are using then you are better equipped to help your child at home.
Stay In Touch With Teachers. Make sure you know where to go to find the help your child needs to be successful. Ask teachers for any videos or documents they have to help you learn any of the programs they are utilizing with students.  You can ask them how they are delivering weekly homework assignments and communicating with students.   The thing to keep in mind is to stay in contact with your child's teacher in case there are any issues that may arise.
Build a Network. It might also be a good time to find other parents in your neighborhood to help you troubleshoot potential problems. Building your own network of parents can prove to be incredibly helpful. There are public neighborhood forums to share ideas and provide support.  Parents are getting creative too.  You can join a group of parents and hire a tutor to help your children with their school work.  
Communicate effectively. One way to start communicating with your child's teachers is by using video.  You can pose questions or ideas to educators with a simple recording.  They can get to know you and your child.  Record simple, personalized videos with ScreenPal to help build a stronger connection with your educator. 
2.  50% Online, 50% in Class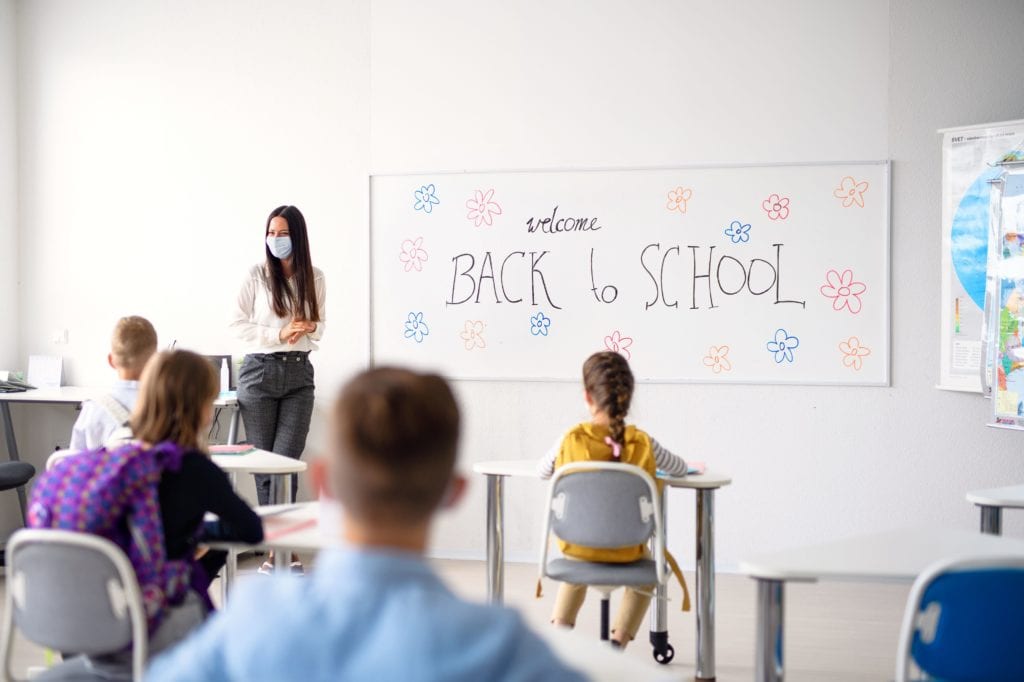 Think of this as the half and half learning model. Students will be in school a couple of days per week and will be online for the rest of the time. This scenario gives students a chance to have time in-person with their teachers and also the ability to continue learning online.  Classes will be split, with one half of the class on an "A" schedule and the other half on a "B" schedule. 
According to the Lake Washington School District in Washington State, this option is expected to be rolled out this fall. In an email sent out to parents, school district officials explain, "In-person instruction will focus on building important relationships, the introduction of course content, and skills, class discussion, direct feedback, hands-on learning, and other instructional approaches that lend themselves to in-person learning."
For those students who may need more assistance or supervision such as younger children, they may need to attend in-person classes more often than older students. 
How to Prepare for 50% Online
With the 50% learning scenario, your child has a chance to be face-to-face with their teachers and fellow classmates. It's their chance to build connections. The key to this scenario is relationship-building.  Encourage your child to take this time to learn and ask questions.  
As for the other 50%, you'll still need to prepare your child for remote learning.  We recommend preparing your children as if they were going 100% online.  If you do this ahead of time, you are ready for any emergencies or immediate school closures that may come.
3. 100% In-Person With a Solid Back Up Plan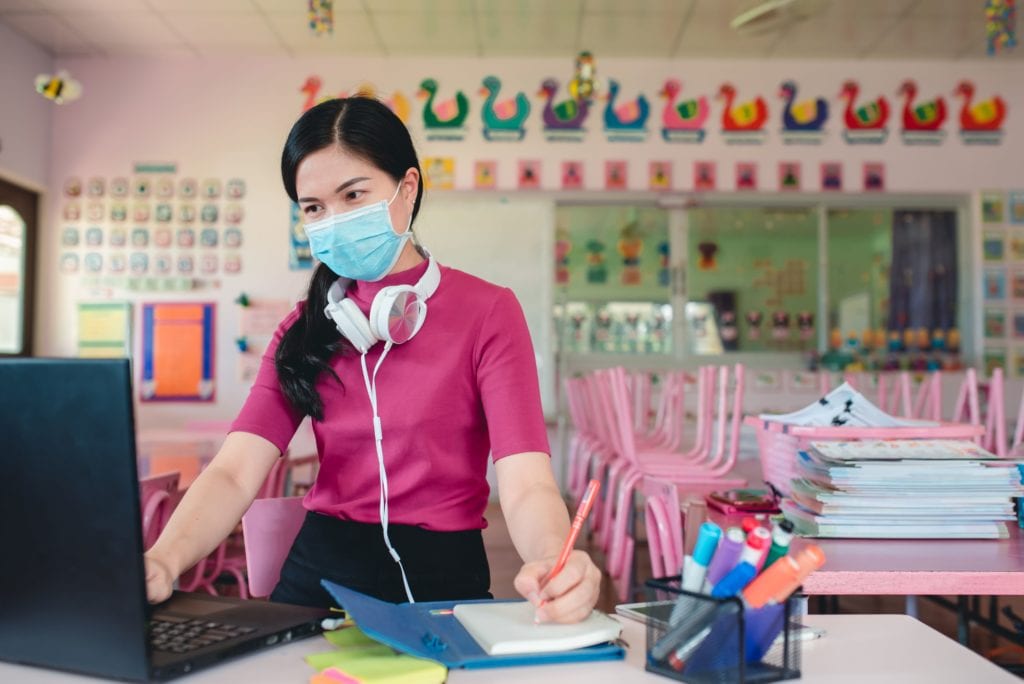 In this scenario, your children are back in the classroom. YAY! While that's great, you'll need a backup plan for any immediate school closures that may happen in the future.  To keep things moving smoothly, you can revert back to your plans for remote learning.  
How to Prepare for 100% In-Person Learning
In this particular scenario, you'll need to be flexible and adjust to any immediate changes.  One thing you can do is follow a daily routine so that your child always knows what to do.  You can also reach out to teachers and ask them if they have plans in place during an emergency.  
Build Connections with Video
Video is the best way to reach everyone and it's a great communication tool too. Your children can watch a video while they are on a computer or they can access them on mobile devices.  No matter where they are, they can consume video and continue learning.
To understand how real-life teachers use video, we recommend that you head to our Education page for more details on how video is implemented in school work. 
The best thing about a video is that you're helping your children build a connection with their teacher.  Just by showing their face and hearing their voice, teachers are able to connect with them.  It's especially important during these times of change.