Whether you're making a few edits on a recording or creating an in-depth video, you'll find that using ScreenPal's Video Editor is easy and simple.  You don't need professional editing equipment to get it done.  
In this 'Easy Video Editing Software: Guide to ScreenPal's Video Editor,' you'll discover all the things you can do with your recordings or videos in just a few clicks.
Edit Your Video in 3 Steps
We've broken down the editing process into 3 steps to show you how quickly it is to create a video.
Preparation – Prepare your video project with video, images, and a script or outline. Delete unwanted portions of your video.
Production – Enhance your video by adding elements to jazz it up.  This includes music, animations, and overlays.
Publishing – Save and share your video with the world with these easy sharing integrations.
1. Preparation
It doesn't have to take a lot of time. If you are ready to record, then go ahead and hit record.  Those are great for lecture capture or to quickly communicate an idea or thought.
Add Videos and Images
Gathering your video and images in the preparation phase saves time during the production process.  Knowing what type of media assets you have can help save the guesswork during editing. You can import video files from any mobile device or computer and gather them into your Recordings Manager for easy access.  All your screen recordings and videos can be placed here for easy access.  You can add them to your editing timeline when you are ready to edit.
When you are ready to edit and add video into your editing timeline, you can insert an 'Existing Recording' by heading over to your toolset.  Just choose the video you want to insert into your video.
There is another option to add a video directly into your timeline.  You can add a video by inserting a 'Video File' and you'll be directed to choose your video from your computer.
If you have a video series or a set of tutorials, adding a video intro may help to provide consistency.  For instance, having an introduction to a brand video allows the watcher to understand what they will be watching as well as connect it with a company.  
Images go through the same process.  Image overlays make it easy to further illustrate what you are discussing. We've given users the ability to upload as many images as they want.  There are also various styling techniques including shadows or borders that you can add to each of your images. Head over to your Overlay options and you'll find Image.  Just choose the image from your computer and it will be added to your timeline.  
Scripted Recordings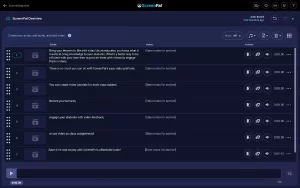 Scripted Recordings gives you the ability to create scripts.  By easily typing in your script, you'll be able to follow along so you can record your audio narration in sections.  You can also import audio narration files if you have a professional voiceover for your videos.
This process is great for tutorials and marketing videos. Scripting keeps you on track.  If you mess up on just one part, you don't need to re-record the whole video. You can re-record one section to update your content. This saves you time from re-creating a new video.
Delete Portions of Your Recording
You can prepare your video by cutting out anything you don't need.  It's a simple process to cut out pieces of your video from the video editor.   Just select the portion you want to delete, head to your toolset then click on 'Cut.' It's that simple!
Helpful Tip

Here's a quick tip: Don't worry about messing anything up.  If you do a cut or add an overlay, you can always redo it. Just click on the trash icon over your timeline, and remove the edit.  
We've also added an 'Edit History' button so you can track what you've done to your video. A list will appear and all you have to do is click on it to redo an edit.
2. Production
Now that we've helped you prepare your video, we can head to the tools that help you enhance your video even more.  Let's start with audio.
Whether you're working on a training or marketing video, you can set the tone of your video by adding music and enhance a rather boring topic to something your audience will be engaged in.  ScreenPal has audio tracks for 'Narration' 'Computer Audio' and 'Music.'  They are located on the right-hand side of your video editor.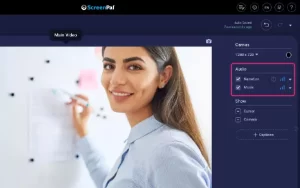 Music Tracks
We have a long list of music tracks to get you started in our stock library.  There are 20 tracks you can choose from.  Pick your track and it will be placed in your timeline.  You can adjust audio settings by increasing/decreasing volume levels.  There's also an option for you to fade your music at the beginning or end of your video. 
You can also upload your own mp3 music file very easily.  It's a great way to personalize and provide a 'mood' for your videos.
Narrate
ScreenPal has a Narrate tool that will enable you to add narration to your video.  You may need to do this when you accidentally forgot to say a step in a tutorial video.  With Narrate, you can replace or insert a new audio narration very easily.  You don't need to go back and re-record a brand new recording.  Just choose an area of your timeline and click the 'Narrate' option to get started.  
Add Overlays Including Text and Shapes
If you're creating an instructional video or a tutorial, adding text and shapes can help emphasize points throughout your video.   
You can create and format text and place them anywhere on your video.  You can customize your text with multiple options including font, color, and choosing background colors.  
In addition, you can add shapes including circles, squares, and arrows to draw attention to specific areas of your screen.  These options are great if you are creating a feedback video for a student and they need to follow along.  By adding an outline of a shape, you can help emphasize points and allow your watcher to understand concepts.
Transitions
ScreenPal has provided a long list of transitions you can use in your videos.  Transitions help separate ideas or segue into new topics or thoughts.  All you need to do is choose a transition and add it to your timeline.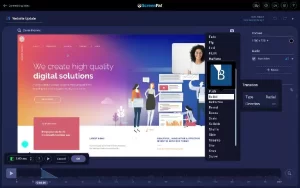 Moving Animations
Through the use of edit points on the timeline, you can easily create moving animations with just a few clicks.  You can move text, images, arrows, and more. It's a great way to emphasize multiple points.  
For instance, an astronomy class may have a lesson on planets.  You can move an arrow around to emphasize your lesson and it keeps your students focused on what you are talking about. 
Helpful Tip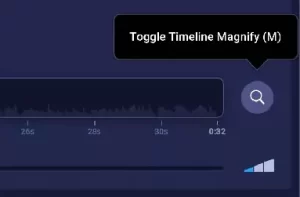 Here's a tip: There is a magnifying glass icon located on the right-hand side of your timeline.  If you click on this icon, you'll be able to zoom in on your timeline so you can see your edits more precisely.
Green Screen
You can remove the background of your webcam video very easily with the use of a green screen filter. We've made it convenient for you to remove your background in both the screen recorder and video editor.  You can replace it with a background of your choice just by adding an image background.
Green Screen can be fun! Get creative with your backgrounds and choose an image that sets the tone for your whole video.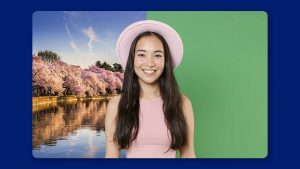 Accessibility and Captions
With federal rules requiring online videos to comply with accessibility laws, it's more important than ever to add captions.  You can make your videos accessible using our automated speed-to-text tools or interactive captions editor, including uploading your own captions file.  If you already prepared a script in our Scripted Recordings feature then the script automatically becomes your captions file.  When you share videos from ScreenPal, it allows your audience to easily turn on or off captions as needed.   
Helpful Tip

Here's a helpful tip: For every feature that you use in your videos, you'll find a question mark in your toolset. By clicking on the question mark icon, you can gain more insight into the feature with a step-by-step video tutorial. It's a great way to understand and discover the feature even more!
3. Publishing
There are multiple options to upload and publish your video. If you're an educator and use Google Classroom, you can upload and publish your video directly to Google Drive. Video bloggers or people who want to share their passion can upload directly to their own YouTube channel.  For businesses that utilize Vimeo or Dropbox, you can publish directly to these channels.  In any case, you have the option to publish and share your videos on any of these platforms.  
Just connect your account one-time to ScreenPal.  Your account settings will be saved for future publishing.  Each time you finish publishing a video, you will also have the option to share it on your social media accounts including Facebook or Twitter.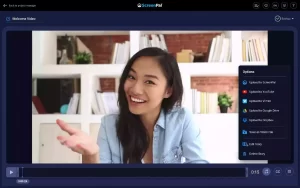 You can also save your videos into a video file for later use.  ScreenPal has the option to turn any of your videos into an mp4, FLV or AVI file.   
If you want to take advantage of our hosting services, publish on ScreenPal and your video will be saved in your account.
Easy Video Editing with ScreenPal
There are so many ways you can enhance your video with ScreenPal.  If you need to add a recording, blur out sensitive information or pause your video for a few seconds, you can do that all with this easy-to-use video editor.  The options are endless! All you need to do is delve right in and get started.  
Quick Links:
Beginner's Guide to ScreenPal's Free Screen Recorder
5 Quick Tips for Editing Videos
Write An Engaging Video Script With These 6 Tips