If you're developing a video or slideshow that needs visual aids, screenshots are often the quickest way to explain a complex task or add visual context. While it's always easy to snap a screenshot with ScreenPal and add it directly to your project, a bit of extra editing can supercharge your image by making it more engaging and easier to comprehend. 
Screenshots are about adding clarity and conciseness to your message. Your audience should never have to wonder, "What's the point of this screenshot? What am I looking at here?" Your communication will be much more effective if you use the tips below to get straight to the point with your image captures. 
These easy Image Editor edits will supercharge your screenshots.
Here are a few powerful edits you can use to make your screenshots more impactful. Once you've captured your image with the snipping tool, open the Image Editor to get started. 
Capture a high-quality screenshot. Whether you're working on an important presentation or just sending your coworker a quick screenshot in Slack, it's essential to capture a high-quality image. Capture your entire screen or full screen to get the highest resolution. 
Blurry screenshots can look unprofessional, and they're harder to understand. Even if you only need a small portion of your screen, capture a larger area or screenshot the entire screen, then crop the image to remove the unnecessary parts later. You'll get a clear, crisp image with the help of our PNG maker. If you simply screenshot a tiny section of your screen, the photo will blur and pixelate as you stretch it to fit your presentation.     
Add clarity with quick edits. Tell a more powerful story by adding a few quick updates to your screenshots. With some photo editing techniques, you can easily add text, arrows, or other shapes, highlight important points, and blur sensitive or irrelevant information.
Show your steps. Screenshots can help make a complicated process feel easy. If you need to show viewers how to accomplish a task, there are multiple ways to show your steps.
The fastest way is to use the Steps tool in the Image Editor. All you have to do is click on "Steps" and then select an area of your image to add numbered steps to your screenshot. 
Another way is to use multiple screenshots within a video. You can add text detailing one step per page. With this method, you can zoom in or out on each screenshot to show each step in greater detail. 
Add your branding. Add your organization's brand colors to any shapes, text, or other added elements on your screenshot. Click "modify style" to change colors, fonts, and more, giving your project a more cohesive, branded look. 
How to use edited screenshots in your work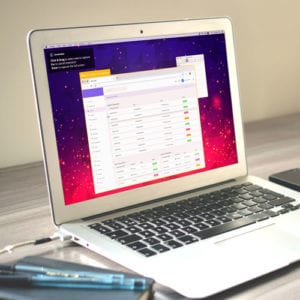 Clearer questions and feedback. Misinterpretation is a big time-waster, but screenshots can help. Before asking your IT department to help you solve an error with your email account, take a screenshot and use the photo editor to highlight the issue you're having. You can also blur out any sensitive emails or passwords before you share. Taking a few seconds to edit your screenshot can save you from a chain of back and forth emails trying to figure out what's wrong. 
Edited screenshots are also valuable feedback tools. For instance, when students turn in a class assignment, teachers can screenshot the work and add text feedback.

Share updates with your team. For intricate work like software development or coding, everyone on the team must know the code's most recent changes. Developers can take a zoomed-in screenshot and add steps showing the latest updates. 
Make a more helpful slideshow or video. When EdTech Expert Leslie Fisher makes e-learning videos, she uses the Image Editor to add arrows to her screenshots. The arrows take seconds to add, and they help the audience follow along with Fisher's presentation. 
Improve your customer support. Job recruitment testing company Picked Group Ltd. uses screenshots to help customers around the globe. "Our customer support team can now solve numerous customer issues much more quickly by producing videos and screengrabs, rather than having to explain matters step by step in an email," says founder Guy Thornton. The team can zoom in and out of their screenshots, add text, and overlay numbered steps to help customers solve problems. Thornton's team adds their screenshots to short screencasts to talk customers through solutions.
Level up your training videos. Terry Yonker of Buckeye Realty adds screenshots to training videos for his team. Terry says the finished videos make his training process adaptable and straightforward when working with remote trainees. "We believe in the tools, and it's something we've been using for years," he says. "When I share your capabilities with others, it's like a revolution for them. It seems so simple."
Need to know how to do a screenshot? 
You can capture and edit screenshots with ScreenPal from your Mac or Windows device. For step-by-step guidance on how to screenshot, follow this tutorial. Be sure to check out this video guide to editing your screenshots too.