Edit Zoom recordings with ScreenPal! We are excited to release our Zoom integration that will help you save time and increase productivity. Whether you're a business professional or an educator, you can easily transform your live video meetings and turn them into valuable resources for your team or students.
"The Zoom integration is another way we are meeting the demands of our customers as they are working, communicating, and learning remotely," says Matt Champagne, Chief Operating Officer of ScreenPal. "Our new Zoom integration allows you to enhance, personalize, and perfect your meeting recordings with an easy-to-use video editing suite and sharing platform."
Zoom, the leading live video and audio conferencing platform, allows you to record live meetings. With our video editing tools, you can enhance your recordings to be used for training, lessons, or communication. It's another exciting way to add to your company's knowledge base and boost the way you communicate across teams.
Below we've listed a number of ways you can use ScreenPal to enhance your Zoom recordings.
1. Edit Zoom Recordings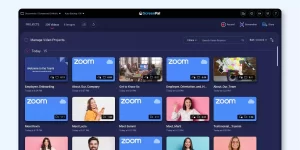 If you only need a section of your hour-long meeting, no problem! You can trim, crop, or cut segments of your Zoom recording.
You can get to the important parts of your meeting by cutting out awkward pauses, tangents, or banter between team members.  Don't forget those interruptions during live meetings.  Cut those out too and share the highlights of your meeting instead.
In addition, the video editing platform helps you edit multiple tracks of audio.  Add background music to engage your audience or replace a section of your video with additional commentary or narration.
There may be times when sensitive information is displayed on the screen.  You can hide those out with the blur tool. 
If accessibility is important to your company or school, you can easily add captions.  Not only can you reuse Zoom captions, but you can also use speech-to-text technology to identify your narration and turn them into captions. ScreenPal also has an Interactive Captions Editor for those who want to type in their own captions.
2. Build Custom Content
If you're looking to build a library of content for training or knowledge base, you can easily mix and match content from multiple sources. For instance, if you have a particular topic you want to cover, you can combine several recordings into one video.  You can easily separate these sections with transitions or add an overlay shape and enhance with section titles.
Need to cover up a section of your Zoom recording? You can add images or video overlays for a seamless look to your video. For users that need more visuals, we offer a stock library filled with thousands of images and videos. 
If fitting your company brand and image is a priority, it's easy to do that with the editor.  Add custom video intros or outros for all of your recordings.  You can add your company logo and design all your videos with custom brand colors or font. 
3. Share and Manage Videos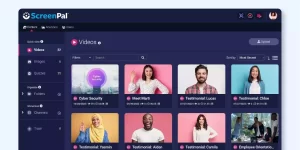 We've made it easy for you to share your videos with your entire team or audience.  You can quickly upload to ScreenPal's cloud hosting and sharing platform to grab a sharable link.  You can also save recordings as video files or share them on popular services like Dropbox or YouTube.
Need to add your videos to a website? Get an embed code and add it to an LMS or other company applications.  
For better management, our hosting platform helps you organize your content. You can manage videos using folders or channels then share it across the team for greater collaboration.
Connect With Our Zoom Integration
These features are available for Deluxe and Premier users. You can find more information about the ScreenPal Zoom integration on our website, or in the Zoom Marketplace.
You can edit saved recordings from either your local computer or cloud storage. 
Any part of a recorded meeting can be enhanced or polished then shared, allowing you to reuse recordings for training, lessons, and team communications.