Communication is key in any work environment. And when it comes to remote and hybrid workplaces, asynchronous communication helps teams be efficient and effective. Visual asynchronous communication tools like screen recordings, video messaging, and screenshots help teams communicate clearly, avoid unnecessary meetings, and send fewer emails (which we all appreciate!).
A screenshot, or screengrab, is a digital snapshot of your computer screen. It takes only seconds to take a screenshot of your desktop, and can be an ideal way to quickly document a bug, demonstrate a process, or share inspiration and information with team members, clients, or customers. 
At ScreenPal, we walk our talk and use our own tools to communicate internally as well as to create and communicate with readers like you. We're a fully remote team, and screenshots are an easy way for us to quickly share information asynchronously, as well as capture information for tutorials and trainings. 
Here are three of our favorite reasons for using screenshots.
Communicate effectively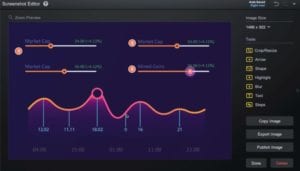 Communicating with screenshots takes the guesswork out of visual projects while saving time and resources. 
Screenshots are a perfect way to communicate clear feedback on designs, websites, or any visual product that you can view and capture on your screen. With a screenshot, you can capture a static image of the project, then quickly annotate your screenshot to add specific feedback and document any necessary changes. 
When you use a desktop screenshot tool with easy markup features, you're able to use the power of visuals to clearly show what you mean. Did you find a typo on a web page? Take a quick screenshot and circle the word that needs correcting. Would you like your colleague to update a section of a slide? Use the highlighter tool to show them exactly which area needs to be changed. 
Screenshots can improve communication and feedback with remote team members as well as clients and vendors. You can prevent confusion and ensure that everyone is on the same page without a lot of unnecessary back and forth or adding meetings to your calendar. 
Save time 
Screenshots are a go-to tool for anyone in IT, human resources, or for managers onboarding new employees remotely. Opt for screenshots over wordy emails or print screen images with directions. A screenshot can save a ton of time and provide better team collaboration.
Plus, saving the screenshot in ScreenPal means your employees can access your instructions anytime with a sharable link. 
For example, IT managers can use annotated screenshots to show their team exactly where to find computer updates. Locate the systems icon on a desktop and take a screenshot. Then launch the ScreenPal Image Editor to turn your screen grab into a visual how-to guide.
Managers might use a screenshot to share an onboarding guide with a new employee. Take a screenshot of your company's intranet and add numbered steps to help your new employee understand what paperwork and training they need to complete and in what order. 
You can annotate and enhance screenshots using any of the image editing tools. You can use the highlight tool to emphasize where an icon can be found, add numbered steps to clarify a sequential process, or use the text tool to add labels or explanations.
Solve problems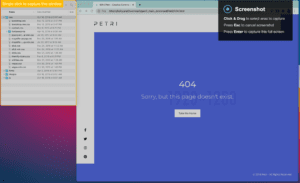 Everyone has experienced computer glitches or website errors. However, it's hard for others to  troubleshoot the problem later if you can't describe exactly what happened. That's where a screenshot of your desktop can make a huge difference. With just a click, you capture exactly what happened so that the issue can be clearly identified and resolved.
Screenshots are great for customer support communication. Instead of describing the problem, customers can send a screenshot to help support professionals visualize the issue. And likewise, support teams can use screenshots to communicate clear instructions to customers and demonstrate how to solve their support issues.
So the next time an error box pops up or an issue happens, make sure you snap a screenshot. Publish directly to ScreenPal and generate a link to share your image. You can troubleshoot and solve problems faster by sharing visuals.
Incorporate desktop screenshots into your workflow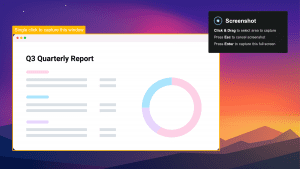 Transform the way you work with a desktop screenshot tool. There are a myriad of ways to incorporate screenshots into your daily workflow. Screenshots are a great way to communicate, demonstrate and problem solve. You'll find that an image is worthy of a thousand words.
With ScreenPal, you can take a screenshot of an entire screen, drag to capture a specific area, or capture an active window with a single click. You can annotate, crop, and enhance your screenshot with the free image editor. Add text, shapes, and numbered steps as well as highlight or blur sensitive or unnecessary information to make your screenshots clear and effective. 
ScreenPal's easy screen capture and edit tools are designed to help employees effectively and efficiently communicate, demonstrate, and problem solve with screenshots. Get started for free today!
Quick desktop screenshot links:
An Overview of the Screenshot Tool
Effectively Communicate and Collaborate with the Screenshot Tool