Video has helped businesses around the world stay connected as they communicate and collaborate with their teams.  The personal and visual nature of video makes it easy to keep your normal office routines while working from anywhere.
We'll show you a few of the game-changing ways you can use videos to make your remote work experience a positive one. 
Why Video Is So Effective For Work
Your normal work routines don't necessarily need to change just because you aren't in the office. If you take advantage of video tools, you can still have meetings, provide customer support, and train new hires.

Wherever possible, try to use video instead of phone calls, emails, and instant messages. Believe it or not, a video can feel just as personal as being in the same room together. You'll be able to read body language, facial expressions, and tone of voice, all of which help to avoid miscommunications. 

On top of that, video can help keep your team focused. Seeing each other regularly via video will keep them from feeling isolated, add structure to the workday, and give them more opportunities to share and collaborate with each other.
How to Use Video From Anywhere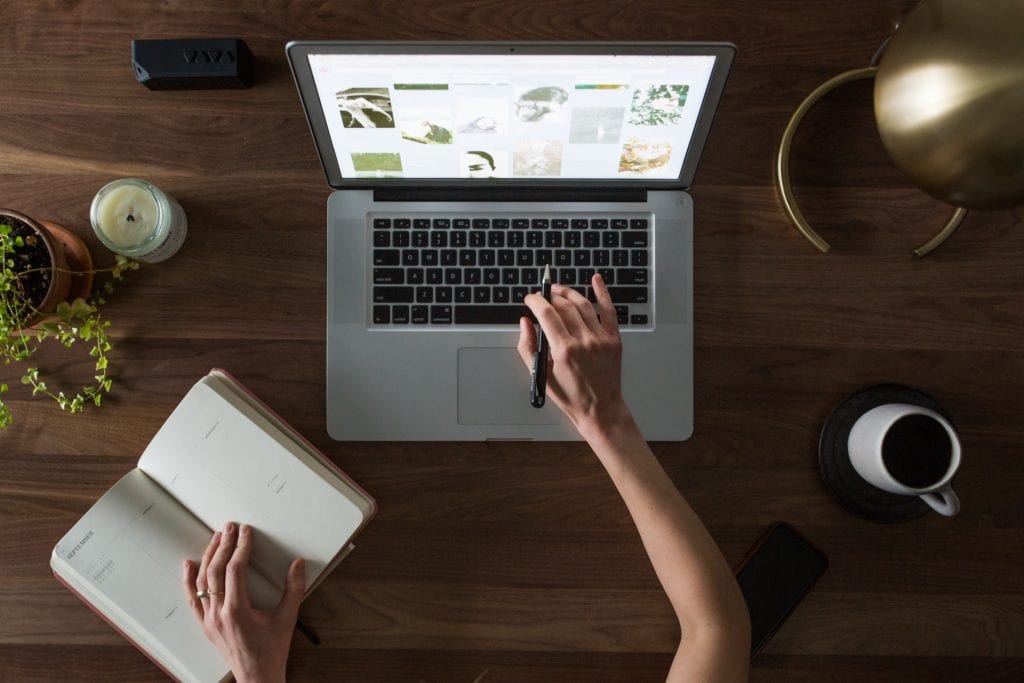 There are limitless ways to use video to keep your team engaged. Below are a few of our favorites. Mix and match to find what works for you, or try all of them!  
Quick video updates
Why waste time writing long emails that often go unread? When you need to make a quick announcement, try recording a quick, casual video instead. You'll get your message across more clearly, and you're more likely to get a meaningful response from your recipient. 
This is the preferred method at semi-remote company AgoraPulse, according to Product Marketing Director Lisa Kalner Williams.

"We are spread over 15 countries, so preparing a video with an issue, idea, or question saves us from having calls that are convenient for some but really bad for others," Williams said.

AgoraPulse uses ScreenPal for video because, according to Williams, it makes communication quicker and clearer for the team. "It saves us hours of waiting for an email response or trying to set up phone calls across datelines," she said.
Replace in-person meetings
The fewer meetings the better, right? If you want to present information to your team without disrupting everyone's workflow, make a video instead. People can watch on their own time, and refer back to it if they missed something. No more repeating yourself for those who missed the meeting.
If you need to present a slideshow, you can easily turn your Google Slides or PowerPoint into a video with ScreenPal. You'll be able to make your slides more engaging with music, highlights, narration, and more.
You can even include a video of yourself in the corner of your screen, via webcam. Adding your face and voice to a slideshow connects the viewer to your topic, grabbing their attention and improving comprehension of your key points.
Help customers
Troubleshooting technical issues over the phone can be frustrating for customers and staff alike, but video can vastly improve the customer support experience. Rather than trying to fix technical problems in a phone call, have your support team use the screen recorder to make video tutorials, showing customers how to solve issues step-by-step.

You can highlight key steps on your screen to go along with your narration by using video editing tools. This type of video will eliminate confusion and make your customers feel heard and supported.
Explain complex topics
You can still do product demos and walkthroughs while working remotely. Video demos can be just as effective as in-person presentations.
If your business is digital, screencasting your demo is a game changer. It helps viewers envision what it would be like to use your product or service on their own screens. If you have a tangible product, set the screen recorder to record your webcam so you can show it off on camera as you talk about the features.
Video training and tutorials
You can have your HR department keep everyone updated on new processes and procedures while people are working from home.

Taylor Lane of Remote Like Me uses video to train her team. An easy video was all the business needed to help employees understand work processes. As an example, when one of the managers prepared to go on vacation, he quickly made a video showing the team how to do his tasks in his absence. He shared it with the team and asked for follow-up questions. This helped him save time and stress without having to hold endless meetings to train employees.
Getting Started With Video
You can start using video with your team, no video experience necessary. Team plans with ScreenPal are available for businesses of all sizes.
Use the screen recorder to make your screencasts and webcam videos, and the video editor to add overlays, animations, music, and more. 
When you're ready to share a video, you can host on ScreenPal, or upload directly to Google Drive, YouTube, Vimeo, Facebook, or Twitter. You can also embed videos on your website or in emails, or share them with a custom URL.
If you need video creation tools or have questions about team plans, reach out to the ScreenPal team here to discuss the right path for your business.