Guest Post: Video lectures have become especially crucial during the pandemic, and will likely continue to be important for learning in the future. They add value to learning by offering an accessible, multi-dimensional experience that allows students to replay the lessons as needed.
For these videos to work, they have to be engaging enough to hold the students' attention. Here are 4 tips to create engaging video lectures.
1. Keep Videos Conversational
Remember, effective lecture videos don't need to be formal.  They can be delivered in a conversational tone.  What's most important is the content that you are talking about.  
By recording your lecture video with a webcam, students are able to see and hear you as you teach.  Being authentic is what makes videos engaging for students.
2. Enhance Lectures With Visuals 
Visuals including images, shapes, arrows, or animations can make your points more clear and accessible. You can use text to emphasize certain points of your video.  Don't overdo it, though!
Make sure your class' pays attention to your presentation.  Too much text may get distracting and they won't be able to hear you as you lecture.  Instead, provide bullet points on the topics you are covering then use visuals to emphasize your points.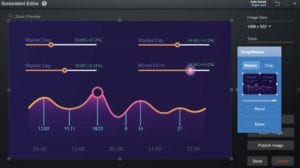 Here's a great way to keep it engaging.  When solving an equation, add a screenshot to your video presentation using ScreenPal.  You can use the Image Editor to add numbered steps to your screenshot.  This way, your students can follow the steps and can see how you solved the equation.   You can easily add any edited screenshots to your video with the video editor. 
With these visuals, your chances of engaging your students will increase considerably.
3. Create Pauses For Breaks and Tasks
When making your video, make sure you take some time to break or pause in your video.  Ask your students questions or give them tasks during this pause.  
Add music during your video break and sound effects to let them know to get back to their computer or device.  This is great for students who walk away from their computer.  When they hear sound effects like bells, they know when to come back to the video to start learning again.
By giving them a few minutes, you are creating a space for them to think about what they are learning.  By adding these components, you give the class something to work on during the lecture, and this will help keep them engaged.
You can add a CTA or call-to-action button at the end of the video.  Add a quick quiz or have them take a survey on what they thought about the video lecture.  Their performance, in turn, will let you assess whether or not your lecture was effective.
4. Add Your Personality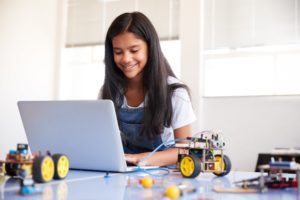 Humor can help put your class at ease and make them more receptive to the information in your video lecture.

Be open by telling jokes or show funny memes when appropriate. In addition, consider assigning lighter activities that your students may enjoy (as in a game, or a virtual museum tour). This way, you'll get to keep their attention for the duration of the video.

Creating an engaging video lecture doesn't have to be hard or challenging.  You can have fun by adding a bit of your creativity to engage students. 

About the guest author: Grace Jade Borer is a freelance writer who is passionate about all things digital. She is excited by developments in the world of remote work and digital marketing.