If you're seeking a new and meaningful way to educate students, videos are a game-changer.  There's no limit to the number of ways you can use videos in the classroom.  ScreenPal has an amazing community of educators who have changed the way they teach to accommodate students in this ever-changing world of technology.  With flipped and blended learning, video is used to enhance teaching methods and as a result, educators have more facetime with students.  We've got a number of educators willing to share their secrets of success.   Here are their 5 easy flipped learning tips to get you started.
Tip #1:  Just start doing it!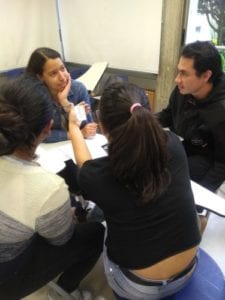 "If you're waiting for the perfect moment to start flipping, there's never a perfect moment to do anything in education.  The ultimate advice is… just start," says David Walsh, a high school science teacher at Collingsworth High School in New Jersey. Walsh has been flipping his science classes for years.
When Walsh first started, he says he recorded one video at a time.  His advice is to start small and not overwhelm yourself with too many videos.  It may take time to build a library of videos but getting started is the biggest hurdle for first-timers.
The reward comes later.  Director for Technology Emily Ziegler of St. Paul's School for Girls in Brooklandville, Maryland says "When you create a video, it's done and your kids can access it at any point.  It just makes life a lot easier and eliminates a lot of questions."
Tip #2: Invest the time so you can save time
Art Teacher Sabrina Barilone of Macon, Georgia says that video has given her the most important thing that all educators can cherish… and that's time.  She says, "It allows me to multitask, and manage behavior. It allows me to be two people at once." Barilone invested the time to create videos so that she has more time to focus on student needs. 
Tom Spall, an Instructional Technology Specialist at Brenham Independent School District in Texas, has had similar experiences.  He explains, "When I was using the flipped classroom method, it was great. I'd record my videos on ScreenPal. I could use small groups or stations. The kids would go learn the topic on a Chromebook, and then I'd be in the next station in the rotation and they would come to me with previous knowledge. It is almost like having a second educator in the classroom," he said.
The added benefit is that a video can be used over and over again.  Not only can an educator reuse videos but students can rewatch them to gain a better understanding of class topics.  Walsh says, "The power isn't necessarily in making the video and having them be able to see it at home. Eventually what the power is, is the kids get to see it over and over again the same way." 
Tip #3: Use a combination of media resources
You don't necessarily have to create your own videos when you are flipping your classroom.  There are many educators who have shared their own videos online.  Try searching for other content that can help supplement your work.  
Illinois mathematics teacher and college instructor Matthew Moore began flipping in 2012.  He has been helping educators flip their classrooms.  Moore says, "The things about a digital classroom that make it so powerful for my students is that I'm allowed to take pieces from everywhere and pull them together."  He creates blocks of content to enhance the topics that he teaches.  
YouTube is a great resource for finding other channels with content to support your curriculum.  Take the pressure off by blending in other teacher's content. It may even inspire you with creative ideas to try, so you're not so overwhelmed. With ScreenPal's video creation tools, you can easily mix and match different types of content within your own videos.  
Educator Kris Lambert of UCLA Extension said, "I've been telling people that it may take a few more minutes upfront, but it saves you hours on the backend."
Tip #4: Match learning with student's own pace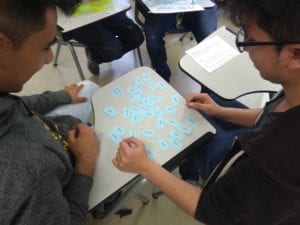 Chances are, there will be students who finish their work early in class. Instead of asking yourself, "Now what?" Have backup worksheets, videos or additional learning stations just in case you have extra time with students.  This way they learn at their own pace.
The biggest benefit of planning is that you can concentrate your time with students who need extra help.  University professor Martha Ramirez of Bogota Colombia says, "One of the biggest benefits is that if the students are struggling at the moment they are accessing the content, I'm right there to clarify their doubts."
It took some time for Crystal Samuels, a digital education expert at Colonial School District in Delaware, to build her video lessons but it was all worth it. "It's a lot of work on the front end, but now I spend my time walking around the classroom and really helping students that need help." 
Tip #5: Don't pressure yourself to create perfect videos.
Being on camera may not come easy to you, but don't let that stop you from attempting. Mistakes happen, but just keep rolling with your video.  Students don't need perfect videos to learn.  They just need the content.
Be fully prepared before making a video.  That may mean putting a script or outline together.   "Make sure you have everything you think you're going to need, that way you're not fumbling around. And also realize educational videos are not entertainment videos," Walsh said. 
Save time with easy video creation tools
To save more time, you can use ScreenPal's easy video editor to create videos.  If you have a script or outline, you can import it into ScreenPal's Scripted Recordings feature.  You can easily follow your script and add audio narrations, video, and overlays.  It helps you stay organized and on point.
The video editor also helps educators polish up their videos.  You can easily make cuts, add overlays or animation, mix or match media content and import other recordings you have made.  If accessibility is a priority for you, adding captions is easy.  Use speech-to-text technology or import your text documents for video captioning.
In the end, the goal is to provide content for students so they can learn.  Do you have any flipped learning tips you would like to share or have a unique idea that keeps students engaged?  Email our marketing team (marketing@screenpal.com) and share your story.
Need more flipped learning tips?
For those interested in learning more about flipped learning, there are numerous resources on our website.  Below are a few to get started:
Maximize Class Time With Flipped/Blended Learning
Techniques To Improve Learning in a Blended Classroom