Mastering a foreign language requires dedication. Books teach the basics. Greetings, counting, and conjugation are a must. But having a conversation with only those basic skills may be a challenge.  
That's why foreign language teachers are turning to video. Video provides students the one essential not found in any book. It gives them a human connection.
Practice Makes Perfect
Study after study touts the importance of conversation for foreign language students. Yet, large class sizes make regular one-on-one conversations nearly impossible. 
Plus, there's the issue of time. The U.S. Foreign Service Institute (FSI) estimates it takes 480 hours to master basic fluency in French or Spanish. Add another 300 hours for more complex languages like Chinese. 
Most teachers spend only a fraction of the FSI's estimate with students. 
The problem is inspiring educators to integrate video into their foreign language curriculum. 
"It helps them to repeat, repeat, and repeat," stresses Marcia Clark, the World Language Department Chair at St. Agnes Academy in Texas. 
The veteran Spanish teacher knows the value of repetition. Students must be able to practice conversational Spanish beyond the classroom. But who can they speak to when Clark isn't around? She found her answer in video.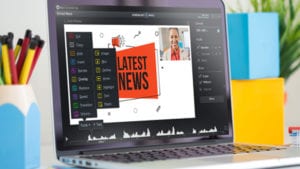 In 2016 she began recording videos straight from her computer with ScreenPal's screen recorder.
"I use it to reinforce the material we have studied in class. I send the students the link and they watch it at their own time."
The process allows her students to practice Spanish anywhere.
Picking Up on Nuances
The short videos offer what traditional study guides cannot. 
Students can converse with Clark's pre-recorded conversations. 
Yet it's her clever use of ScreenPal that make these guides special. Each video includes a picture-in-picture format so students see the lesson material which has been recorded from Clark's computer screen. Simultaneously, they are able to see a video of Clark speaking using a webcam.
Being able to see their teacher speak is the crux of why video guides are so important in foreign language classes. 
The student learns to pick up on the nuances found only in face-to-face conversations. By watching the video, students match Clark's intonation with her facial expressions. The combination leads to better comprehension.
It's the difference between memorizing words and actually learning to converse in Spanish. 
Research supports Clark's theory too. Experts found that "videos allow the learner to see body rhythm and speech rhythm in second language discourse through the use of authentic language and speed of speech in various situations." The same study also states that the most successful videos are "multi-layered to appeal to aural and visual texts" much like Clark's picture-in-picture method. 
Creating Video Homework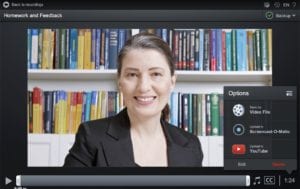 Each video tutorial adds a heavy emphasis on correct pronunciation. 
Clark has devised different video formats to make her student's homework interactive. 
"Some of the times the videos are, for example, a poem they need to memorize. So they play the video several times until they memorize the poem and the following day they present the poem here, in class." 
Online flipped learning communities are full of educators sharing their best practices. Foreign language teachers are testing out everything from pre-recorded conversations to online translation drills. 
Meanwhile, other teachers are testing student comprehension and their ability to read nuances. They give students conversation without sound and multiple choice answers. Students must determine what the conversation was about using their knowledge of cultural nuances.
Tips for Teachers 
Video lessons aren't just beneficial for foreign language students. They're a win for teachers too. Clark's best advice is to "get organized" before screencasting. 
"They have to have their material, the content, on PowerPoint, on OneNote, on Excel, Words, whatever," explains Clark who creates a concise slideshow presentation before she ever hits record.
Clark entrusts ScreenPal to handle the rest.
"Easy. Easy to upload. Easy to edit. Easy to record again, to edit, to erase it."
Clark hits record and then runs through her entire presentation while ScreenPal records both her computer screen and webcam. She's even created her own video channels.
Once a video is complete, Clark uploads the video directly to her individual channel named, "Learn To Speak Spanish with Mrs. Clark." Each video in her library has a unique URL that she can copy and paste to share with students. 
Teachers don't need to start over each school year either. ScreenPal's video editor gives educators the power to cut portions of a lesson, overlay new screen recordings, or enhance tutorials with captions, text or highlights. 
It's an affordable way to build interactive lesson plans designed for foreign language classes. And remember, the videos don't need to be elaborate. Keep the videos short and conversational so students can read the nuances and improve their understanding.