Graduation is more than just a day. Your graduate has worked hard for this very special moment. You'll want to cherish and celebrate this special milestone and all it represents. There's no better or easier way to share a heartfelt, personal congratulations than with a graduation video.
Here are 5 graduation video ideas to celebrate the graduates in your life, whether you're a parent, grandparent, educator, family member, or friend.
Graduation video ideas
Record a graduation video message
Here's an easy and personal way to congratulate your graduate. Record yourself telling them how proud you are, sharing memories of their accomplishments along the way to this day, and congratulating them on their graduation.
Option 1: Quick, authentic graduation video message
Send a quick, personal video message directly to your graduate with ScreenPal. Just click the ScreenPal icon in an email or social media message, choose your webcam, record your message, and share. It's that easy!
Option 2: Polished and personal graduation video message
You can also easily record yourself with your computer webcam using ScreenPal's screen and webcam recorder. You can then add rich text and music in the video editor to turn your video message into a video graduation card.
Make a graduation video with photos and music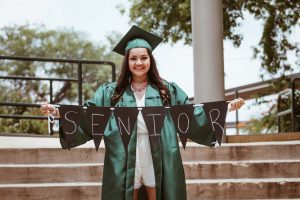 Bring your video message into the video maker, where you can add and overlay photos of your graduate throughout the years, plus add music to your video to create a graduation video slideshow. 
Then and now:

Add that first day of kindergarten photo and your grad's senior yearbook photo to show how far they've come!

Family and friends:

Include photos of parents, siblings, grandparents, and best friends with your special graduate to show them how loved they are.

Looking ahead:

Share their excitement for what's next! Include a photo of your graduate touring the college they'll be attending, or the logo of the company they'll be working for. 
Create a graduation video montage
Not everyone who wants to celebrate your graduate's special day can be there in person. Encourage family and friends to record their own video messages ahead of time, and stitch those videos together in the video editor. You can then add an intro text, transitions between messages, and music to polish your video montage.
Share an inspirational video quote
Your graduate is embarking on a new stage of life. Share your own words of wisdom or a meaningful quote to help them on their journey. You can record your message using the screen recorder, and then overlay stock footage, animated text, and music to make a video that will inspire your graduate as they embark on this next phase of their life.
Capture graduation day memories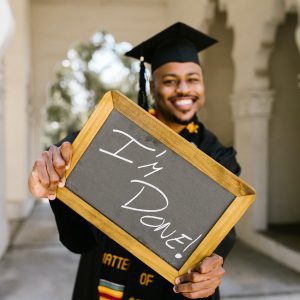 Bring those graduation day videos and photos into the easy video maker and stitch together a graduation day video that your graduate will cherish forever. Show before, during and after the ceremony, include clips of your graduate and their friends–make sure you capture the classic cap toss!–and share the day with everyone who couldn't make it in person.
How to make a graduation video
Now that you have some fun ideas for how to celebrate and congratulate your graduate, we'll walk you through how to create a graduation video to commemorate this special occasion. You can use ScreenPal to quickly and easily make any type of graduation video.
Step 1. Record your video message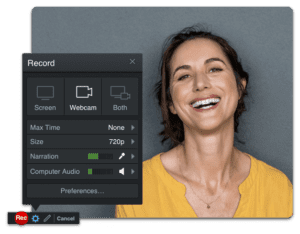 One easy way to record a personal message to your graduate is to use your computer's webcam. Launch the ScreenPal screen recorder and choose "Webcam" in the recorder options. You can use your computer's built-in microphone, or click "Narration" to choose whichever microphone you would like to use. When you're ready to record, click the red "Rec" button, and then click the pause button when you've finished recording or you need to take a break. You can preview your recording and click "Done" once you're happy with your message. It's that easy!
On your smartphone? You can do a quick recording with your phone's camera, or use the ScreenPal iOS or Android app to record through your facecam and then add text, effects, and music right there in the mobile app.
Step 2. Edit your video
You can edit your recording and/or any video clip on your device in the ScreenPal video editor.
Cut and trim your video
You can easily remove any silences or pauses in your recording. Then use the Cut tool to cut out any sections of your video clip that you don't want to be included in your final graduation video.
Add videos and photos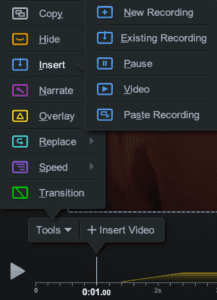 You can easily stitch together multiple video clips for a montage or video slideshow. Move your cursor to the end of your video clip, then use the Insert tool to insert your next video clip. It's that easy to add videos together! 
You can use the Overlay tool to add photos and images to your graduation video. You can easily resize, crop, and animate your graduation photos to make a photo grid, or overlay photos one after another for a photo slideshow. 
If you don't have your own videos or photos to use, or if you're looking for that perfect clip to round out your video, that's where ScreenPal's stock library comes in. You can find the perfect graduation stock video clips or images to add as an intro, background to a quote, or as a complement to your own personal video clips.
Add and customize text
Add rich text to any part of your video. Turn your video into a video e-card or add an inspirational quote. Customize your text font, color, background, and styling to make your graduation message really stand out.
Add music to your graduation video
Finish your video with the perfect music clip. You can import your own music or choose from ScreenPal's built-in free stock music library.
Step 3. Share your graduation video
Save your video to your computer to share, or upload it to ScreenPal for free to share a link to your graduation video. You can enable comments on your video so that family and friends can add their own text or video comments to join in the video celebration!
🎓 🎓 🎓
Create your graduation video today with ScreenPal's easy video recording and editing tools. Find some visual inspiration in the stock library, record your personal video greeting, and then put together that perfect video to celebrate the graduates in your life!