YouTube boasts 2 billion-plus monthly active users who log over a billion hours of video per day. If you're an aspiring video content creator, you need a YouTube channel. Period.
Given YouTube's popularity, it can seem like everyone from five-year-olds to octogenarians now have YouTube channels with a dedicated following. The market is saturated with content on pretty much any subject you can think of — DIY crafts, gaming, hydraulic press machines, and everything in between.
If you want your YouTube channel to succeed, you need to understand the science of YouTube videos. It's not enough to know how to make a YouTube video; you need a strong cohesive YouTube video strategy. You'll want to understand the YouTube algorithm, use the right software to record and edit YouTube videos, and use YouTube analytics to optimize your content strategy.
This article provides a comprehensive guide to making successful YouTube videos.
10 Steps to Make Great YouTube Videos for Beginners:
Step 1. YouTube Video Strategy
Your journey towards YouTube stardom starts with the bigger picture. You need a cohesive and comprehensive YouTube video strategy for your channel.
As mentioned previously, YouTube is saturated with content on pretty much all subjects. If you want any traction on your channel, you need to select the right audience for your YouTube videos. And when choosing topics for your videos, you need to focus on your audience and what they want. You can be funny, enthusiastic, and incredibly intelligent, but none of that will carry any weight if you don't provide value to your audience.
Find and define your target audience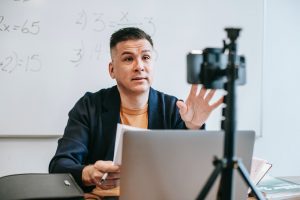 To better understand your audience, you should perform market research to determine what they need. Before you even start working on YouTube video ideas, you must ask: "Who is my audience?"
When you're developing your YouTube video strategy, you must place your target audience front and center in your mind. Create a rough profile of your audience, including their age group, geography, languages, professions, interests, challenges, and other details. You can scroll through the comments sections of videos by creators occupying the same space — this will help you better understand your audience and what they want.
For example, if you're starting a video gaming channel, you have immense competition — there are hundreds or thousands of gaming channels out there. You have gaming channels focusing on walkthroughs without opinions, live streaming, video game reviews, PlayStation games, computer games, and so much more. Pour through the reviews to understand the audience, their expectations, and what they're requesting from creators.
Find a specific niche with potential for growth
You would ideally find a topic with broad appeal that can be explored at length for your YouTube channel. But with more than 500 hours of content uploaded to YouTube every minute, these days you need to focus and find an attractive niche.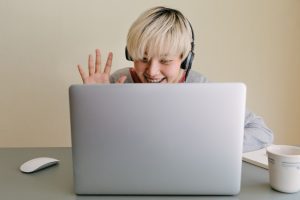 Let's return to the previously mentioned hypothetical scenario, i.e., starting a YouTube channel on gaming. Because of the saturation in this area, you need to explore all the subject areas to find a vacancy in the market. Perhaps there aren't enough popular YouTube channels on a particular video game that's gaining popularity, or perhaps there aren't enough channels dedicated to aimless world exploration within video games.
Once you find a specific niche underrepresented in YouTube, you need to drill down. After finding the appropriate niche for your audience, you need to create a comprehensive YouTube video strategy to help your ideas find traction.
How do you create a demand for your content?
How do your videos reach the right people?
That's where the YouTube algorithm kicks in!
Step 2. YouTube Algorithm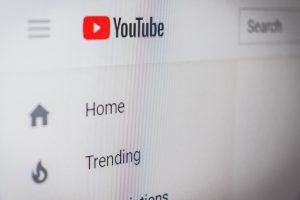 If a tree falls in a forest and no one is around to hear it, does it make a sound? If an engaging, fun, informative YouTube video is uploaded and no one views it, does it even count?
YouTube is full of content of all kinds, and the quality of content continues increasing. In such a vast field of content, how do you get people to view your videos? How do you even make your videos appear in front of the right people?
YouTube is a numbers game. To get more viewers and an audience, you need to convince YouTube that your video is valuable. And to convince YouTube your video is valuable, you need viewers who actively watch and engage with your videos? That seems like a particularly pernicious cycle. Without views, your videos don't have authority, and without authority, you don't have views.
How do you get people to watch your videos, engage with them, and draw more views?
The answer is simple — master the YouTube algorithm.
You need to have the art of YouTube video content creation down to accurate science. You need to research YouTube SEO guidelines, understand how to optimize your videos and gain more views, and leverage that information to increase your channel's popularity.
You need to focus on two key factors to rank your YouTube videos:
Ensure your YouTube videos are of good quality and valuable for the audience.

Ensure your YouTube videos adhere to the platform's SEO guidelines.
One thing is clear — make YouTube videos for your audience and the search engine. Below, we provide a few tips to help you master the YouTube algorithm.
Understand the factors that the YouTube algorithm considers
The YouTube algorithm is constantly updated, but it relies on a few essential metrics. You need to understand those metrics and then develop unique strategies to make them work for you. If you don't understand the essential YouTube metrics, you'll be floundering in the dark.
The YouTube algorithm focuses on the following criteria:
Which of your videos are users watching

Which of your videos are users skipping

How long are viewers watching your videos

Which videos do they like or dislike

Which videos are marked as "not interested" by users

Where do your viewers come from

Your viewers' demographic details — age, location, sex, etc.

What are the subjects your viewers generally watch

How frequently do you upload videos to your YouTube channel

How quickly do your videos gain popularity

Your likes, comments, subscriptions, shares, and other metrics of engagement

How many viewers see and hover over your video's thumbnails (impressions)
Step 3. YouTube Video Ideas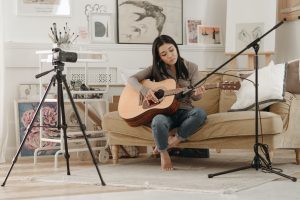 Once you've got a YouTube video strategy and understand the YouTube algorithm, you need to create a board for your YouTube video ideas. Instead of creating a random collection of videos at random intervals, you need to strategize your video creation process.
You need to select the ideal subjects for your YouTube videos and create a content calendar to ensure you release them with regularity. You might be bursting with creative ideas initially, but you need to do some research first. There's no point in creating YouTube videos that people aren't actively demanding, at least not initially.
At the initial stages, you need to fulfill your audience's demands. You need to create YouTube videos that you know people want. Once you have an audience, you can venture into creative ideas that push the boundaries. Below, we provide a few tips to find the best YouTube video ideas.
Do a quick search for your YouTube video ideas
YouTube is the best platform for your initial research. Once you have a general idea for your YouTube videos, you can enter the keywords on the search bar to see what emerges.
Go through the existing videos on the subject to determine if it's an over-saturated market. If you see dozens or hundreds of videos on the exact same subject with hundreds of thousands of views, it's probably a saturated market — you can give it a skip.
However, if you have a unique take on an already covered subject, you can go for it!
You can also use YouTube's nifty auto-suggest feature to find additional keywords. For example, if you enter "video game" into the search bar, you may receive a list of suggested topics, such as "video game movies are bad" or "video game tutorials." Based on this, you can come up with new YouTube video ideas.
Mine the comments section for YouTube video ideas
You can learn a lot about your audience and their demands from the comments section of YouTube videos. Viewers often request their favorite content creators to produce videos on new subjects and topics.
For example, if you go through the channels of popular gamers, you may find their viewers recommending new video games to review or play. This informs you of the most popular and under-represented video games in your particular niche, helping you come up with desired YouTube video ideas.
Enter social media communities on your channel's subject
You can find like-minded individuals and groups on any given subject on social media. You can enter membership groups for your chosen niche on Facebook, Instagram, Twitter, and other social media platforms for research.
Based on the discussions held on these platforms, you can develop interesting YouTube video ideas. You can even use these groups as sounding boards. Run some of your ideas past the members of these groups — most people are glad to have their opinions heard. You might even come away with a treasure trove of new YouTube video ideas.
Check out our comprehensive list of over 50 YouTube video ideas for any creator or brand to get you started with making great videos.
Step 4. YouTube Equipment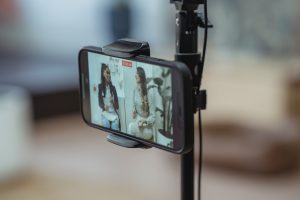 Now that you have a list of YouTube video ideas to execute, it's time to get prepared. Think about your videos, how you want to execute them, and the equipment you'll need. You might be overwhelmed thinking about all the tools you'll need, but it's best to start with the basics.
You only need the basic essentials if you're just starting out, such as a good camera, webcam, and editing tool. The kind of tools you need will depend on the type of videos you're producing, but everyone needs a webcam and a video editing tool. Other important tools might be a microphone, screen recorder, and lighting.
Other than your smartphone, the following is an overview of some of the most important YouTube equipment for beginners.
Microphones that eliminate background noise and static
One of the biggest mistakes YouTube content creators make is ignoring a separate studio microphone. Most people argue that a microphone isn't essential because their headphones, smartphones, or laptops already have built-in microphones.
But that's a huge mistake. Phones and laptops can't effectively filter out background sounds, eliminate static, and ensure your voice is clear. Sound is one of the most underrated aspects of your YouTube videos. If you're not clear, or if there's too much background noise, your audience will bounce from your videos within seconds.
You don't need to get an extremely expensive microphone. But you should at least get a decent mic that can isolate background sounds and provide complete audio clarity. Try our free mic test to ensure your microphone is fully compatible with our screen recording software.
Screen recorders with built-in editing and sharing capabilities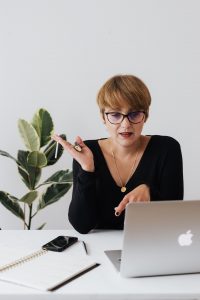 Screen recorders are essential for YouTube content creators because they allow you to record your computer screen. Whether you're guiding your viewers through certain tasks on your computer, recording your notes and illustrations, or making how-to videos, you may need to record your screen.
You need a sophisticated screen recorder with built-in editing, recording, and sharing features. If the screen recorder doesn't have strong editing tools, you will need to export the video, transfer it to another editing tool, and make the edits you need.
ScreenPal is one of the best screen recorders for YouTube video creators. It's a free screen recorder, so you don't need to spend a lot of money upfront. With this free screen recorder, you can capture and record any section of your screen and add audio narrations while recording the screen. You can also use the free drawing tools to highlight different areas of the video while explaining concepts.
User-friendly video editors that work on phones and laptops
A video editor is an essential tool for all YouTube video creators. YouTube offers a native video editing tool within the platform, but most creators agree that it's extremely annoying, especially since it edits your videos online, leading to immense time lags.
You need a YouTube video editor that's professional, simple, and user-friendly. If you're not a video editing expert, simplicity and intuitiveness are essential — you can't be expected to spend hours on each video. You need a tool with a wide range of features to easily navigate to modify your videos.
ScreenPal offers a simple, free video editor perfect for creating tutorials/how-tos, product demos, gaming videos, product reviews, and any type of educational video for YouTube. You don't need to register for the platform or share your credit card details, and the finalized video won't have a watermark.
Appropriate video lighting for your video stylings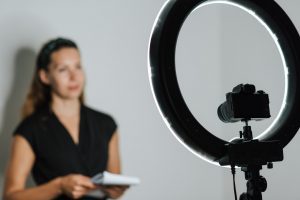 Whether you're recording videos using your smartphone or webcam, you need a good lighting setup. Vloggers generally use LED ring lights for their videos because they reduce shadows and diffuse light evenly on the subject, ensuring a clear and bright visual appearance.
A ring light is usually pretty affordable, so you don't need to break the bank when starting off. As you produce more videos and gain more traction, you can move to a more sophisticated lighting setup for your particular video format.
Cameras or webcams, depending on your video style
Just like you shouldn't rely on your computer's microphone for audio recording, you shouldn't rely on your computer's camera for recording. YouTube has come a long way since its origin as a home recording platform. These days, people expect Ultra HD videos from even beginner content creators.
Depending on your audience and your YouTube video style, you may want to invest in the appropriate cameras or webcams. This doesn't mean you have to spend a lot of money. If you're a vlogger, you may want to buy a higher quality webcam than what's built into your laptop. Most creators and brands can record footage with a smartphone and tripod, given how sophisticated smartphone cameras are these days. Depending on the quality you're looking for, you may also want to consider a DSLR camera.
Step 5. Record YouTube Videos
Now that you've got all the necessary equipment, it's time to start recording your videos! If your YouTube video involves recording your screen or webcam (or both!), we highly recommend the ScreenPal screen and webcam recorder.
As mentioned previously, this user-friendly, intuitive tool can record your screen and overlay your audio narration and webcam footage. You can essentially complete all of your video recording and editing tasks from one software platform, so you don't need to import different footage and audio files from different sources and software applications.
Below, we provide a few essential tips to help you start recording high-quality YouTube videos.
Remove clutter from your desk and the background
Whether you're recording the video using a smartphone camera, DSLR, or webcam, you need to have a clutter-free background. Look at the video frame, study it carefully, and ensure everything within it looks clean and clutter-free. If you have a lot of objects on your desk and background, your viewers might find it distracting.
Position yourself right next to a window, if possible
If you're recording the video during the day, you should ideally position yourself next to a window. The light from the window will wash over you, making you glow. This is an excellent way to enhance your natural lighting. However, you must not be seated directly in front of the window because you'll appear as a dark silhouette.
Use the Rule of Thirds to find the ideal position for the camera
The Rule of Thirds is one of the most basic principles of aesthetic videography. When setting the frame for your video, imagine two evenly-spaced horizontal and vertical lines, dividing the screen into nine grids. Use this grid to position the subject of the video aesthetically, either completely central or off to one or the other side, and leave the rest of the space blank.
Record your screen or webcam with ScreenPal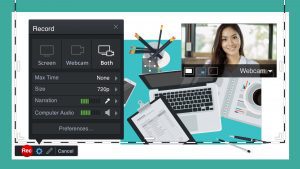 ScreenPal makes it easy to record your screen, your webcam, or both at once for how-to videos, demo videos, tutorials, trainings, gaming videos, and more. You can record up to 15 minutes for free, and record as many videos as you want. If you need to record longer videos or need additional features, you can upgrade to an affordable premium account at any time. 
Choose from a number of preset recording windows or click and drag the corners of the screen to set up a custom recording frame.

Select your microphone to narrate your video. You can also

record computer audio with a premium account for demos, tutorials, gaming videos, and more.

Explore the platform's built-in free music library to find the ideal music.

Upload captions for free or use speech-to-text to create automatic captions with a premium account.
Step 6. Edit YouTube Videos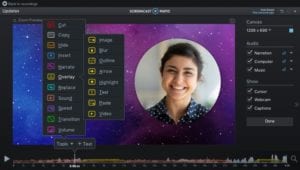 Once you've created the perfect video, you need to start the editing process. Some content creators believe editing to be one of the most time-consuming parts of the process. But you can simplify the process using the ScreenPal video editor.
If you use the ScreenPal screen and webcam recorder to capture the video, you don't need to export the video to your desktop. You can send it directly to your video editing software, saving you considerable time and effort. Furthermore, the ScreenPal video editor is extremely intuitive, and it includes a robust collection of free music, plus a large premium stock library of images and video footage for backgrounds and b-roll that allow you to create stunning YouTube videos with minimal effort.
Features of ScreenPal's screen recorder and video editor:
Adding Audio

: You can add voiceover narration to your videos using your microphone while recording your video, as well as record computer audio. In the video editor, you can also add music and sound effects from the platform's

extensive stock music collection

or upload your own mp3 audio file.

Zoom Features

: You can easily zoom in or out at various points in your video. This tool is particularly useful while creating beauty videos, how-to guides, and tutorials.

Highlight/ Draw

: You can highlight specific parts of the video, draw on the video, and generally use the video as your canvas. This can make the video even more engaging.

Animated Transitions

: You can choose from dozens of animated transitions in the video editor designed for YouTube and social media creators. You don't need to spend hours trying to create these transitions yourself.

Overlay Content

: You can easily add text, videos, images, and shapes to your videos at precise points, allowing you to create engaging and informative YouTube videos. You can also blur, freeze frame, and transition your clips using automated tools.

Green Screen

: You have access to an intelligent green screen filter that allows you to go anywhere in the world. You can place yourself against a backdrop you've recorded yourself, or you can select backdrops from the stock library.
Essential editing tips to improve your video quality:
Trim away excess content at the beginning and end of the video.

Find and fix periods of silence in your audio recording. (ScreenPal automatically detects these silences for you.)

Add creative and graphically pleasing titles and transitions to your videos.

Use video-in-video or picture-in-picture effects to illustrate your spoken points.

Add a chyron (lower-third graphics and text) to your video with useful information about your content.

Add appropriate music to your videos to draw an emotional response.
Step 7. Upload YouTube Videos
Once you're happy with your video, you can upload it to YouTube. Most content creators download the video from the editing software to their computer and then upload it to YouTube separately. This is an extremely time-consuming process because the video goes through multiple stages of uploading and downloading.
However, if you're using the ScreenPal screen and webcam recorder and/or the video editor, you can directly upload the video to YouTube — no need for intermediary steps. You can also save the video to your laptop or hard disk or save it in the cloud on screenpal.com.
As you can see, ScreenPal streamlines the entire video recording, editing, and uploading process. You can record your screen or webcam using this free tool, add voiceovers and text, edit the video according to your preferences, use the online stock library to enhance the video with appropriate music and graphics, and then upload the video to YouTube!
ScreenPal is essentially an all-in-one platform for YouTube content creators.
Step 8. Optimize YouTube Videos
After uploading your videos to YouTube, you need to optimize them for SEO purposes. In one of the previous steps, we discussed the importance of understanding the YouTube algorithm. You will now put your knowledge to use, optimizing your YouTube videos to ensure maximum visibility within the YouTube platform. Your videos need to reach the right people to improve your chances of ranking on the first page. Additionally, don't forget to add an eye-catching thumbnail using ScreenPal's thumbnail maker, as visually compelling thumbnails play a crucial role in attracting viewers and increasing click-through rates.
Below, we provide a few essential tips to help you optimize your YouTube videos.
The YouTube algorithm is ruled by written and spoken keywords
YouTube's algorithm takes both written and spoken keywords into account. Written keywords include keywords in your video descriptions, tags, titles, and other written content. But YouTube also mines spoken keywords by looking at the auto-generated closed caption transcriptions of the video. Make sure to enunciate your keywords clearly to ensure they're transcribed correctly and captured by YouTube's algorithm.
The following are some tips to boost your keyword ranking:
Review the transcripts of your videos to ensure the keywords are correctly identified.

Transcribe your video to text and add high-quality captions to make the video more accessible.

Enter the keywords in your video descriptions, tags, and titles.

Say your keywords early in the video, and repeat them as often as naturally possible.

Make sure the most important keywords are at the beginning of your YouTube video title.

Use keyword research tools to find the best keywords for your market.
Combine your Google and YouTube SEO research
YouTube is owned by Google. That's why Google often recommends YouTube videos as some of the first search results for relevant keywords. Despite this common knowledge, only a handful of content creators combine their Google and YouTube SEO keyword research. Your goal shouldn't only be to rank in YouTube but also to rank in Google! That will allow you to capture potential viewers from outside the YouTube platform.
Make longer videos to increase your total session and watch times
The YouTube algorithm focuses on two major metrics to judge a channel's reliability — Total Watch Time and Total Session Time. Total Watch Time refers to the total duration that viewers watch one of your videos, and Total Session Time refers to the overall time that viewers spend on your channel at one go.
YouTube regularly prioritizes longer videos because they inevitably lead to longer sessions and watch times. In fact, out of over 2.3 million YouTube videos, the length of an average YouTube video on the first page is 14 minutes, 50 seconds.
Do you need to create 15-minute long videos to rank on YouTube? There's no right or wrong answer to how long your video should be. What's most important is that you create videos that will capture your audience's attention and keep them watching. And if your topic takes time to explain, then don't worry, you can take 15 minutes or longer to explain it!
Push your viewers to engage with your content
YouTube prioritizes videos that gain more engagement from viewers. Instead of passively watching your videos, you need to encourage your viewers to engage with your channel. That means they should like your videos, subscribe to your channel, leave comments on your videos, share them with other people, and navigate to other videos on your channel.
The simplest way to encourage interaction is to ask questions and actively tell your viewers to perform certain actions. At the end of the video, you must ask your viewers to leave comments, like, and subscribe. You can also ask questions about what they'd like to see you do next and perhaps offer clear options, so they have an incentive to leave a comment.
If you're running a gaming channel, you can say, "Please comment down below and tell me which game I should play next — Tomb Raider, Uncharted, or The Last of Us?"
You can also add social media links and website links to your videos. Finally, add title screens linked to other videos and playlists on your channel, so your viewers automatically start watching other videos, which counts as engagement.
Step 9. Promote YouTube Videos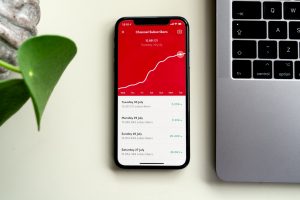 If you want to gain YouTube popularity, you have to promote your videos and your channel. Even after complete optimization, you won't get any traction on your video if you're not actively promoting yourself, especially at the beginning.
Engage with your targeted YouTube community
YouTube isn't considered a social networking platform, but it has a thriving, opinionated community. A brief scroll through the comments section of any video will reveal just how passionately engaged people are on YouTube.
Engage with the commenters on other channels related to your video. This will help you better understand your audience and increase traffic to your YouTube channel. If there's an ongoing debate on a particular subject in the comments, engage with the commenters and encourage them to check out your videos on the subject.
You must also engage the commenters on your own videos. Any form of engagement is seen as a positive signal by YouTube, so you can truly benefit from keeping your commenters on your page as long as possible.
Cross-promotion of existing YouTube videos
Don't abandon your videos after you've uploaded and optimized them. You should keep referring to older videos in new videos. If you're talking about a subject similar to an older video, you can add it in the description or even link it at the end of the video.
Share short clips on social media platforms
You can't and shouldn't share your entire YouTube video on social media platforms — that will take away from your YouTube metrics. But you can edit small clips from the video and repurpose them into a promo video to share on your other social channels, including Facebook, Twitter, and Instagram. The snippet will serve as a teaser or video trailer, encouraging more people to view your YouTube videos.
Collaborate with other YouTube content creators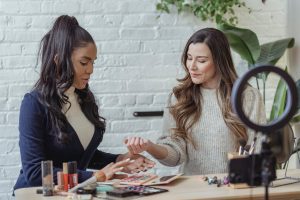 If you're a new YouTube content creator, you should try reaching out to established content creators in the same field. After you have a little pull in the market, with your videos receiving a few thousand views consistently, you can start reaching out to other content creators for collaborations.
When you collaborate with other content creators, you bring your content before their audience. This is one of the best ways to expand your audience. When pursuing collaborations, you should ideally look for other content creators in the same viewership range as yours. 
Step 10. YouTube Analytics
You must analyze your YouTube videos regularly to track their progress, gauge their performance, and improve your production. There are way too many metrics and key performance indicators to consider, such as average session duration, unique viewers, and much more.
These are the most important metrics for YouTube analytics:
The average watch time per viewer

The percentage of each video that the average user watches

The average watch time for all your videos

The percentage of audience members who stay for long periods

The number of viewers who rewatch the video completely or partially

The number of comments, subscriptions, likes, shares, and dislikes

The number of viewers who click on the video after seeing it on the home page

The number of viewers who click on the card at the end of the video

The number of viewers engaging with the playlists in the channel

The number of unique viewers to the channel

The number of times a new viewer watches your videos
These are just some of the many metrics you must consider. As you get more viewers, you'll start noticing patterns in your YouTube performance. If you carefully analyze the patterns emerging from your YouTube videos, you will be better placed to optimize future videos.
Perhaps you'll notice that your longer videos lead to increased session times and more engagement, signaling that you need longer videos. You must regularly study YouTube Analytics to fine-tune your best YouTube strategy and video ideas.
If you follow all the steps and strategies mentioned in this comprehensive guide, you'll be well on your way to creating a series of engaging YouTube videos for your channel. 
Get started making great YouTube videos for free today with ScreenPal's free screen and webcam recorder and easy-to-use video editor.