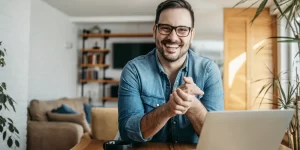 YouTube hosts a variety of content, from user-generated videos to official music videos, TV show clips, gaming content, and so much more. It has become the go-to platform for many people around the world who want to learn, be entertained, or both. As one of the first popular video hosting platforms, it's really no wonder that the platform has seen such success. 
And with that success comes opportunity. Opportunity to communicate to others through video, share your message, drive traffic to your website, generate leads and sales, build an audience for your brand, and to make money on YouTube. But how do you make money on YouTube? In this guide, we'll explain ways to make money on YouTube videos, including the YouTube Partner Program as well as other sources, and tips for creating a successful channel with great content. 
What is YouTube Monetization?
Once you have your YouTube channel set up and are creating video content, you can start building your audience and generating ways to earn money from your videos. The best methods of YouTube monetization can vary depending on your topics and audience, so it's helpful to learn how to make money on YouTube through a wide range of methods. The most successful YouTube creators don't use just one type of revenue stream, they set up several ways to make money from their videos.
For example, businesses can record videos about their products or services and drive viewers to their website. Individuals and influencers can create engaging videos relevant for their audience and earn ad revenue from by placing ads on their videos.
Once you hit 1,000 subscribers and 4,000 watch hours within the year, you can register for the YouTube Partner Program and monetize your channel. This allows you to make money from your videos and get paid directly from YouTube. When you are eligible, you can go to your YouTube Studio page and activate YouTube monetization for your videos in the Other Features > Monetization section of your channel. You will be asked to set up an AdSense account to be able to run ads on your channel and then set your YouTube monetization preferences.
Let's explore the YouTube Partnership Program for more information on how to make money on YouTube, as it's one of the most common ways to make money from YouTube videos. 
Understanding the YouTube Partner Program
The YouTube Partner Program is a partnership directly between YouTube and video creators on their platform. It's important to build a relevant, engaged audience on your YouTube channel because the number of video views you receive can have a direct impact on how much YouTube will pay.
For example, one of the most common ways to make money through the YouTube Partner Program is through ad revenue. YouTube places ads on your videos and you get paid based on the number of views the video ads get. 
While the YouTube Partner Program is one of the most common ways to get started making money on YouTube, there are other ways to monetize YouTube videos as well with fans or businesses outside of YouTube as well. Here is a list of 12 ways to monetize your videos that you can review as ideas for how to make money on YouTube. 
12 ways to make money on YouTube
How to make money on YouTube's Partner Program:
Ad revenue – You can earn

YouTube ad revenue

from display, overlay, and video ads that run on your channel. You can set which ad formats appear on your videos in the YouTube Studio Content menu by clicking Edit > Ad Settings. You'll be asked to set up an AdSense account to be able to get paid ad revenue by YouTube. This is one of the most common ways to make money on YouTube once you join the YouTube Partner Program. 

YouTube Premium –

YouTube Premium

allows members to watch any video on YouTube without ads while still supporting creators. It also lets members download videos to watch offline on mobile and play videos in the background. With YouTube Premium, you can earn a portion of a subscriber's fee when they watch your content. This can be a great way for any YouTube video creator to earn money, from businesses to individuals. 

Super Chat and Super Stickers – With

Super Chat and Chat Stickers

, your fans pay to get their messages highlighted in chat streams. These features are great for YouTube live streamers with engaged audiences. Super Chat and Super Stickers are fun, bright messages and stickers that fans can buy to show their support and help them stand out. Your viewers purchase live chat messages that stand out and sometimes pin them to the top of a live chat feed. These features give your fans another way to connect with you during live streams and

Premieres

.

YouTube shopping – With YouTube shopping (also called merch shelf or product shelf), you can sell your products like merchandise directly to your fans. Just connect your store and you can display your products on a shelf underneath your videos and live streams. Your fans can browse and buy official branded merchandise that's showcased on your watch pages.Plus, you'll unlock the "Store" tab on your channel — your own storefront on YouTube. This can be great for retailers that sell and promote products on their YouTube channel, as well as influencers or individuals that sell merchandise. 
Channel memberships – With

Channel memberships

, your members make recurring monthly payments in exchange for special perks that you offer. Channel memberships are a great way to offer your biggest fans exclusive benefits like custom loyalty badges, emoji and members-only content when they join your channel as a paid, monthly member. You pick what rewards to offer and how much to charge for each membership level.

YouTube BrandConnect –

YouTube BrandConnect

helps you get paid to include advertiser content in your videos, and provides campaign management resources. YouTube connects you with brands that want to partner for branded content campaigns. BrandConnect uses Google technology to understand your audience, match you with great brands, and help drive results with full-service campaign management. YouTube shows you your options, you decide which brands you work with. BrandConnect is a newer program and is only being rolled out to select channels initially.

YouTube Shorts Fund – The

YouTube Shorts Fund

is a new program that is giving creators access to $100M across 2021 and 2022 as a way to reward creators for their dedication to making creative, original Shorts that delight the YouTube community. YouTube reaches out to thousands of creators each month to tell them that they qualify for a Shorts bonus from the fund. You do not need to have YouTube monetization set up or to be a YouTube Partner Program to be eligible, but you do need to have uploaded at least one eligible Short in the last 180 days to be considered.

Super Thanks –

Super Thanks

(formerly known as Viewer applause) provides another source of revenue while giving fans a fun way to express their gratitude for your content. With Super Thanks, viewers can buy a fun, "clapping" animation shown only to them on top of your channel's video. Purchasers will also get a distinct, colorful comment in the video's comments section, so you can easily connect with your biggest supporters.
How to make money on YouTube videos through outside sources:
Promote your own brand products / services – As a business, you can use YouTube to promote your products or services, create valuable informational content for your audience, create videos about your company, and more. It helps build brand awareness and you can also include a call to action to direct viewers to your website to generate traffic, sales, and revenue. Depending on your business category, there are a wide range of YouTube videos you can create to generate interest, such as how-to tutorial videos, testimonials, product videos, training videos, and more!
Affiliate marketing – With affiliate marketing, you can partner with businesses to promote their products or services using links to their website on your channel. If your viewers click on an affiliate link and purchase a product, you receive a commission on the sales you generate. Affiliate marketing can be an especially effective way to make money on YouTube for users who create product reviews or tutorial videos. There are many affiliate programs available, such as Amazon Affiliates, but it's important to choose a program and product links that are relevant to your video content. Viewers will be more likely to click on affiliate links if it is a topic they are interested in and you have built trust with your audience by creating valuable content for them.
Sponsorships – As you build your following, companies interested in building visibility with your channel's audience might sponsor your videos or offer you product placement deals to promote their brand. Sponsorships can be one of the top ways for YouTube creators to make money, but they are more likely to occur after you've developed a large following, rather than starting out. As your channel grows, you can contact brands you'd like to work with, or use influencer sites to find partners that are relevant to your YouTube content and audience. If you have a sponsorship or use product placement in a video, you need to notify YouTube  that your video contains a paid promotion by ticking a box in the advanced settings tab of your video manager.
Crowdfunding – Similar to crowdfunding a project, you can also set up "fan funding" to collect money donations from your YouTube audience. To create a successful crowdfunding program, it's important to be transparent about what the donated money will be used for and to create special rewards for higher pledges that make your loyal donors feel special. While sites like GoFundMe and Kickstarter are popular for one-time crowdfunding projects,

Patreon

is one of the most popular sites for recurring donations, such as for ongoing YouTube fan funding.

Tipee

and

Buy Me A Coffee

are other websites you can use as well. Even Super Chat and channel memberships within the YouTube Partner Program would be considered types of crowdfunding options. 
How much does YouTube pay?
Businesses and individuals, such as social media influencers, can set up YouTube monetization to make money on YouTube videos. As high-quality video creation software becomes more affordable, with free YouTube video editors available, it's been easier than ever for people to create high quality, engaging content and make money on YouTube. 
How much YouTube pays you will be impacted by your number of subscribers, number of video views, level of audience engagement, the type of content you create, and the YouTube monetization options you explore. According to Forbes, the top earning YouTube creators in 2022 (such as MrBeast, Jake Paul, Markiplier, and more) receive about half their money from ad revenue. They also commonly have branded merchandise lines, sponsorships, and other types of YouTube monetization set up to boost their income. 
We'll take a closer look at how much YouTube pays for ad revenue, as it's one of the most common ways to make money on YouTube. You get paid ad revenue by YouTube when you join the YouTube Partner Program and create an AdSense account as part of the YouTube monetization set up process. However, you only get paid when you reach $100 in your AdSense account, which can be a bit of a hurdle when you're just starting out on YouTube.
YouTube does not pay you based on the number of subscribers you have. With YouTube ad revenue, you get paid per ad view, which means it's important to have a relevant, engaged audience for your videos. According to Influencer Marketing Hub, the average YouTube channel can expect to make about $18 per 1,000 ad views, which breaks down to $3 to $5 per 1,000 video views based on the typical rate of ads viewed. That means you'd need about 25,000 video views in order to earn $100 in your AdSense account to start getting paid. 
Tips for a successful YouTube channel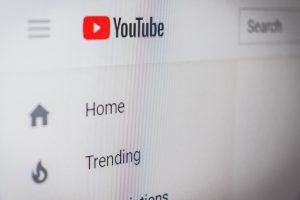 Now that you know how to create a YouTube channel, add videos, and YouTube monetization options, it's time to discuss how to make the most out of your videos. To ensure you put your best foot forward, we've got a few more tips on how to make money on YouTube by making sure your channel is looking its best. 
1. Implement YouTube SEO
YouTube's algorithm looks at your content (keyword and video length) as well as engagement signals, such as comments, subscribes, thumbs up/thumbs down ratio, click-through-rate on the YouTube search results, when displaying videos for searches on YouTube. By producing high quality, engaging content that's relevant to your audience, you can build engagement signals for your video and channel over time.
Like with any other platform, it's also crucial to ensure you're using keywords throughout your channel to optimize your channel and video based on what users are searching for on YouTube. This includes in your channel name, in your channel About section, in your tags, in your video descriptions, and even in your video titles! 
We recommend going through each item and filling in as much detail as you can, as this will help YouTube (and Google) understand what your video is about, and how it should be classified. Include keywords throughout your video fields, but you want it to read naturally still for your readers rather than keyword stuffed.
By including relevant keywords, you're more likely to show up in those search results, and you're also more likely to be found by people who are interested in what you have to offer. You can use a tool like Google Ads Keyword Planner or SEMRush to find relevant keywords for your channel. 
2. Use call to actions
Make sure you're using call to actions throughout your channel to encourage people to take the next step. Some examples of call to actions include:
   

Asking people to subscribe to your channel

   

Asking people to like and comment on your videos

   

Asking people to share your videos with their friends
You can edit YouTube videos with annotations to add call to actions, or even encourage your audience to subscribe to your channel in the videos, as a great way to get people to take action.
3. Add tags
Using tags is another excellent way to optimize your channel, and it's also a great way to ensure people who are interested in your content can easily find it.
To add tags, simply head to the 'Info and Settings' tab in YouTube Studio, and scroll down to the 'Tags' section. Here you can add relevant keywords that describe your channel and your videos.
Although tags can really help improve your YouTube visibility, it's important to use them sparingly. It's quality over quantity when it comes to tags, so make sure you're only using relevant keywords that accurately describe your channel.
Focus on the viewers you think would be most interested in your content, and don't worry about trying to target everyone. It's better to have a smaller, engaged audience than a large audience that isn't really interested in what you have to say.
4. Quality content over quantity
Touching a little more on quality over quantity, it's important to remember that YouTube is a marathon, not a sprint.
You're much better off uploading one high-quality video per week, than four low-quality videos. Not only will this be more enjoyable for you, but it'll also be more enjoyable for your viewers.
Take the time to plan and create quality content, and you'll soon see your channel start to grow. It's all about creating value for your audience, so make sure you're thinking about them when creating your videos.
You can use a social media planning tool like Hootsuite Insights to help you plan and publish your videos. This way, you can easily schedule your content and ensure you're always putting out high-quality content that your audience will love. You can also directly publish your video to YouTube from ScreenPal's video editing software to streamline your workflow and help you maintain a consistent publishing schedule.
5. Monitor YouTube analytics
YouTube Analytics is a powerful tool that allows you to track your channel growth, and learn more about your audience. As with any analytics platform, it takes a little time to get to understand everything it has to offer. But once you know how to use YouTube Analytics, you'll be able to track your progress and ensure you're on the right track. After all, if you don't measure it, you can't improve it!
Review your YouTube analytics data for the best time to post your videos, what topics are resonating with your audience, and where your viewers are coming from. By understanding this data, you can adjust your content strategy accordingly to ensure you're always providing value for your audience.
Check your highest-performing videos and your lowest-performing videos. Why do you think one video performed better than another? Did you use better keywords? Was the title more interesting? By understanding what works (and what doesn't), you can start to create a formula for success or edit your YouTube videos to improve them based on how your audience is engaging with your content.
6. Create a channel trailer
Your channel trailer is the first thing people will see when they visit your channel, so it's essential to make a good impression!
Your channel trailer should be around 30-60 seconds long, and give viewers an overview of what they can expect from your channel. This is your chance to really sell yourself and your content, so make sure you make it count.
Think about what makes your channel unique, and focus on that in your trailer. For example, if you're funny, be funny! If you're informative, be informative! By really showcasing your personality and what makes you special, you'll be able to attract the right viewers to your channel.
7. Create playlists to organize videos
If you have a lot of videos on your channel, it can be helpful to create playlists to keep them organized. Not only does this make it easier for viewers to find the content they're looking for, but it also helps YouTube understand what your channel is all about.
To create a playlist, simply head to the 'Video Manager' tab and click 'Create Playlist.' From there, you can give your playlist a title and description, and start adding videos. It's really that simple!
Remember to keep your playlists relevant, and don't try to stuff too many videos into one playlist. If a video doesn't fit into a certain playlist, create a new one!
8. Use categories
When uploading a video, you'll be asked to select a category. This may seem like a pointless extra, but it's actually really important for YouTube SEO.
Your video's category helps YouTube understand what your video is about, which then allows them to recommend your videos to people who are interested in that topic. So make sure you select the most relevant category for your video.
9. Use a quality screen recorder/video editor software
Possibly the most crucial part of any YouTube channel is the videos themselves!
If you want people to stick around and watch your videos, you need to ensure they're high quality and engaging. That means using a quality screen recorder and video editor like ScreenPal to ensure your videos are polished and professional.
ScreenPal offers free screen recording, webcam recording, and video editing software with built-in upload to YouTube, including captions, so you can create videos that look great without spending a fortune. There's also paid plans available that give you access to even more features, like easy script and storyboard tools, auto captions, and a stock library with thousands of royalty-free video clips and images.
Hook your viewers in with an attention-grabbing thumbnail and title, use annotations and cards to encourage people to watch more of your videos, and end your videos with a strong call to action. All of this, combined with high-quality, engaging content, will help you build a prosperous YouTube channel for many years to come.
Final Thoughts
Creating a successful YouTube channel takes time, effort, and dedication. But if you're willing to put in the work, you'll be well on your way to building a channel that your viewers will love, save, and share with their friends.
So, what are you waiting for? Get out there and start creating! And if you need a little help getting started, be sure to check out other YouTube video resources that ScreenPal offers. We've got everything you need to make great videos, right at your fingertips.
Happy recording!
Related articles:
ScreenPal's YouTube Video Editor
How to record YouTube videos: The beginner's guide
How to start a YouTube channel to grow your brand
60+ YouTube video ideas for creators and brands
5 rules for creating successful YouTube content