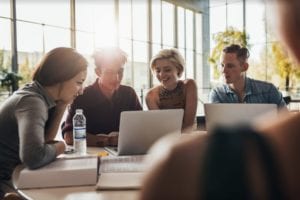 These days a student without their smartphone is unheard of. As educators, you've noticed that students are constantly on their phones. This doesn't have to mean less learning, because the mix of easy internet access, a variety of education-friendly apps, and the ability to be used at a moment's notice, can combine to make smartphones powerful tools to boost student learning. We've gathered a reasons why using a mobile screen recorder is great for students.
The Classroom Isn't Just a Room
You already know that teaching preparation often takes place outside of the classroom. Even the act of teaching has transcended the physical room and become a mashup of physical location and an electronic cloud that follows both teacher and student everywhere.
Many teachers have turned to using ScreenPal's screen recorder to record videos on their desktops, but now that service is available in an "anytime, anywhere" format for smartphones. If you don't want to limit your productivity to your classroom or your desktop, this is your solution. With many teachers on the road these days, it's nice to know that the ability to educate doesn't end when stepping away from the classroom.
Video Tutorials for Students
Have you ever had students who kept asking again and again how to solve a problem that you've assigned them? By investing just a few minutes in creating a video tutorial, you can remove that distraction from the classroom and even possibly solve that problem when it arises outside the classroom.
Using your iPhone or iPad screen recorder, start recording a video of yourself working through the problem to completion. Now you have a base video that will serve you well for years to come. This can even be done with the free version of ScreenPal, since most problem solving recordings will be under the 15-minute time limit.
If you want to give it extra life and the solution to be more impactful, use video editing to add voiceover, music, graphics, or all of the above to engage the 65 percent of students who are visual learners. Take the screen captures you've recorded on your iPhone and transfer them to ScreenPal's video editor for an easy solution for adding that extra spark to your videos.
Because many educational tools are coming in the form of apps now — and the apps don't always come with handy learning instructions — consider creating a video that addresses the most common problems with apps for students using them for their education.
Professional Development for Teachers
Teachers are using more apps these days to educate their students, but even teachers need teachers. Do you have a special knack for educational tech? Share your knowledge by creating tutorials that help other teachers expand their teaching base.
You can also do a wider service by showing teachers how to make more accessible slide decks for both their students and the administration. Turn a slide deck that's flat and give it life by adding graphics, music, and voiceovers to significantly increase engagement from both students and teachers.
Student Portfolios With iPhone Screen Recording
For those students wrapping up their education, having something on their resume that demonstrates real-world knowledge is a highly effective way to help them rise above the crowd.
Do you have students who want to work in the film industry? Create a video of them demonstrating their skills. Perhaps you have students who want to work with animals. A video showing their skills could be just what an employer needs to see for students to secure the position. Employers want to know that students have real-world skills. What better way to show that than through the use of video? And what more convenient and portable way to capture that than through an iPhone? ScreenPal's free screen recorder makes creating a video portfolio for students easy.

Provide Feedback for Students 
A couple of notes scribbled on a paper will get about five seconds of review time from a student before firing up the Xbox and getting lost in fantasy land. But if you take two minutes to pull out your iPhone, hit record, and walk the student through what they did well and what they could improve on, you will leave a lasting mark on that student. The beauty of using an iPhone for this process is that you can make this recording anytime, anywhere. No need to drive back to the school to create video feedback that can make a difference in a student's life.
Flipped Classroom Videos Using an iPhone
You've worked hard to turn your classroom into a well-oiled machine. But now what if you need to go out of town for a day or a week? Will you lose all that you've worked for? Not if you have your iPhone handy. Create short videos for your substitute that give them lesson starters while you're away.
Even more, begin your own video library of teaching materials that can be recorded, saved, and posted online or emailed to students and faculty. With a little elbow grease, you can turn your classroom into a multimedia, physical, and online learning center that benefits students, administrators, and faculty.
Quick Links
Get the free iOS screen recorder app from the App Store