ScreenPal's video creation tools will give you greater control over the appearance of your video, allowing you to layer, stack or separate visual elements to get your desired effect.  The end result will be a more polished, clear, and professional-looking video. 
Why Does My Video Need Layering?
There are so many helpful components you can put in your videos. For instance, text and titles can help viewers understand your message, while shapes and image overlays can help you hold viewers' attention.  
All of these tools can be used to produce compelling and engaging videos, but to use them effectively, you'll need to be able to understand how to layer text, shapes, and images as you edit. 
ScreenPal's Video Editor has a layering tool that lets you manage how the different elements of your project are layered, or stacked, into the video. You'll be able to quickly change layering to achieve the look you want.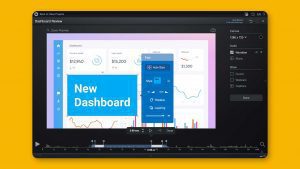 How to Layer With ScreenPal
ScreenPal's layering tool gives you a simple and intuitive way to adjust the layering of multiple objects and tools. Here's how: 
By default, when you add an overlay to your recording, it will go on top of previous overlays. For example, adding an image after a shape will result in the image going on top of the shape. 
You can change the ordering of the layers so you don't cover up the shape.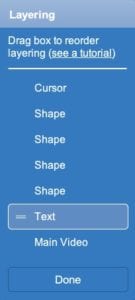 Select "layering" in the menu of the object.  This will pull up a list of all the layers in your video. 
To reorder, simply click and drag the layer to move it to the top.  It's that simple!
Add More To Your Videos
Educators with flipped classrooms will enjoy ScreenPal's video creation tools, which makes it easy for students to visualize and understand course topics. With it, you can use video to give interactive feedback on homework, solve math problems in real-time, or do a show-and-tell on a new concept. 
With these tools, you can create clear and informative videos with ease.
Here is a full video tutorial to layer text, shapes, images and more.