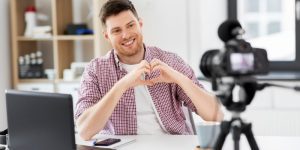 Carefully crafted marketing videos can captivate your audience and inspire them to take action. If you're looking to convert your viewers into customers, using video as part of your marketing strategy can help boost sales and conversions.  Don't worry, it can be easy and affordable to create marketing videos. We've put together a few simple tips to help you make engaging marketing videos with ScreenPal.
Tip #1: Have A Plan
The more organized and prepared you are before you record, the easier and quicker it will be to create your video. You'll also spend less time fixing mistakes and you'll have a more polished and professional video to share with viewers.  Here are a few questions to help kickstart your project: 
What is the goal of your video?

What do you want viewers to do after watching it?

Who is your audience?

How old are they, where do they live, what matters to them?

How will your video help viewers?

Why should they spend a few minutes of their day watching it?

How will this video represent your brand? 
Where will you publish your video?

Is it for Facebook? Instagram? An email blast

? 
Once you've answered these questions, you can begin to create a script or outline to address all the key points of your video.  You can use the Scripted Recordings feature in ScreenPal to help you stay organized.  The feature takes the guesswork out of writing by helping you structure your script from the very beginning.  You can add narration and video as you follow your script.
Tip #2: Gather All Your Video Assets 
The next thing to do is gather all of your video assets into one place, like a folder on your desktop or the recordings manager in ScreenPal.  
If your video includes video files, images, audio mp3 files, or music, creating your video will be easier if you know exactly where to find everything before you start.  You can waste a lot of time searching through your files to find the assets that you need.  It's best to keep them in one place.  
Tip #3: Tell a story
People are busy, so once you've gotten them to click on your video, you'll need to draw them in so they continue watching. Telling an engaging story is a great way to keep them watching. Instead of just stating facts and figures, find a way to connect them to your brand through a story.
Another way to tell your story is by showcasing creative visuals to support your brand.  This may include images, interviews or other videos.  You can insert and overlay your brand assets and videos with the ScreenPal Video Editor.
Tip #4: Create engaging intros and outros. 
These are the first and last things people see when they watch your videos, so make them count! This is a chance to make a memorable impression for your brand. 
You can include your logo, use your brand colors, and make the video pop by adding animations and music.  You can also mix and match media content by picking an image or video from ScreenPal's Stock Library.  Just add in your logo and you've got a branded intro or outro ready to go.  Looking to add a bit of creativity to your text or titles? You can overlay rich text and customize background colors and fonts.
Tip #5: Make the first 10 seconds count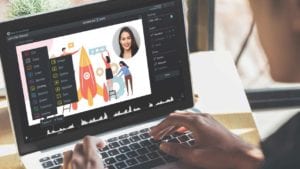 When someone is scrolling through their phone and lands on a video, you only have a few seconds to lure them in. Always put your most interesting content in the first 10 seconds of your video. If you can grab their attention early, you have a better shot at getting them to watch the entire clip.
Tip #6: Focus on helping your audience
No matter how great your product or service is, people will buy it if they understand how it will benefit them. Create a video that provides them with this benefit.  Emphasize your value proposition throughout your video rather than focusing on the product or service itself.  
Here's an example: Would you rather watch a video explaining how tax preparation works in great detail, or a short clip about a hiker who, thanks to help from a tax specialist, can spend a sunny day on the trail instead of working on her taxes at home?
There are numerous ways to tell a story about your product or service.  Tell it in such a way that it benefits the customer.
Tip #7 The shorter, the better
HubSpot reports that more than 56% of all videos published in 2018 were under two minutes long. And depending on where you plan to upload your video, you may need to go even shorter.
While Instagram videos tend to perform better at around 30 seconds in length, Facebook viewers engage more with one-minute videos. 
Tip #8 Use audio and music wisely.
Music can add a professional touch to your videos, and help you achieve the flow and tone you want. Just avoid having the music so loud that it makes it hard to hear the speaker.
It's easy to adjust audio settings with ScreenPal.  You can adjust the volume levels of an entire audio sequence or just a part of it.  You can also add music, computer audio or narration to your videos.  Sometimes you'll need to fade music in an out of your video. It's fairly easy to do that in ScreenPal's video editor.
Tip #9 Caption For Social Formats
People watch videos without sound far more often than you might expect. In fact, Digiday reported that 85% of Facebook videos were watched on mute. That makes it crucial to add captions if you plan on posting them to social media. Viewers should be able to get all the information they need from your video without turning on the sound. 
There are four ways to add captions to your videos in ScreenPal, so choose whichever option is easiest for you. 
Creating a marketing video is easy with ScreenPal.  It has all the features you need to engage your audience.  Follow these tips, and you'll be creating effective marketing videos in no time.