Simplicity is the key to learning.  The concept isn't new. But the lingo and methods used to keep it simple are getting a modern update which has been termed 'Microlearning.'
Microlearning delivers content in small portions to best reach a new generation of learners full of potential.  In today's fast-paced environment, it's more important than ever to adapt to the changing needs of learning and technology.  That's where microlearning comes in.
Microlearning Captures Attention
Learning solutions have changed to accommodate a workforce reliant on the internet. With technology and business changing rapidly, the learning environment is continuously evolving.  Learning is being redelivered all the time and in different ways.  
Large corporations and businesses are spending millions of dollars to train and retrain their workforce.  The necessary tools are needed to accommodate this new way of training. It means a company's message better abide by microlearning strategies or face being missed altogether.
The Rules Microlearning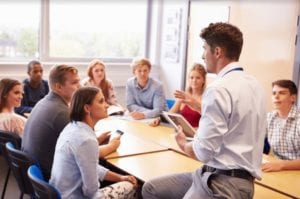 Microlearning attempts to alleviate the side effect of living in the information age — information overload. Businesses are finding that exposing employees and consumers to more information isn't always best. 
The methodology behind microlearning is designed to simplify, visualize and repeat content all while maximizing short attention spans.
Rule 1. Keep it Bite-Sized
Microlearning focuses on getting straight to the point. A short video is recommended and provides better results than images or text on social media.
Timing is everything for mobile learning. The first eight seconds should be engaging in order to keep an audience. A 90-second video is ideal, but difficult depending on the topic. Any video running more than four minutes is too long because you're competing with short attention spans. 
In general, the most successful online videos are about 90 seconds long.
Rule 2. Keep it Simple
Microlearning is built on the idea of making learning easier to process and comprehend.
It's a practice being implemented in online training programs throughout the business world. Microlearning must give employees or consumers a clear understanding of the topic. The trick is to continually repurpose and repeat the main points to improve retention.  
Keeping it simple and clear is key to this rule.
Rule 3. Keep Reinforcing 
Microlearning praises the practice of repetition.
Introduce one topic. Then reinforce it.
However, reiterating the same informative in the same format causes employees and customers to disengage. So microlearning encourages repurposing content. For example, in online training, you'd present a topic such as customer service policies. Then reinforce it by working the same policy information into an interactive game, quiz or video.
Mix it up. Incorporating multiple formats or mediums even if the information is the same.
Rule 4. Keep it Visual
Visual aids, such as infographics and video, are paramount to successful microlearning. The facts should be simple but appear multiple times via infographics, text, slides or video.
Don't push out more information. In microlearning, the key is to repurpose the content using different mediums.
It's a proven fact that new learners like video so the medium is a fundamental part of microlearning.
Messages delivered through video have a higher chance of capturing someone's attention. An estimated 59% of employees would rather watch a video than reading text. The boom in preferred video learning has led to a rise in screen recording technology including ScreenPal. Free screen recording technology makes creating online training and digital marketing videos simpler than ever.
But when incorporating microlearning video into online training or digital marketing, keep Rule #2 in mind. A clear, concise video is a must.
Microlearning: A Bite-Sized, Simple, and Visual Way of Learning
Welcome to microlearning. Now go-forth, incorporate quality visual training and marketing into your business. Download an online or iPhone screen recorder to help.
Keep your message in bite-sized bits.
Keep it visual.
Or take a tip from yesteryear, and keep your microlearning simple.
Quick Links
Why an iOS screen recorder app is a must-have for any business
Educator shares why video is a powerful job search tool