Mobile learning, or mLearning, refers to educational materials and activities delivered to students via their mobile devices. It provides students another way to participate in class, even if they don't have a computer.
It's also a helpful way to reach students where they already spend their time. Teachers can connect with students who are increasingly comfortable consuming video content on their phones.
The importance of video in mobile learning is undeniable. According to Adweek, 78 percent of people report watching videos online each week, while 55 percent of those watch daily.
Below, we'll share creative ways to use video for mobile learning with ScreenPal.
Creative Mobile Videos For Your Students
On-the-go feedback: 
Whether a student needs help or just some words of encouragement, a quick feedback video from a thoughtful teacher can make all the difference. 
Kate de Medeiros, Ph.D., a professor at Miami University in Ohio, uses the screen recorder to make a brief screencast showing her thoughts on each student's homework assignment. Everyone receives a personalized video to help them understand issues and the opportunity to correct their mistakes.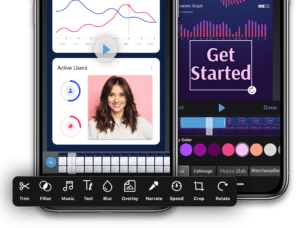 "I think tone means everything," De Medeiros says. "If they can hear you, you can say really good things about the writing, even if the writing isn't that good. You can say, "Great topic, I really love your enthusiasm," things like that make it easier for them to hear where they can improve."
You can make feedback videos with the screen recorder on your mobile device. Make a screencast showing the student's work, and use the video editing tools like overlay stickers to enhance your feedback. Let the student see your webcam and connect with you as you provide the input.
Social media-style videos:
Leverage students' social media obsession with getting them engaged in learning. Turn course material into short-form mLearning videos like those on TikTok or YouTube. 
If you're particularly social media savvy, you may even be able to sneak the latest viral trend into your clip. Try turning part of your next lecture into a mini-lesson, keeping the video between 30 seconds and 5 minutes. Keep it simple. Record directly on your phone, and choose some background music from the stock library to invoke the feeling of scrolling through social media for fun.
Tip: If your LMS is mobile-friendly, try uploading these short videos so students (and you) can see a progress bar showing how many clips they've completed.
Once they make it to the end, offer a simple incentive like a badge or even just a congratulatory message. 
Group video projects:
Coordinating group projects from home isn't easy, but video can help. 
For easier group presentations, each group member can make an mLearning video telling one story segment. They can add images from the stock library, use text annotations, overlay videos or screenshots, and more. Then, put the videos together for a unique take on the group project.
Something to consider
Speech-to-text caption features help students who are neurodivergent or who have disabilities make videos comfortably. 
From the video editor, they can use speech-to-text to generate captions for their projects automatically. Doing so will help them prevent spelling errors, save time, and avoid typing on their phones.
mLearning Helps Students Stay Focused
Don't overlook the power of mobile phones as learning tools. We hope these tips help you get your students excited about their next big project.