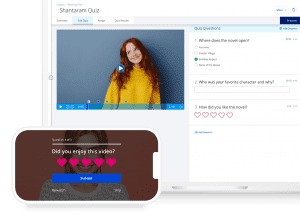 Now educators and students alike can turn any video into an interactive learning experience on ScreenPal! Make any video lesson, online course, or video project interactive with all-new video quizzing and polls.
Student engagement and assessment is a challenge for every educator, both in the classroom and in remote and blended learning environments. We know video is a great way to better engage students in learning. Educators across all grade levels are creating screencasts, instructional videos, and mini-lessons with ScreenPal to personalize instruction and take advantage of flipped learning benefits for their classroom.
With our all-new interactive quizzing feature, educators can create fun, engaging video learning experiences and assessments.  Video quizzes expands our suite of tools for education, making ScreenPal the all-in-one video creation suite for schools and districts.
How can teachers use video quizzes and polls?
Interactive lessons and lectures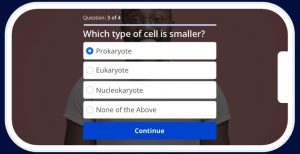 Educators can add quizzes and polls to make instructional videos interactive and fun. Want to make sure your students are paying attention to your digital lessons? Add a quiz question at key moments! You can configure your quizzes to prevent skipping to ensure that your students stay focused and take the time to answer before continuing with the lesson.
Assessment
Video quizzes are a great formative assessment tool for any learning environment. You can easily build assessment into your video lessons with interactive quizzes. Teachers can introduce a new unit and pre-assess knowledge with a mini quiz. Embed quizzes into video lessons to test for understanding. Create video exit tickets with quizzes for quick, fun ways to assess comprehension of the day's lessons. 
Feedback
You can ask students for direct feedback with quiz questions, including polls and ratings. Add a fun star rating question to the end of a video lesson to see what students think about the content, or embed a poll as an easy way to capture and aggregate feedback across the class.
How can students use video quizzes and polls?
Students can create quizzes and polls for their projects to showcase their knowledge, get feedback from their peers and teachers, and understand how well their video demonstrated their understanding.
How to create an interactive quiz in ScreenPal
You can create a quiz from any video. Save your screen recordings and videos to ScreenPal from the app, or upload any video from any source to your account. And of course, you can create a quiz from any of the videos that you are already hosting on ScreenPal.
Visit your Content Library to upload or select your video and then add a quiz. You can add a quiz question at any point in your video, and you can add as many questions as you like. 
You can configure five different types of questions for your video quizzes:
Multiple choice

True/False

Short answer

Poll

Rating
You can randomize the order of answers, allow or prevent skipping of questions, give automatic feedback on the correct response, capture additional open ended answers, and view both individual and aggregate data for all quizzes. For every quiz, you can view aggregated data for each question in both graphical and tabular form. You can export this data for importing into a gradebook or further analysis.
You have full control over who can view your videos and quizzes hosted on ScreenPal. Set your video quiz to private while you are configuring and testing, then choose from unlisted, password protected, or public. You can choose to allow anyone to take your quiz anonymously, or require either ScreenPal account login or choose custom data fields per quiz taker.
In addition to quiz results, you can track engagement on your videos with our improved video analytics tools. Compare total and unique views, monitor and understand student engagement with heatmaps, and get additional viewer insights, including browser and device. 
Watch our video tutorial to see how easy it is to get started with interactive quizzes in ScreenPal! Quizzing is available on all ScreenPal Solo Max Edu plans and Team Education plans. Educators enjoy substantial education discounts, and schools and districts can get a PO or request a custom quote for any number of creators.