Don't get too comfortable in the classroom. It's the new reality for many educators as the coronavirus forces schools to go remote again.
Timing only complicates the issue. Entire school districts reverted back to online learning with days left before winter break. Other districts ended classes early with plans to regroup after the new year.
But what happens in 2021? It's the big question leaving educators in limbo. 
Many teachers created a backup plan for this very scenario. Yet most aren't prepared to go back-and-forth between in-person and online classes.
Perhaps the uncertainty means it's time to create a backup plan for your backup.
Hybrid Plan For a Smooth Transition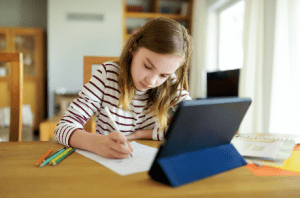 Instead of relying on two separate plans, one for in-person class and one for remote learning, consider creating a hybrid. One lesson plan which works seamlessly whether you're online or not.  
Integrate your favorite tools into your permanent game plan. There's room for platforms like ScreenPal, Google Classroom, and Zoom even when schools fully reopen.
The pandemic will fade, but the importance of integrating technology into the classroom will still be crucial. It's a lesson flipped learning educators say starts by making a few changes. 
1. Shift Your Mindset
It's time to reassess your teaching methods. A modern classroom calls for combining the best of traditional theories and digital tools. It's no longer an either/or situation.
"Whether the teaching will be done in a classroom or online, you'll need to be ready for any type of learning environment and this requires a mindset shift," advises Angela Barnett.
The elementary school teacher introduces her students to technology early. Aside from the obvious benefits, children exposed early to video creation and education apps have an easier transition between online and in-person classes. 
Start planning your lessons to accommodate both.
Screen recorders allow users to record not only themselves but their computer screen. The three step process is simple enough for all ages to understand. The technology is accessible. It's now a matter of deliberately weaving it into your lesson plans. 
Even traditional hands-on subjects like art and music can go digital. Barnett says it's all about being flexible and embracing new technology.
Try This!
Start simple. Screencast homework examples or answers to commonly asked questions. These recordings serve as an online resource outside of the traditional classroom. On the flip side, the videos become your main source of content for remote learning.
2. Swap Your Teaching Tools
Video recorders, learning management systems, and education apps kept teachers afloat in the early days of the pandemic.
And they'll prove to be equally important when students physically return to school.
Once you're comfortable with the basics, start experimenting with a video editor. Use the editor to enhance any video including Zoom recordings. Add text, highlights, and animations to transform your Zoom meetings into an interactive class resource.  You can use these resources again and again.  
Try This!
Hate watching yourself on camera? No problem with a quick edit.
Use the overlay feature including images or videos to cover parts of your Zoom recording. You can use content related to your subject matter. Customize the content to break up long segments of face time. 
3. Save Everything
The trick to maximizing digital content is repurposing what works best. 
Experienced online teachers suggest saving everything, especially videos.  Look for screen recorders offering inexpensive hosting options. 
A great hosting platform keeps your content organized. Plus, you're able to access your lessons from anywhere. ScreenPal's hosting management platform does both. 
Spanish teacher Marcia Clark relies on hosting to organize her foreign language content into different video channels. Once a video is complete, Clark uploads the video directly to her individual channel. Each video in her library has a unique URL which she can copy and paste to share with students. 
Teachers like Clark can open old videos and edit them again and again. It's a quick way to update your lesson plans yearly without starting from scratch. 
Try This!
Save time by planning ahead. Record a short video for each concept in your chapter review. Upload the videos to your hosting platform.
When a student needs additional help, you'll have pre-produced videos to serve as study aids. Use the video editor to add a quick personalized message to the beginning or end of your save video. 
4. Share Ideas
Don't reinvent your course plan alone. 
Collaborate with other remote educators or visit the Flipped Learning Network to curate a list of go-to tech tools. Some school districts even employ specialists to help you create a plan of action.
Often your students will be familiar with the cutting edge apps. So don't be afraid to take your tech cues from the class. Meet students at their interest level by incorporating popular apps into your course work.
Try This!
Turn the next book report into a digital media project. 
Ask students to use their favorite social media app (Snapchat, Instagram, or Tik-Tok) to create a video review of the book. The exercise allows students to creatively show off their comprehension of the material. Encourage students to include related gifs, music, and polls.
It works whether you're in the classroom or not. 
Planning for the New Normal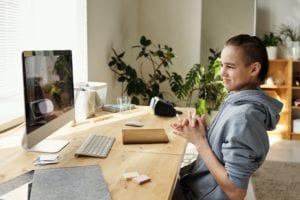 The pandemic is forcing teachers to rethink what traditional education looks like.
The lessons learned now could be the new normal. An all-in-one course plan could be used to tackle non-emergency issues like snow closures, in-service days, and unexpected absences.
So don't plan for the next pandemic surge.
Instead, plan for a technology-based classroom. One where the next generation of students can flow uninterrupted between in-class instruction and online work.
Teacher Angela Barnett says it best, "teach kids and build relationships," it's possible by shifting our mindset to capture the essence of 21st century learning.