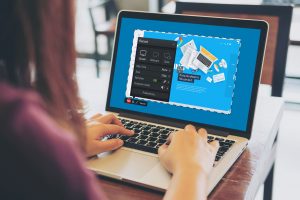 You've built a great product. When people see how it works, they get it and want to buy it. So how can you personally show all of your prospective customers how your product works so they will want to buy it? Make a product demo video!
These days, adding product demo videos to your company's website and social media channels is essential. 84% of consumers say they've decided to purchase a product or service after watching a brand's video. Nearly 50% of internet users look for product videos before visiting a company's stores. 
Considering these statistics, you're seriously missing out if you don't have demo videos for your software and products. This article describes how to create engaging product videos and highlights examples of some of the best demo videos on the market.
What is a product demo video?
A product demo video describes or illustrates how your product works, and highlights the benefits of your product for your viewers. Product videos are one of the most effective means of engaging and converting your website's visitors. You can communicate more about your product with one minute of compelling visual content than with a white paper or web page.
How can demo videos benefit your business?
Build awareness

: When your viewers watch your demo videos, they're more likely to remember your brand. 63% of consumers report that videos helped keep brands top of mind. Your product demo video can also help you distinguish your brand from other similar companies.

Explain products

: Your demo video can guide potential users or customers through every aspect of the product's functionality. Viewers are more likely to trust your products if they can see them working. 95% of all marketers say that videos have helped users better understand their company's products or services.

Increase traffic

: Video is increasingly important for SEO, and research shows that a website is 53 times more likely to reach the front page of Google if it includes a video. Over 25% of searchers click on the first organic search result they see, so getting on page one and as high as possible will dramatically increase your website traffic. 

Increase sales

: When users trust your products because they've seen them working, they're more likely to make a purchase. Including demo videos allows you to increase your product's sales considerably.
Given the statistics and video trends we've noted, including a product demo video on your company's landing page or marketing material is a no-brainer.
What should a product demo video include?
Your video promo should include four basic elements: an overview of your product, the solution your product offers, how your product works, and a call-to-action.
Make sure that you have identified your product's unique value proposition and can communicate it clearly and quickly in your demo video. Why did you make this product? Who is it for? What problems does it solve for your customers, and how does it solve them differently or better than your competition?
The following is a general overview of the structure of your demo video:
Description

: Start with an introduction to your product's basic functionality and usefulness.

Solution

: Communicate your value proposition. What problems and pain points does your product solve, and how will your customer's life be better with your product.

Demonstration

: Guide the viewer through your product's functionality and capabilities.

Call-to-action

: Ask the viewer to act — buy the product, request more information, etc.
How long should a product demo video be?
A product demo video should be short and clear. Aim to communicate your product's value proposition and how your product works in two minutes or less. If you need more time, you can create a separate educational video or longer demo for those more interested in learning about your product. But the introductory product demo video should be no longer than 2 minutes.
How to create a product demo video
Step 1: Establish the goal of your demo video
Before creating your demo video, determine your goals. Do you want to increase sales, increase subscriptions, boost brand awareness, or educate existing users? Understand your video's primary goal and what you want your viewers to take away from the experience.
Step 2: Identify your target audience
Who you are targeting with your video comes from your goal. Has the viewer already purchased the product? Will the video target completely new viewers who have never heard of the brand? What is the audience's level of engagement with your brand? Once you answer these questions, you will better understand the direction for your video.
If you're reaching completely new viewers, your demo video should start with an introduction to the company and provide an overview of the product. But if your video targets people who have already bought the product, you may need to offer a more detailed step-by-step overview of how the product works. Tailor your video to your intended audience.
Step 3: Determine your budget
Create a budget and timeline for your video. Do you have thousands of dollars in marketing funds? Or do you need to produce a video for a few hundred dollars or less?
If you only have $500, you probably won't be hiring a video production agency or professional motion graphics artists. But you can create effective product demo videos, especially website and software demos, with simple screen recording software. You can even create highly engaging demo videos for free.
Step 4: Write a script for your product demo video
Create a clear outline and write a script for your video. Start with an overarching structure. Divide the video into sections, including the introduction, demonstration, pain points, solution, and call-to-action. Once you have the basic structure, you can start filling in the details with the content.
While writing a script for your demo video, speak directly to your audience. Keep the introduction short and sweet, spend a little more time on the pain points and demonstration, and finally end with a clear call to action. Even if you're creating a software demo video, you need to conduct a verbal narration to explain what's happening on-screen.
Step 5: Record your tech demo video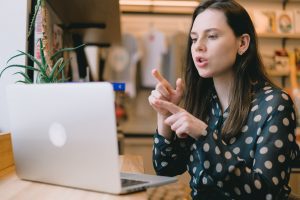 You'll need a good screen and webcam recorder if you're producing a software demo video. The screen recording software should record your computer screen to demonstrate the software to your viewers. And the webcam recorder should record the speaker, making the demonstration more engaging and interactive.
ScreenPal is the most reliable and accessible screen and webcam recorder to create engaging tech demo videos. ScreenPal is an extremely simple and free tool that allows you to record up to 15 minutes of videos for free, making it ideal for demo videos. You can essentially create your product demo video for free!
ScreenPal allows you to simultaneously record any part of your computer screen while capturing your webcam's footage. You can either record the screen or the webcam or both, overlaying one on top of the other. You can also filter out background sounds and use a high-quality microphone for voiceover narrations. 
Here's a quick overview of ScreenPal's screen and webcam recorder features:
Capture any part of your computer screen or your full screen

Record your webcam and overlay it on the screen capture

Record voiceover narrations as well as computer audio

Use drawing tools to annotate, highlight, and bring your viewer's attention to specific parts of the video

Zoom in and out to focus on specific areas of your product
Step 6: Edit your product demo video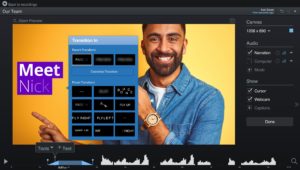 After recording your video, you need to start the editing process. ScreenPal also includes a built-in video editor, so you can transition seamlessly from recording to editing your video. You can easily trim the recording, remove all awkward pauses, add text and graphics, apply transitions, and add captions to make your videos accessible.
Here's a quick overview of ScreenPal's video editor features:
Choose from dozens of pre-designed animations

Add narration, music, and sound effects

Add images, text, shapes, and animations

Import videos from other devices

Zoom in/ out of different parts of the video

Automatically add captions with speech-to-text

Highlight different areas of the video

Add stock images and videos from the premium stock library
Where to promote your demo video
You can promote your demo video anywhere you market your product! Consider promoting your videos in the following channels:
Your website landing pages

Relevant blog posts

Social media platforms

Your YouTube channel

Email newsletters and marketing

Other marketing materials
Your product promo video should feature prominently on your website's homepage and primary landing pages for your product. If you host your video with an ad-free video hosting platform like ScreenPal, you can easily embed your videos on your website. In addition, you can brand and customize your video player, and add CTAs to your videos to guide your viewers to the next step after watching.
Make sure to publish your video on your company's YouTube channel. Include links in the video description to your product landing page. That way, viewers who find your video on YouTube can visit your website to learn more and purchase. If you create the demo video using ScreenPal, you can directly upload your video to YouTube from the software. 
Use your product demo video in your email marketing. Demo videos are a great way to help new customers get immediate value from your product. Include links to your video in your welcome email or new user onboarding emails. If you have an email newsletter, you can promote your demo video to engage your existing audience.
6 great product demo video examples
Now that you know how to create product demo videos that engage and convert, it's time for inspiration! The best way to learn how to create videos is by studying masters of the craft. We provide some of our favorite examples below and explain what makes them unique. Please use these examples for inspiration!
Airtable
Airtable's project management software allows users to manage and track various projects across different platforms and devices, such as phones, computers, and emails. This Airtable software demo video guides the viewer through multiple case scenarios executed across the computer and smartphone within 2 minutes.
This engaging and interactive video has been produced primarily with a screen recorder and a high-quality microphone. You can create a similar video on a limited or no budget. Airtable is an excellent example of how you don't need thousands of dollars to create an engaging demo video.
Slack
Slack is a productivity and team collaboration tool that allows different team members to collaborate on projects and facilitate prompt communications. Slack's videos illustrate how you can use these videos to clear misconceptions and highlight specific features of your products or software.
The Slack product demo video has numerous layers. It includes animated components, live voiceover narrations, webcam footage, and screen captures of the Slack platform. The screenshots and screen captures are presented alongside live-action scenes, making the guided tour even more engaging.
Duolingo
Duolingo is one of the world's leading language learning apps. It uses gamification to keep users engaged, turning languages into a fun sport. Duolingo's product demo video accurately captures the app's fun and simple nature. It includes screen captures of the app alongside simple captions and 2D animations of the Duolingo mascot.
In less than 30 seconds, the Duolingo demo video highlights the app's primary features and emphasizes its simplicity. When you watch the video, you feel like you can get started immediately after downloading the app. Furthermore, the video can be prepared with a simple screen recorder, making it extremely budget-friendly.
Amazon Echo Dot
Amazon absolutely nails it with their product video for the 3rd generation of Echo Dot. Within one minute, the video takes the viewer through all of Alexa's primary features, such as voice activation, playing music, and setting reminders or alarms. Of course, Alexa has many more features than these, but this product video only focuses on the most important points.
The Amazon Echo Dot demo video highlights the importance of focus. Instead of taking the viewer through all of the device's features, which is next to impossible, the video only focused on the most attractive features. That's important for all product demo videos — understand what your audience truly wants and give it to them.
Grammarly
Grammarly is a digital spelling and grammar tool. It's a simple software that offers intelligent recommendations to improve your writing, making it read and flow better. Grammarly's software demo video is engaging and effective because it actively shows the product in action. The live-action scenes are overlaid with screen captures of the software in action, so you know exactly how it works.
Grammarly's software demo video highlights one key facet of storytelling — show, don't tell. Instead of simply informing the user of the benefits, the demo video shows how it corrects different texts. Furthermore, by showing us scenes of people working in libraries or walking around, we can see that anyone can use the tool on smartphones. You get a real sense of how the tool works.
Google Translate
Google Translate is the go-to application for anyone needing a quick translation. It features the broadest range of language translations possible, and it's capable of automatically detecting the language. This Google Translate product demo video shows us how the app works instead of telling us about these features.
The Google Translate software demo video is extremely simple. It features screen captures of the app in action with some rough on-screen drawings to guide our attention. With these simple features, the demo video can maintain the viewer's attention. This product video is yet another excellent example of simplicity winning the day.
Now that you've gone through the best product demo videos on the market, it's time to create your own. Follow the simple steps mentioned in this article to attract, engage, and convert your viewers today with a video promo.