Student privacy has always been a top concern for teachers. It's essential to make sure students' private information doesn't fall into the wrong hands in the process of sharing images and videos with classmates. Keep reading to learn how you can use these video strategies to keep students safe.  
EdTech and the Need For Student Privacy
The rapid switch to e-learning saw schools adopting new EdTech tools quickly out of necessity, often without time for their usual vetting process. In the interest of keeping students safe, all e-learning tools need to comply with federal laws like the Family Educational Rights and Privacy Act (FERPA) and the Children's Online Privacy Protection Act (COPPA). 
Cheri Kiesecker, the Parent Coalition co-chair for Data Privacy, told EducationWeek that parents and schools should minimize the amount of student data being collected and potentially sold by tech companies. She noted that according to the FBI, improperly handled student data can result in "social engineering, bullying, tracking, identity theft, or other means for targeting children."
In the U.S., most states received a grade of C or lower in a student data privacy survey by the Network for Public Education in partnership with Kiesecker's organization. 
With so many more schools using EdTech tools today, especially for video, it's more important than ever to handle student data with care.
Video Strategies to Keep Students Safe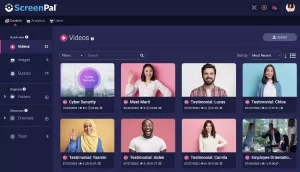 ScreenPal offers numerous ways to protect students' privacy when making and sharing videos. Be sure to take advantage of these helpful features: 
Use Premier Hosting
.
Where you host your videos is of the utmost importance in keeping your class videos safe. Keep your videos off of hosting sites like YouTube, where anyone can find and share them.
When you host your videos with ScreenPal, you can control who sees them and how. You can also organize your videos into separate channels for easy organization and share your videos through your learning management system.  
Have students make videos without logging in.
Nothing unsavory can happen to your students' data if they never login in the first place.
With our free screen recorder, students can record videos without ever creating an account. That means they'll never have to share personal information or remember a password to make a video.
Finished recordings are saved locally on their computers, where they can be shared directly with others as needed. 
Set a strong password.
One effective way to control who sees your video is to protect it with a strong password.
When you publish a video with ScreenPal, click "video details," followed by "visibility." Next, you'll notice a few privacy options.
Click "password protected" and create a strong password for your video that you can share with students.
Get creative with Green Screen
.
Not all students are comfortable showing their home in the background of their videos. Careful privacy practices can protect them from issues like bullying or embarrassment. 
When students are on video, have them use a Green Screen to replace their background and keep their home life private.
ScreenPal has an expansive stock library of fun images to use as a background of their green screen recording.
Safe Habits For Life
Student privacy is a crucial part of e-learning and will remain so long after the pandemic ends. Try these tips with your students to keep them safe and help them develop smart habits around their data.