ScreenPal makes it easy for you to share your video on popular social media sites.  Once you are finished with your video, you can quickly share with just a few clicks. 
Share on your YouTube channel, Facebook, Twitter, and more!
Easily Share and Publish Videos
After you finish your video, you will find options to share and publish your video.  Included in the list is an option to upload to ScreenPal.  You must have an account and login to publish to your personal hosting account. 
In order to share your video to Facebook and Twitter, you'll need to upload your video to your hosting account.  You can then choose various sharing options.
Quickly share directly to Facebook or Twitter
Here are the directions to quickly share to Facebook or Twitter.
While your video is uploading to ScreenPal, you will find icons for Facebook and Twitter.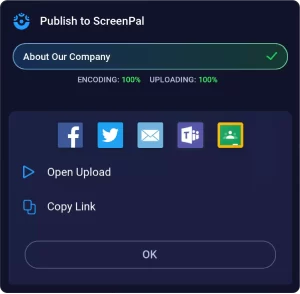 Enter your login credentials (only required the first time you connect to ScreenPal).

Write the post or tweet you want to send out with your video.

Hit share.

The post or tweet will include a link to your video.
You also have options to share with an email service or Google Classroom.  Those icons are provided. And with our video link generator, you're just a few clicks away from sharing your video with the world!
An Even Faster Way to Share
We have integrated several platforms with ScreenPal for better efficiency.
When you are done with your video, you have multiple options to share and publish. All you need to do is click on the menu icon next to 'Options.'
You can connect your YouTube account and channel, Vimeo, Google Drive, Dropbox or easily generate a link.  Once connected, it takes one-click to share and publish to these platforms.