🥳 Did you hop on the ScreenPal bandwagon during ISTELive23? We had the most amazing time chatting with all who stopped by our booth to grab ScreenPal swag and share their best practices with us.
🏆We're honored to be named a Tech & Learning Best of Show ISTE 23 winner. We are absolutely thrilled to be among such esteemed company with tools that promote innovation and student achievement.
We hope you learned even more about capturing, creating and sharing engaging video lessons with your students- and can't wait to help you implement all you learned this coming 2023-2024 school year.
Share Your ScreenPal Expertise
Are you planning on attending your local Ed Tech conference? Why not share the ScreenPal love and present on one of your favorite Ed Tech tools. You provide the presentation and we'll send you swag and an upgraded account! Please fill out this survey if you are interested.

You've still got time to submit a session proposal for:
What's New in ScreenPal
Aside from our recent rebrand from Screencast-O-Matic to ScreenPal, there are many other updates to share!
In case you missed our new features, here are some links to help you out:
🗒️ Our Project Manager is now available to free and paid users.
📓 Make your video interactive with our Quizzing feature.
🌟 Take a scrolling screenshot and annotate immediately.
💻 Create a cohesive lesson using Stories.
🎉 Video effects to increase engagement.
Now free for all: Project Manager
Just before the advent of ISTELive23, we included our Project Manager among our free tools. Now all ScreenPal users have access to the desktop Project Manager, allowing everyone to edit their screen and webcam recordings seamlessly for free.. 
The Project Manager helps you stay organized, managing all of your video and image projects in one place so you can easily edit, repurpose, and upload to ScreenPal for easy sharing and online hosting..

Engage with video quizzing
Since the 2023-2024 school year is right around the corner, now is a great time to expand your teacher tool kit to improve student engagement and motivation.
You can easily add quiz questions, ratings, and polls to video lessons for student engagement, formative assessment, active learning, and classroom fun! Question types include multiple-choice, true/false, or short answer.
We've made a few updates to our quizzing feature, including:
A new 'Results' tab that allows students to view all of the quizzes they have taken as well as feedback provided.

Create a quiz immediately after uploading a video.

Exclude short answers from affecting the final quiz score for students.
Tips and Tricks for using our Quizzing Feature:
Consider randomizing the order of questions that appear on students' screens.

Prevent skipping! Need we say more?

Automated feedback.

View data by individual students or for the entire class. Review individual results to identify where additional, personalized support is needed.

Assess anonymously or require sign-in

View content trends and video heatmaps using advanced analytics. 

Teachers get a comprehensive view of watches, rewatches, and skipped content- providing advanced insights into student engagement.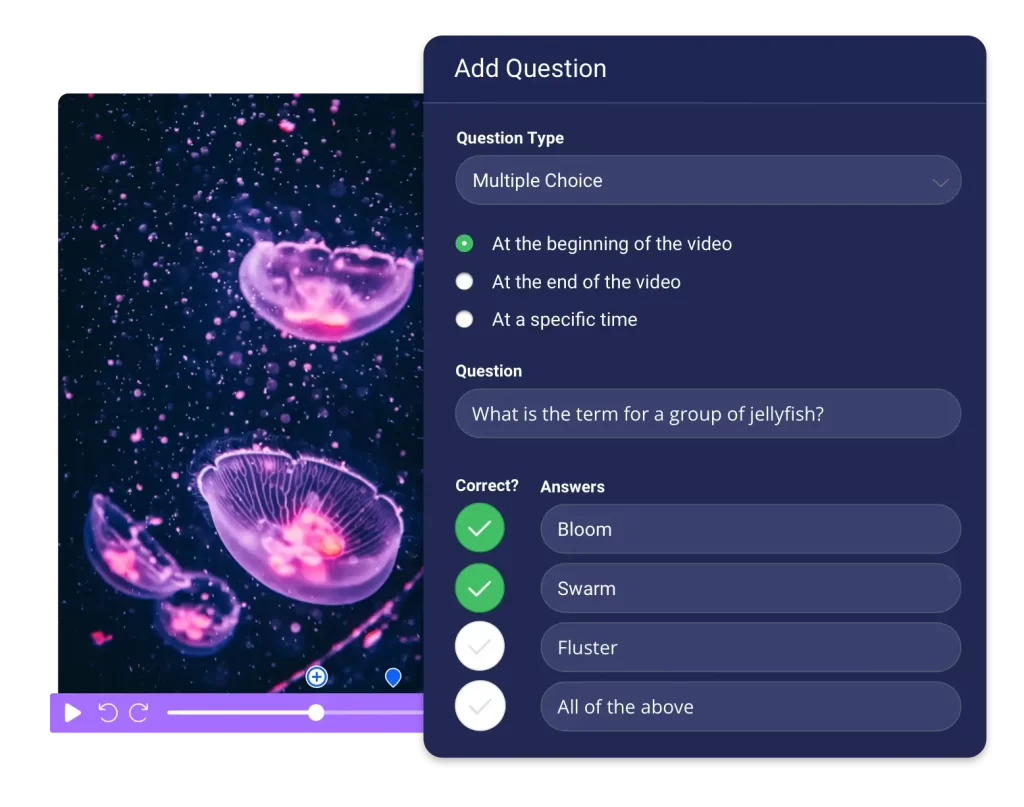 New release: Scrolling Screenshots!
Our up-to-the-minute release is scrolling screenshots. Quickly capture scrolling screens of webpages, documents, apps, and more, with our Scrolling Screenshot feature.
To access this new feature, open the Screenshot tool. Press the tab key to capture a rolling screenshot. To return to the regular screenshot tool, simply press tab again. Click and drag your window after pressing tab to select your entire screen. After you make your selection, a red and white checkered box is displayed. Begin scrolling to capture your scrolling screenshot.
Once you capture your screen, click 'done.' Your image will be available in the Project Manager. Click 'Open Image Project' to view and edit the image in our Image Editor. Speaking of our Image Editor… did you know you can easily add numbered steps to your image?  
Create a cohesive learning experience with Stories
With the introduction of Stories, you can use any combination of content to create your lesson in an interactive video storyboard. Use a combination of slides, PDFs, JPGs, and video content to create a cohesive learning experience.
With Stories, you can:
Turn your existing Google Slides, PPT presentations or PDFs into video lessons.

Record, edit and share from our dynamic storyboard platform.

Add videos, images or recordings for each section of your storyboard.

Reorganize using drag and drop.

Make your story accessible through speech-to-text closed captions.
Video effects to increase engagement
Add fun video effects using our Chrome Extension.  Explore our library of high-quality effects- celebratory, fun, and even funny screen-takeover- to increase engagement with your video lessons.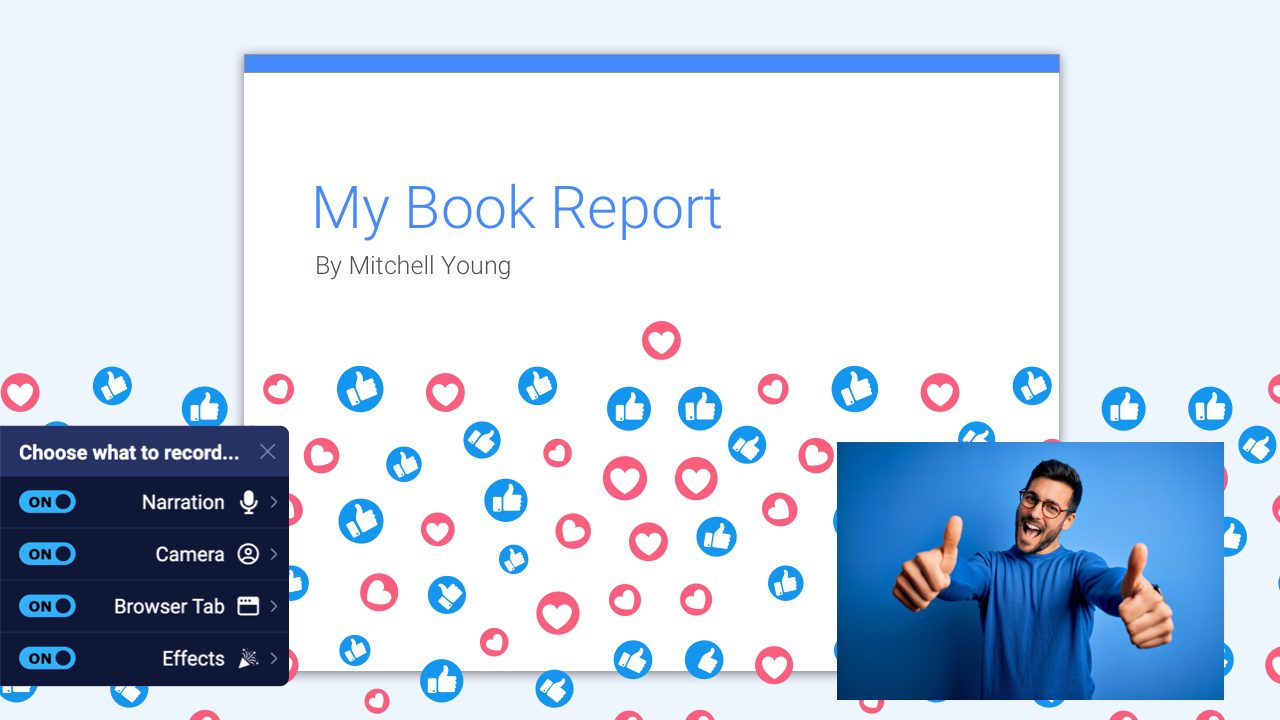 How ScreenPal's new Team Education plan will benefit your school
With our Team Education plan, schools, districts, and teams of educators have access to the full product and feature set that ScreenPal offers, including interactive video quizzing, advanced analytics, and the full premium royalty-free stock library with over 15 million images and videos. Plus everything our team is working on now to help your team in the coming school year!
Team Education plans ensure COPPA and FERPA-compliance. Our Team Education plans also offer discounted pricing. Schools and districts can purchase online or generate a quote to purchase with a PO. Please fill out our custom quote form for site-wide pricing.