For many companies, the slow but steady rollout of COVID vaccines signals an eventual return to physical workspaces. That said, it's unlikely the world will return to "normal." Nearly 80 percent of people were affected by lockdowns in some way. Now nearly a year later, many companies are eager to return to the office. 
That transition will be a complex process. Many companies have hundreds of employees to move around, and COVID restrictions aren't going anywhere just yet.
Teams need to prepare for possible resurgences of the coronavirus that may require a temporary return to remote work. Changes to company culture will be essential too. Companies need to prioritize people above all else. They'll need to focus on performing together as a team, being open to change, and taking advantage of skills and preferences employees gained during lockdown. Below we'll explore what your team gained in 2020, and how you can continue that growth in or out of the office with ScreenPal.
Evolving the Workforce
Your employees changed in 2020, so when you return to the office your team will have new skills and work preferences they didn't have pre-pandemic. Use these new skills to your company's advantage.
New ways to communicate
Between pre-recorded video, Zoom calls, voice memos, and instant messaging services, your team learned how to communicate efficiently without being together in person. If this is working well for them, they may not welcome a switch back to scheduled in-person meetings, and why should they?
A preference for flexible workdays
Many workers find they're able to get more work done in less time while working from home. Even if your team returns to the office, there may be ways to allow greater flexibility within your team's projects, or within the structure of their workdays. 
A more collaborative work style
Remote work tools like Zoom, instant messaging platforms, and prototyping software make collaboration easy. If those tools don't follow your team back into the office, collaboration could suffer.
Analyze what's changed about your team before returning to the office. Better yet, ask them directly for feedback and suggestions. 
Encouraging Growth In and Out of the Office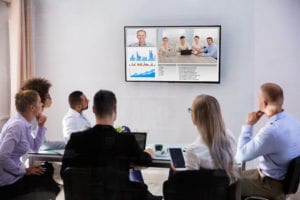 If you're ready to evolve along with your team, you're in good company. Many prominent businesses are doing the same, having crafted policies around innovating together and keeping employees safe.
To prevent the spread of COVID while keeping operations running smoothly, Samsung requires employees to keep working from home unless coming to the office is absolutely necessary. They've also implemented daily health screenings, restricted non-essential international travel, and started a task force to keep up with the latest health recommendations.
Ninety-eight percent of Nationwide's team started working remotely during the pandemic, and the company recently adopted a permanent hybrid work model allowing most of their team to work from home permanently.

Here are some things you can do to encourage continued growth in your team both in and out of the office:
Make a plan
Should you decide to re-enter the office, do so with a plan. You'll need to anticipate possible resurgences of the virus and the restrictions that follow. Prepare for these issues ahead of time to avoid being caught off guard. This plan will also be useful in other emergencies like storms or power outages.  
Human-first approach
2020 put a spotlight on the way companies treat employees. In order to thrive and attract top talent in a post-pandemic world, you'll need to prioritize people above all. That means building a sense of trust and safety as they return to the office, perhaps by having only a small portion of your team return first, adopting stringent sanitation practices, and doing away with open office setups which promote the spread of germs.
Prioritize mentorship and feedback
Mentorship is an effective way to make employees feel respected, while listening to and providing feedback helps them feel heard and valued. You can do both with video.
Linh Podetti, founder of global outsourcing agency Outsourcing Angel, records her screen with the screen recorder to create feedback and instructional videos for her distributed team. She says it helps her avoid wasting time in meetings. 
Consider your team's new preferences
While away from the office, your team learned to communicate more efficiently with technology. Embrace the shift with integrations that make collaboration easier. Turn development tools like Jira, Asana, and Bootcamp into communication tools by integrating video communication with ScreenPal.
The screen recorder and video editor enable your team to craft quick videos showing data, timelines, and project ideas, which they can seamlessly upload or link to the project management or development platforms you already use. 
Offer continued training for new tech
Employees learned a lot of new tech in 2020. It's crucial for companies both remote and in-office to offer continued training so no one is left behind.
Industrial automation company Festo, uses the screen recorder to create their video trainings. Manuel Schmidt, technology expert for Festo, says the videos help keep his team engaged when learning.
Better virtual experience for customers
Prioritize customer safety in 2021, as well as any new preferences and expectations they've developed during the pandemic.
Now that people are used to handling their business virtually, they may prefer to keep it that way.
Deepak Shukla, founder of SEO agency Pearl Lemon, uses video to create an enjoyable customer experience online. Shukla regularly talks with customers via video, and a look at Pearl Lemon's website reveals numerous demo and explainer videos.
Shukla says the videos, made with ScreenPal, help Pearl Lemon engage with customers on a personal level. "Videos are a huge part of our overall content," he says. "Whether it's explainer videos and tutorials for our products, customer case study reviews, or in-house training, we rely heavily on video."
Putting People First
Whether your team returns to the office in 2021 or not, putting people first is the key to growth and success in 2021. With the help of ScreenPal's easy-to-use video tools, you'll be ready to tackle whatever the new year brings.
Quick Links
How to Have Better Virtual Conversations With Your Team
How These Companies Use Video to Solve Customer Issues
Custom Video Player to Enhance Viewing Experience