ScreenPal's Video Editor is designed to help beginners quickly edit videos.  You don't need fancy video editing software to confuse you.  All you need is a quick and easy tool to help you create videos without a lot of guesswork.
Here are a few video editing tricks to help you save time and headaches.
Video Editing Trick #1: Know the Process
But first, let's introduce the editing process so you can understand how easy it is to create edits on your video. It's the same 1-2-3 process for almost every tool you use.
Step 1. Click on your video editing timeline
Head to the location on your timeline where you want a specific tool to appear.
Step 2. Choose the tool and customize
When you click on the 'Tools' menu, a series of tools will appear.  Choose and click on the tool you want to use.
You can customize the tool further.  For example, in 'Overlay Text,' you can customize your text by choosing a font, color, and background.
Step 3. Implement the tool on your timeline
Once you customize your tool, you can implement it on your timeline by clicking on 'Done.'
Video Editing Trick #2: Know the Tools to Save You Time
Now let's turn to the tools.  Here are some key editing tools designed to save you time in the editing process.
Cut portions of your video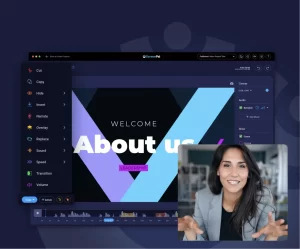 After you have recorded your video, try taking the time to watch it.  Take notes on the portions of your video you want to cut or delete.  Sometimes writing down the timestamp or timecode can help you organize your edits.
Once you are ready, head to the editing timeline at the location of the video you want to delete.  Click on the 'Tools' menu and choose 'Cut.'  A red line will appear.  All you need to do is drag the bar on your editing timeline to indicate what portion you want to delete.  Click 'Ok' when done.
Control the Speed
Many users like the option of controlling the speed of their video.  You can select any part of you video to speed up or down.
Once you have selected the area, click on the 'Tools' menu, and choose 'Speed.'  A purple line will appear.  Drag the chosen area you want to speed up or down.
On the menu, you can choose the rate of speed you want.  It can go up or down 10x.  Click 'Ok' when done.
Extra tip: When you want to preview your video, you can use the 'speed preview' button located below the play button on the left side of your editing timeline.  You can preview the video at different speeds.
Add Overlays to Engage Your Audience
You can engage your audience with a few additions to your video.  You can add text, shapes, arrows, and more to your video. You have a long list of overlay options for you to choose from.
It's easy to add overlays to any video.  Just click on the 'Tools' menu and hover over 'Overlays.'  All you need to do is choose the overlay you want to add then customize it.  For text and shapes, you can personalize these to fit your brand or video messaging.
Video Editing Trick #3: Know Where to Go
Now that you've learned basic video editing tricks, you can explore the multitude of tools in ScreenPal's Video Editor.
Our video editing cheat sheet provides a full list of all available tools and features.
The tutorials page is filled with how-to videos that walk you through every video editing tool and feature we have.