If you're an educator looking to flip your classroom, but you cringe at the thought of being on-camera, you're not alone. Luckily, there are many ways to create engaging screencasts without recording yourself. Whether you're camera shy or just looking for new ways to help your students connect with lessons, these tips will get you inspired to create more ScreenPal videos for classroom instruction.
Flipped Learning is evolving
Students today are accustomed to learning from videos thanks to YouTube and other streaming services. Flipped classrooms take advantage of this by "flipping" teaching and homework time. Teachers record lessons for students to watch at home, then use class time to help students work through challenging assignments. 
Because students can review the recorded lessons at any time, flipped learning reduces time spent reteaching material. Using class time for assignments that would otherwise have been homework ensures students can get help when they need it. 
Even so, traditional flipped learning has its limits. Some teachers aren't comfortable recording themselves, which can result in awkward or uninteresting videos. There's also a lack of visual aids to help students understand the material. This is where screencasts come in handy.
No webcam required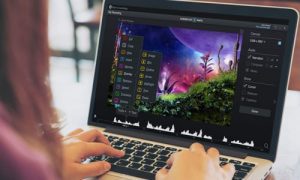 With screencasts, educators can dig deeper into course topics and engage students— no webcam required. Follow these tips to create your own screencasts with ScreenPal's screen recorder and video editor. 
Share your screen. By showing your screen in a video, you can visually walk students through new concepts, using voice narration to explain as you go. You can choose whether to show or hide your face in a small window on the screen.
Make it interesting. It's a good idea to add some attention-grabbing pizzazz to your video. With ScreenPal's Video Editor, you can animate your video with fun transitions and overlay effects. You can also import video, audio, and images from other devices, and style your text and images the way you like.  ScreenPal's Stock Library is filled with hundreds of thousands of videos and images you can use to bring your class topics to life.
Even more camera-free ways to screencast lessons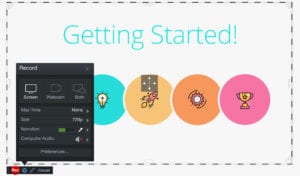 Screencasts aren't the only way to flip your classroom without a webcam. You can turn things like photos, videos, and websites into interactive study tools too. 
Here are some creative ways educators are using to create their screencasts and how they've integrated them with other tech tools to enhance the classroom experience.
Animate lessons– You can use video creation tools to turn your lessons into entertaining cartoons. There are several animation tools in the marketplace making it easy for teachers to illustrate class topics in fun and creative ways.
Create infographics– Infographics are everywhere nowadays, and for good reason. A well-researched infographic can add valuable depth to your lessons, while also serving as a helpful tool for visual learners. 
Modify images– ThingLink lets you add tags and hotspots to an image, turning it into a digital storytelling tool. When a student hovers over a tag, they'll be presented with new content of your choice in the form of text, images, screencasts, or websites.
Modify videos– Video modification tools like EdPuzzle allow you to take any video from sources like ScreenPal, YouTube and Khan Academy and turn it into a lesson. You can track which students are watching your videos and how often, and test their comprehension. 
Modify websites– Insert Learning lets you add educational content to any webpage. You can scaffold text with questions, videos, or images that help with comprehension. A discussion feature makes it easy for students to connect with each other while learning. Realtime assessment tools show you when students need help.
Make interactive presentations– Old-school slideshows may not hold students' attention anymore, and that's where Adobe Spark Page can help. With it, you can create interactive flipped lessons that save valuable class time. You can add images, text, links, and your videos. 
It's possible to create a thriving flipped learning environment without ever stepping in front of a camera. We hope these tips get you off to a great start.