Today is the day to jumpstart your productivity with fewer meetings, friendlier feedback, more authentic sharing of ideas and knowledge, honest and human communication and connections on your schedule. ScreenPal is a Chrome extension that lets you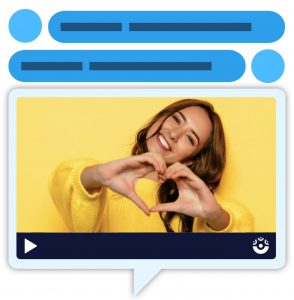 easily create, share and view video messages right from within your favorite web-based apps where you work, learn and play like Gmail, GitHub, Jira, LinkedIn, Twitter, Reddit, SalesForce, Zoho, and so many more.
ScreenPal solves problems for people who:
Have great ideas, and text simply doesn't cut it.

Send emails, only to have the tone misconstrued.

Type and retype feedback to get the words just right.

Go round and round on emails, fraught with miscommunications.

Attend long meetings with only a few moments of helpful content.

Coach their team, but don't feel that it is connecting.

Send the typed word into the ether…without an audience to read it.

Try to engage with team members, sales prospects and partners without success.
We've all been there. We face these obstacles daily and more so in the current state of the world, with the pandemic entering its third year and the workplace becoming more virtual.
Quick Video Messaging Where You Work, Learn & Play
These are just a few of the challenges and opportunities that inspired our team at ScreenPal to dive in and develop ScreenPal. 
We've seen how useful ScreenPal is within our internal workflow over the past several months at ScreenPal. We use it for everything from brainstorming and ideation to sharing the steps to install a test environment, to the process for reproducing and submitting a bug within GitHub. The development team loves how we can create a ScreenPal video right from within a GitHub issue and provide crystal clear details on feature feedback or a bug. When the team receives a new Github issue or update, they can easily hover over the ScreenPal thumbnail and watch it in-line without having to click over to another site. We've even seen this increase the velocity of our product development!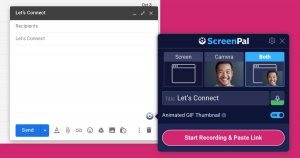 ScreenPal works like you'd expect, only better. Record your screen, webcam or both; capture a browser tab, window or your full screen. Easily crop and trim if you just want to share a specific portion of your video. And do all of this without leaving the web app you're already using. 
Recipients of ScreenPal messages actually see a preview of the message as an animated GIF before viewing, in web apps that support GIFs. No need to click the video and go to another website when you're ready to watch a video message, just hover over the animated GIF and it will automagically play. It's truly that friendly and easy. Forget your glasses, it's cool – choose the full screen view. 
ScreenPal automatically creates a title based on the page where ScreenPal is launched (for example, Github Issue Title). Want to create a more personalized title, no problem, you have complete control to create your own.
Take Full Control of Your Videos
Managing your ScreenPal videos is a dream. They are automatically saved for free, safe and secure in the cloud, where you can manage and organize them any way you want. In fact, you can repurpose and reshare them right from this same location. If you want to expand on a ScreenPal message, just jump into ScreenPal's free full-featured video editor where you can insert multiple videos, music and images, add text, transitions and so much more. ScreenPal even provides free video hosting for you to share your videos with full privacy control, so only your intended audience can see your videos. And, did we mention that ScreenPal's video hosting is always ad-free, so your viewers will never have to sit and/or click through those super annoying and intrusive ads.
Jumpstart Your Productivity Today
Are you ready for a bright future with increased productivity, friendlier feedback, more authentic sharing of ideas and knowledge, honest and human communication and connections on your schedule? Take a minute and tell a coworker how much you appreciate their hard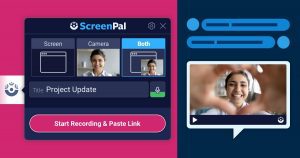 work, provide a step-by-step quick guide on how to reproduce a bug, walk a friend through a quick set-up problem, provide feedback on a book report, and make a more personal connection with a potential customer. The possibilities are endless wherever you are – work, school or home when you have ScreenPal by your side. 
Download the Chrome extension and get started today! We can't wait to hear what you think!