Screenshots can be an essential tool to communicate and share ideas.  As part of our continued effort to provide simple and intuitive solutions for screen capture and sharing, we've made screenshots a core experience of our software tools.
A screenshot tool needs to be easy to use while offering flexibility for image enhancements and sharing. The tool should let you quickly capture, enhance, and share without having to use multiple apps. It should also work when you're offline.
ScreenPal now features a completely redesigned screenshot tool. It adopts our user-friendly design and integrates it into our new hosting platform.  It's a seamless integration where you can manage both your screenshot images and video content. You can launch the new screenshots tool from the web or desktop.  
Check out what the new screenshot tool includes:
New Look
Adopting the latest designs used in our desktop and web experiences, the screenshot tool and hosting platform includes our familiar, easy to use interface users know and love.
Work With Speed
Launch from the web or desktop. In the Windows Tray or Mac Menu Bar, you have quick access to the screenshot tool, screen recorder, and video editor. Try it out and see how fast you can get your work done! 
Flexible Screen Capture
Capture the whole screen, a specific area, or use the one-click option to take a screengrab of an active window. Easily take screenshots offline and then share later when connected.
Quick Actions Menu
When you take a screenshot, it's copied to your clipboard. We also present a Quick Actions Menu for you to publish your captured image, open the folder where it's stored, or open the Screenshot Image Editor and start annotating your image.
Screenshot Image Editor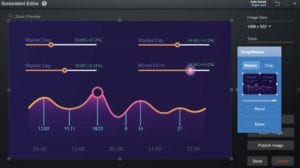 There are numerous options to edit your screenshot.  You can easily crop and resize your images. Annotate your screenshot using rich text, outlines, blurs, or highlights. You can quickly add steps to guide your audience. Zoom to a section of your screenshot for emphasis. You can go back to any point in your edit history and start over.
Easily Share Your Screenshot
Export to your desktop, copy to your clipboard, and share.  You can also upload to ScreenPal to share from a password-protected page.
When making videos, you can easily create screenshots and use them as an image overlay in the Video Editor.
The screenshots experience is free for anyone to use! Now you can add screenshots to your arsenal of tools and get work done faster.