With the change in the season comes product news you can use!
Feature focus: Stories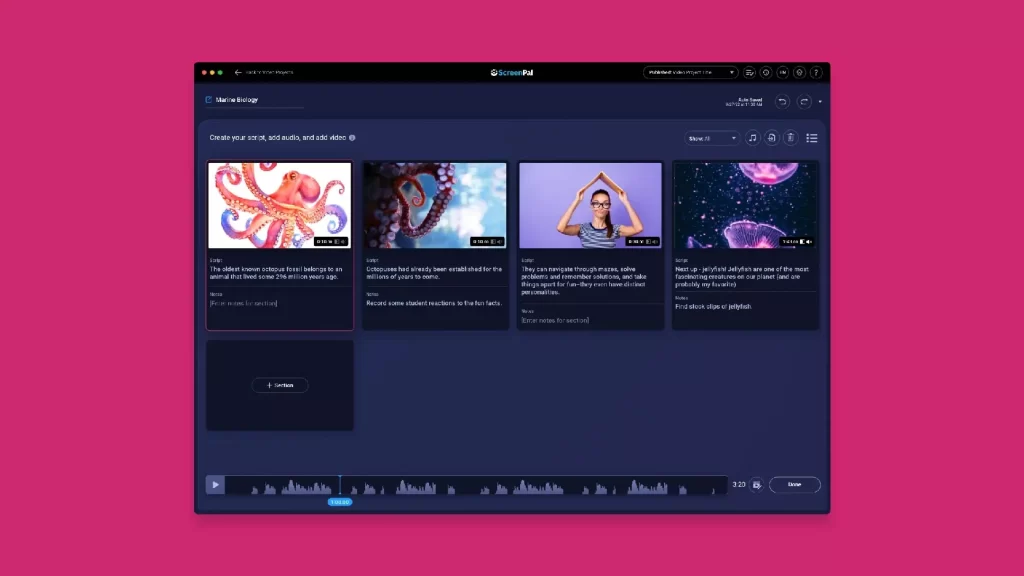 Looking to save time and get organized in your video creation? Start with a storyboard!
With Stories, you can plan and organize your video content in a drag-and-drop storyboard. Import content from anywhere into your storyboard. You can even turn existing slides into video scenes!
Add a script to any or all of your story sections to make recording narration easy, and turn your script into captions to make your content accessible automatically.
Stories is available in all paid plans. Anyone can create and edit a storyboard for free, and then upgrade to any paid plan to publish and share.

Ready to explore Stories? Look for the Stories icon anywhere you launch your ScreenPal tools. 

Inspiration and ideas from the blog
💡Get more out of your existing slide presentations with Stories. Check out our guide to turning your slides into a video storyboard for creating engaging presentation videos that are easy to update and repurpose!
💡Video storyboards can help scaffold projects for learners or facilitate collaboration across your team. Find out how to create a storyboard template for your next video project with Stories.

What's new: Webcam shapes
Now you can choose a circle or rectangle webcam shape when you record! You can remove or blur your background, or replace it with your own image or one from our royalty-free stock library.
Change your mind? You can edit your webcam after you finish recording! Just jump into the video editor. At any point in your video, you can change your webcam shape and background, or hide your webcam altogether so your viewers focus on what you're showing.
How do I choose my webcam shape? When you launch the screen recorder, select "Both" to record both your screen and webcam. In your webcam preview, select the person icon in the lower left to toggle between a round and rectangle webcam shape. Select the image icon in the upper right to remove your background, blur your background, or replace your background with a virtual background.
Launch the recorder and choose your webcam shape

Seasonal virtual backgrounds
Virtual backgrounds are the perfect way to add some seasonal fun to your videos. Love the way the leaves change in autumn? Explore fall foliage backgrounds. Ready for pumpkin everything? We have your pumpkin backgrounds. Can't wait for winter holidays? Here you go.

New training: Get ScreenPal certified
Level up your ScreenPal skills and get your official micro-credential with our new Level 1 certification! 
This four-part mini-course will walk you through capturing, creating, sharing, and engaging learners with ScreenPal's desktop creation tools, online hosting, and interactive video features. 
After you've completed the micro-credential, you'll be able to add your certification to your LinkedIn profile. You'll also receive an email certificate to use for your professional development credits.