Communicate clearly and collaborate effectively with visual communication
Communication within your team can be a challenge, especially when explaining complex issues or detailed problems using words alone. It's time-consuming and can lead to misunderstandings.
And let's be honest, who has the time and patience to type out long explanations, write lengthy emails, or hold another meeting? We all want a simpler, more efficient way to get our point across.
That's why we've built an easy, robust screenshot tool, image editor, and sharing solution into our product. ScreenPal makes it quick and easy for anyone to communicate ideas and share knowledge visually through videos and images.
With screenshots, you can easily capture any part of your screen, make quick markups to clarify your message, and then easily share with your colleagues, clients, or customers. 
How can screenshots help you in your everyday work?
Make communication easier and faster – no more misunderstandings due to a lack of clarity

Demonstrate processes quickly and accurately – no more confusion or frustration

Get work done quickly and efficiently – spend less time explaining the same thing over and over

Communicate clearly the first time with a single image instead of a lengthy email thread or meeting
How does the screenshot tool work?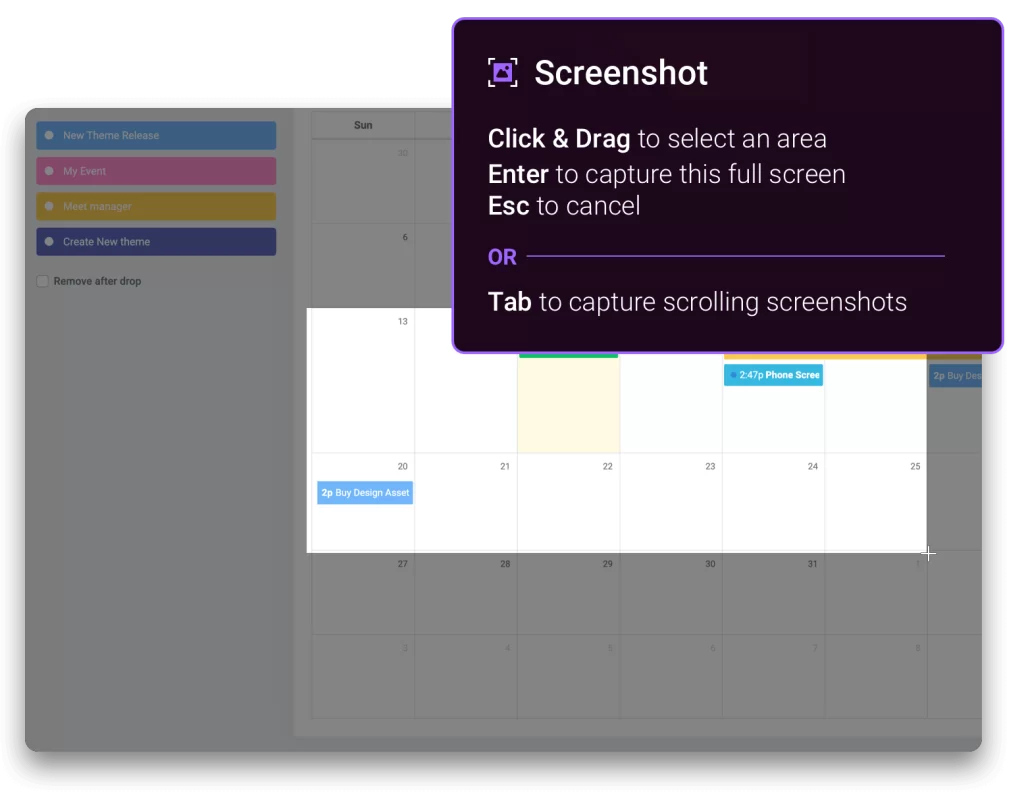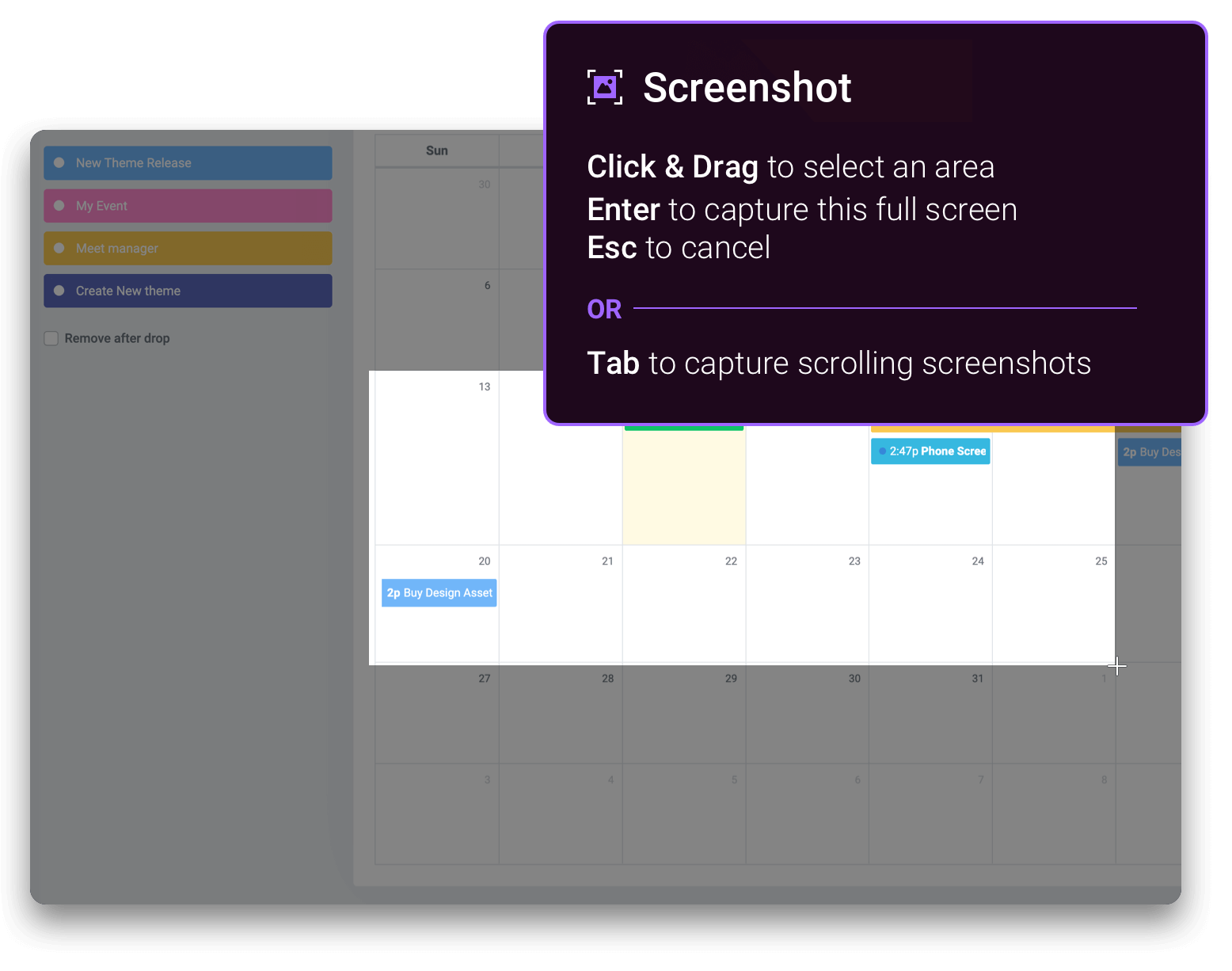 Capture your entire screen, single app, or active window with a single click, or click and drag to capture any area of your screen. Use the tab key to take a scrolling screenshot for full-page or wide document captures.
Your screenshot is automatically copied to your clipboard, so you can quickly paste it into any application to share – no more digging through files on your computer to find the correct screenshot! 
You can edit your screenshot's title inline before sharing or annotating to simplify organizing screenshots.
Open your screenshot in the image editor before sharing for easy annotation options. 
Your screenshot is also automatically saved in your desktop Project Manager so you can easily find and copy it at any time to share again.
Automatically import system screenshots into ScreenPal so you can quickly edit file titles, share, and save any screenshot you take with your Mac or Windows system screenshot tool.
See how easy it is to take a screenshot:
What's new in the image editor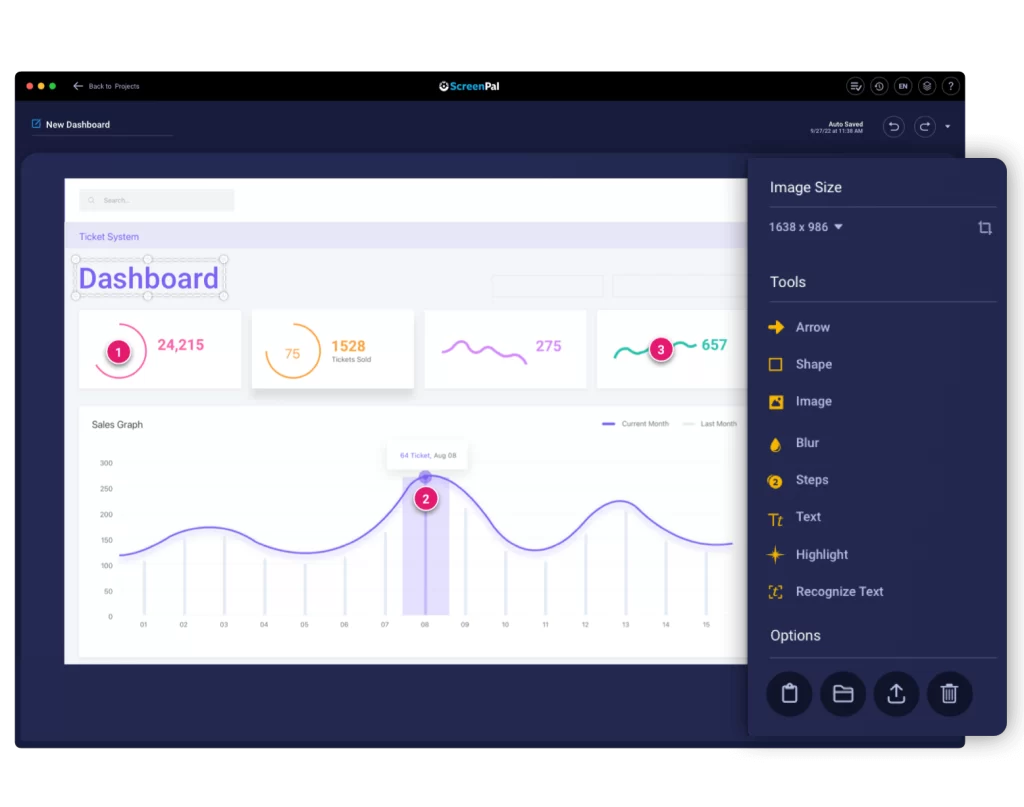 We've built out our image editor to be a robust tool to enable you to annotate screenshots with text, arrows, shapes, and freehand drawings for clear communication, as well as edit any image for any purpose.
Blur any part of your image to hide sensitive information or simplify your screenshot.
Document processes with the easy sequential step tool.
Overlay images to create rich guides or even collages.
Recognize text to extract any text from your image to copy, edit, style, or remove.
Create high-quality PNG images to share anywhere.
Copy images to your clipboard to paste anywhere, download them to your device, or upload them to ScreenPal to host securely and share with a link.
Why use ScreenPal as your go-to screenshot tool?
ScreenPal's screenshot tool is designed to make your life easier. It's quick, simple, and fully integrated with the rest of your ScreenPal tools to make capturing and sharing ideas and knowledge seamless. 
Our favorite benefits of ScreenPal for screenshots:
One-click sharing: Once you capture your screenshot, you can immediately paste it into the communication tools you're using to share with your team. No hunting for files, no uploading images. Capture, paste, done!
Clear communication: Having the image editor built right into your screenshot tool makes it so easy to add quick markups and edits to your screenshots. Focus attention, blur unwanted information, or even create rich visual guides and documents.
All in one place: Your screenshots are saved in your Project Manager, where you can easily find, edit, organize, and share them anytime. No more retaking screenshots because you can't find a file. 
Easy collaboration: Easily host, manage and share your screenshots and images with ScreenPal. Securely share images with your team, and build out a library of visual content to streamline communication and knowledge sharing.
With ScreenPal's screen capture tool and image editor, communicating visually has never been easier. Say goodbye to the hassle and frustration of endless meetings and lengthy email threads, and say hello to streamlined, efficient communication. Start taking screenshots today!