Sometimes when you sit down to make a video, you know exactly what you want to create. You might already have your script in hand ready to record, or you've gathered your content and are ready to put it together in the video editor.
But other times, you might just be starting with an idea, and need some structure to help you get going or to empower your team to collaborate more easily.
Enter Stories. We created Stories with all creators in mind. Stories is an intuitive drag-and-drop video planning and creation tool that lets you create in a simple interactive storyboard mode, a script mode, or toggle between both. Stories is fully integrated with our content creation suite and lets you build your video story in whatever way suits your creative style.
What is a storyboard, and why create with storyboard mode?
A storyboard is a visual outline for your video. With a video storyboard, you can plan out the order of scenes or sections of your video, get feedback from your team, gain buy-in from stakeholders, and make high-level changes before you progress to the next step of fine-tuning your video.
Storyboards are commonly used for video creation in every industry, from film to marketing to gaming to education. Traditionally, storyboards are static–you might draw your storyboard on paper or digitally. But with Stories, you get so much more. Your storyboard is interactive and helps get you to your final video faster.
What makes Stories unique is that it is an integrated storyboarding, scripting, and creation app. So  as you build your storyboard and add media to it, you are also creating your video, saving you time at every step of the process. You can start with an idea, create a quick storyboard, add media clips to your storyboard sections, and then drag and drop those sections to plan and create your video right in the app. Or you can start with a script and use Stories to structure your creation process visually. Wherever you're starting from, Stories will help you reach your video goals faster.
Integrated video planning and creation with Stories
ScreenPal helps you overcome budget constraints by providing some of the most affordable yet powerful video creation tools available. These tools are easy to use and we want to continue on that path with the addition of Stories. 
Our goal with Stories is to provide a simple, integrated, streamlined workflow for using storyboards and scripts in the video planning and creation process. As part of developing Stories, we contemplated how the different types of videos could be created with flexibility using your existing software tools and Stories. We also surveyed our user base to best deliver an experience that caters both to our left brain and right brain creators.
How does Stories work?
Stories is launched directly from your Project Manager. You can choose to start with a storyboard or a script, and then plan your video in the app. Build a video outline that streamlines gathering or creating all the assets you need (visual, audio, or text) to best communicate and create your story.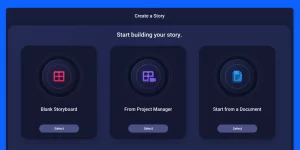 Stories is fully integrated with all of your ScreenPal creation tools. Record your screen, webcam, or both from within your storyboard, easily add narration over any scene, and open any section in the video editor to add text, overlays, or effects. Use the mobile app to create screen and webcam recordings and use mobile transfer to automatically send the mobile recordings to the desktop app for integration into your story.  
And Stories works with the other tools you already use. Create a script in Microsoft Word or Google Docs and then import your text into Stories. Record your voice on a phone and then import the file into Stories and we'll map your narration across your video sections. 
Add content from anywhere
Easily gather assets from the Project Manager to populate your Storyboard. Get inspiration from the Stock Media library to add video clips, images and music to sections. Use the screenshot tool and image editor to sketch out a scene or import sketches from your favorite drawing software.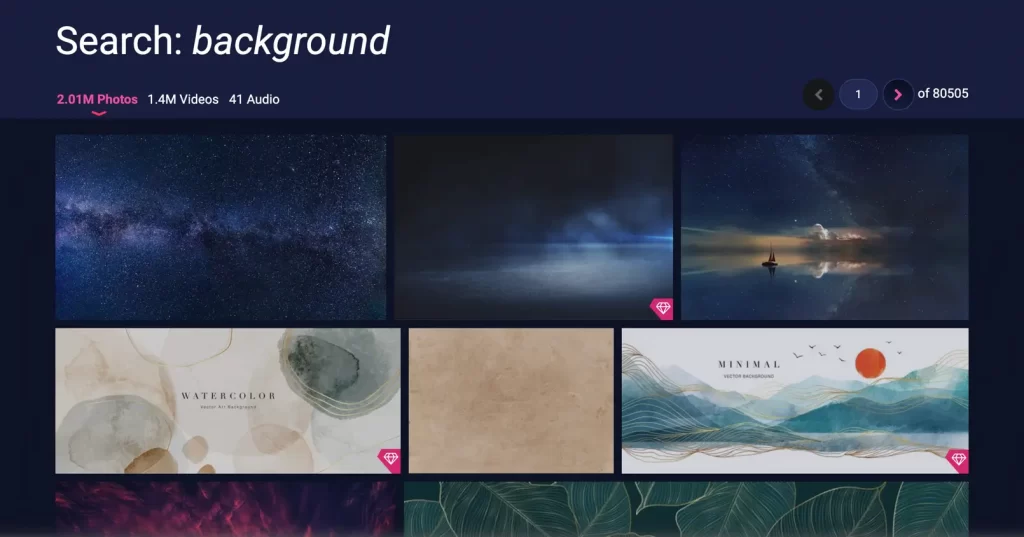 Need to re-arrange your Story? No problem, use the drag and drop interface to move sections around. Is your section too long? It's easy to split up by adding another section before or after.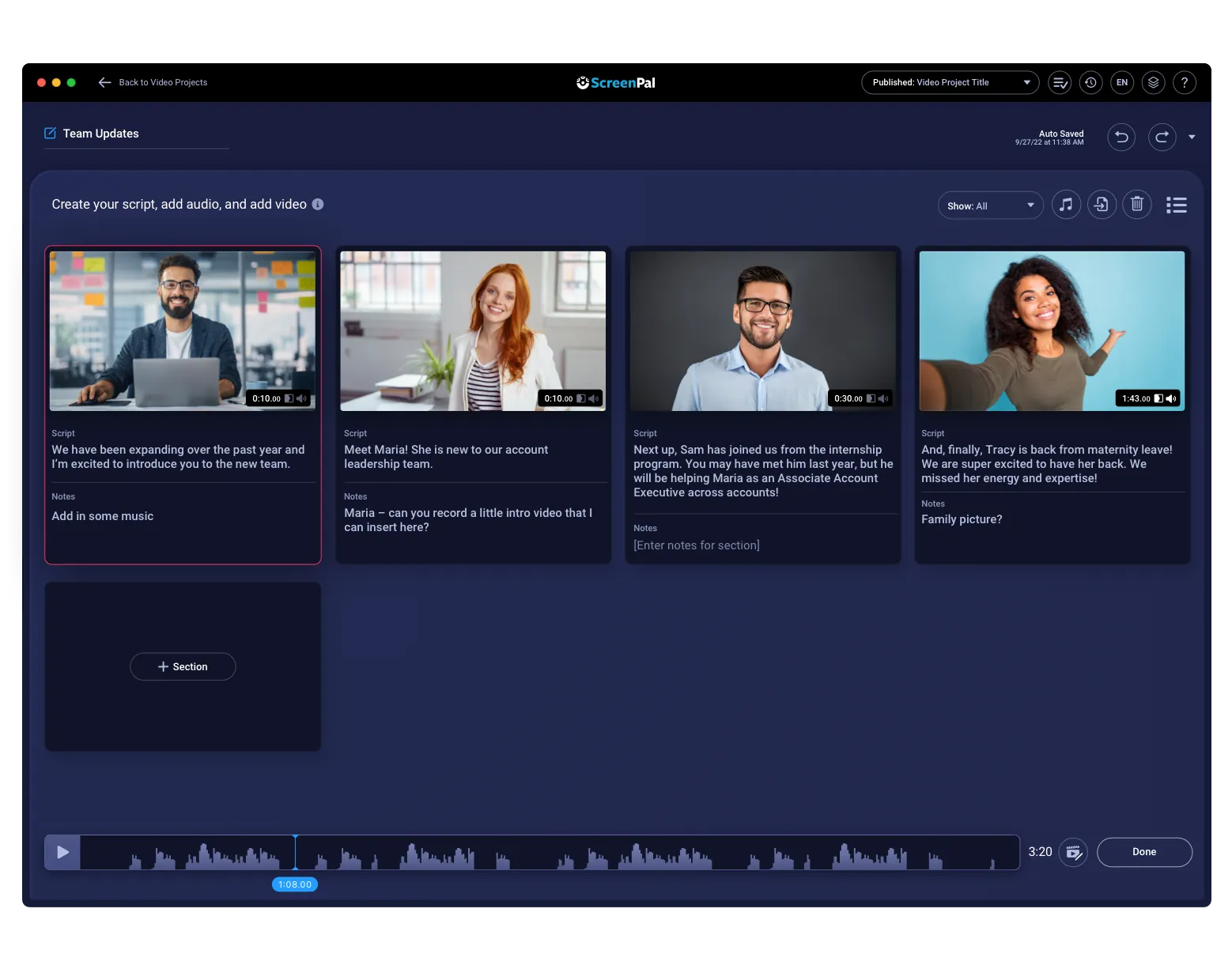 Easily turn slide presentations into videos
Stories makes it even easier to turn your slide presentation into a video. Import Google Slides presentations directly from Google Drive to Stories or save your Powerpoint and Keynote slides as pdf files and import them. Each slide becomes a section on your Storyboard when you import a presentation.
Flexible user interface: storyboards and scripts
Do you gravitate to analytical or creative thinking? Maybe you produce different types of videos that exercise different cognitive functions. No problem. Stories can be created from either the grid (visual storyboard) or list mode (text-focused approach). Whether you need a creative view for marketing videos or student assignments or need a more utilitarian view for creating process videos and tutorials, Stories has you covered. You can instantly switch between these views at any time.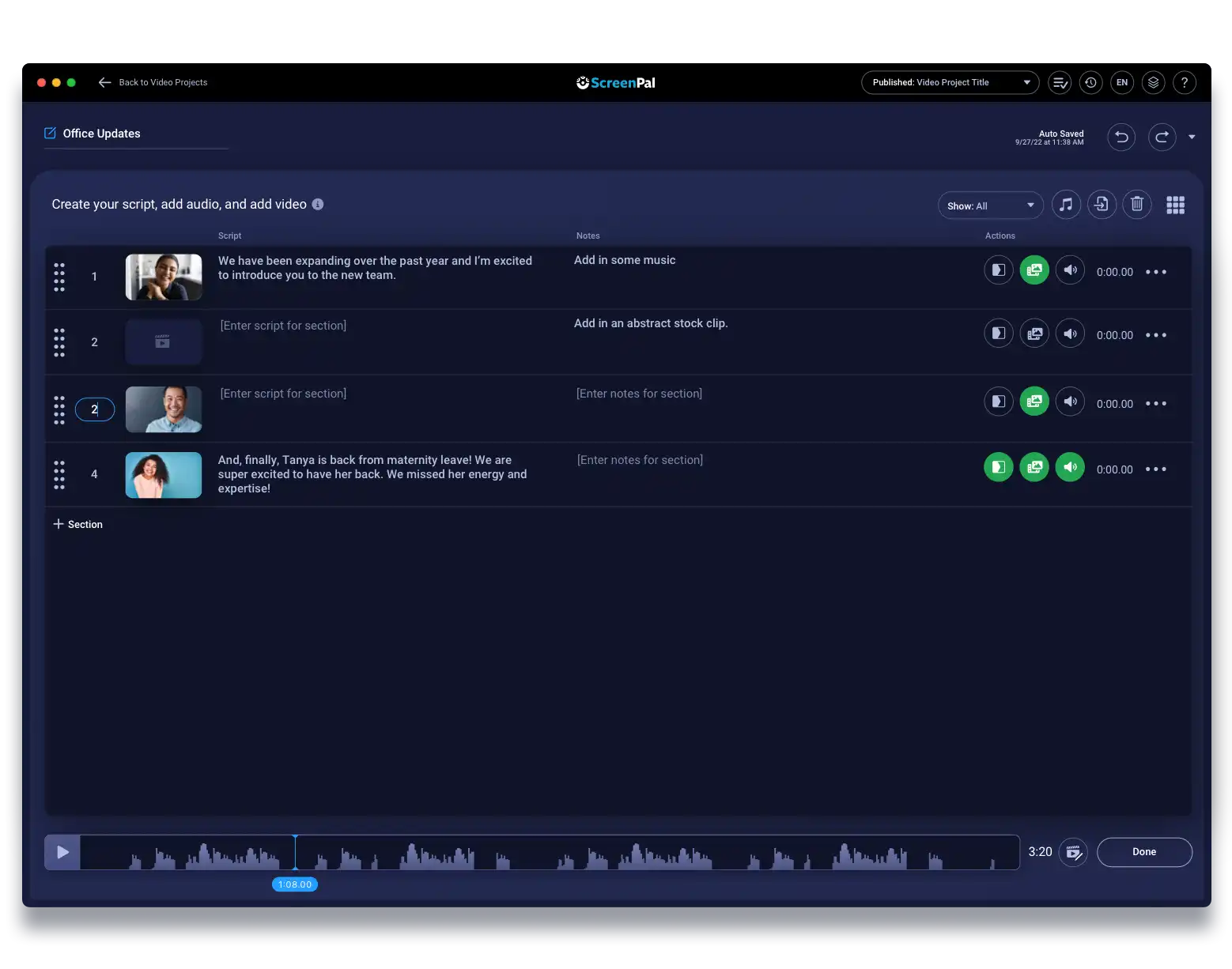 Collaboration for any size team
We designed Stories with collaboration in mind. Students, colleagues, freelancers, and agencies all benefit from the flexibility built into Stories. You can easily share your Stories project as a template with any collaborator. Assets can be curated, created or recorded anywhere by anyone and then pulled together asynchronously in your story.
At ScreenPal, we have been using Stories to create our own content as we've been building and refining the app for our users. For example, when we're creating a new video tutorial, we have one collaborator record narration while another works on the screen recording. We can then pull that narration file into Stories, and Stories automatically maps it to our storyboard. (Pro tip: leave a 2 second gap between your audio sections, and Stories will recognize that gap as the start of a new section!)
Seamless creation
From planning to video creation, you never have to leave the app. What's great is that your story is always available in the Project Manager so you can easily update your videos and create different versions from your saved storyboard. ScreenPal's built-in editing history allows you to return to any version of your storyboard so you'll never lose a great idea! This will enable you to experiment worry free and save tons of time when creating your video.
Stories is available with any paid subscription, including all of our discounted education plans, and comes with integrated access to the full-featured screen recorder and video editor.
With our all-new Solo Max and Team plans, creators can add interactive quizzes to their videos for engaging learning experiences, monitor progress with advanced analytics, and get unlimited use of 15 million stock videos and images to add to their Stories.
Why use storyboards for video planning and creation
Some videos are best created spontaneously, while others need a little planning. Certain types of videos can benefit from a more structured, planned approach to video creation. For example, if you are making an instructional video for your class or an explainer video for your product, a storyboard is a great way to save time and create better content. 
Today, video is a ubiquitous communication tool, with every age group consuming online video for work, education and play. As a result, viewers' expectations have increased with respect to quality, and the video needs to be engaging and effective in communicating a message or in teaching a subject. Storyboards help improve the quality and clarity of your video.
Storyboards are a common tool used for creating films, commercials, games, and TV shows. The modern version of storyboards was created by Walt Disney. It's a basic idea of planning out your story in an outline of scenes or sections that can include a script for narration, notes, audio elements and visual elements that roughly communicate your story design. The storyboard is used before investing in creating the actual finished video. You don't have to include all design elements to get your storyboard started. For example, you can begin with only adding text via a script and/or notes.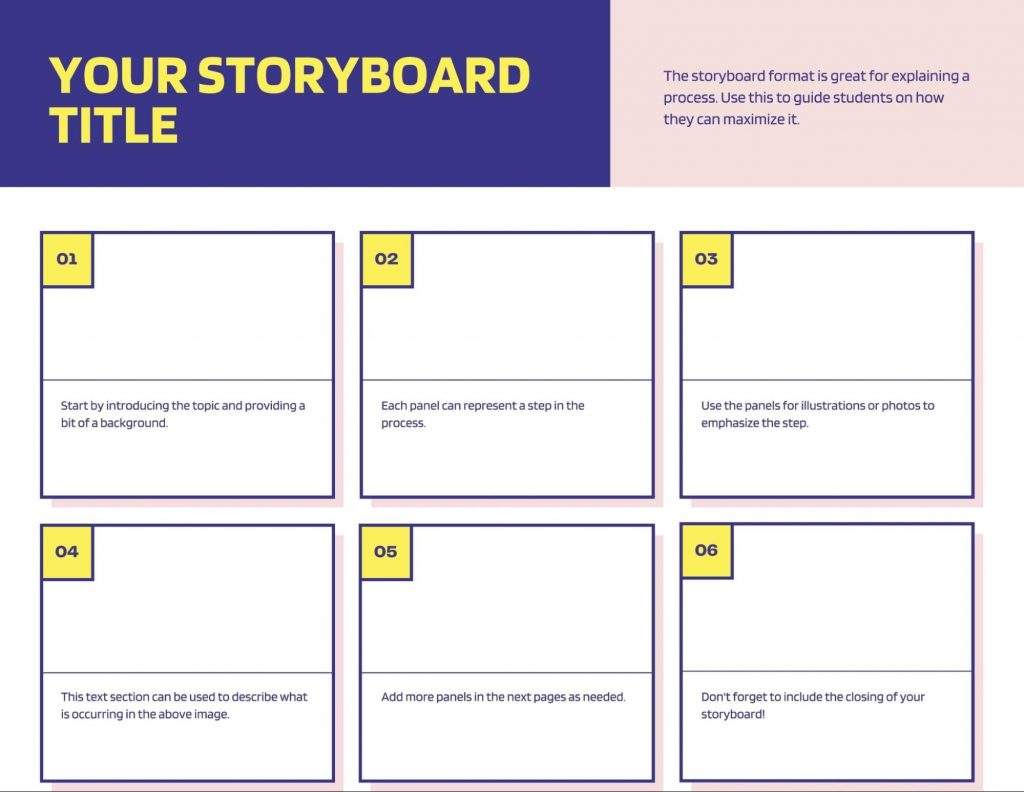 Storyboarding is a great tool to collaborate across your team. For example, you can use storyboards to get buy-in on your project, or share and collaborate with other team members responsible for producing parts of the video such as voice over, webcam recording or edits. It's also a great way to structure your thoughts so you create each section of video right the first time. Video storyboards can be used by anybody, whether they are a complete novice or an expert at creating videos. The basic idea is to save time and cost in the creation process.
Storyboards can be used in many ways depending on your goals and creative process. With Stories, a storyboard could be as simple as a collection of content (images, video, audio) organized to tell your story. A storyboard may also include a script and notes to provide guidance and feedback to team members. In addition, Stories makes it easy for creators to share video projects as storyboard templates to provide structure or inspiration for collaborators.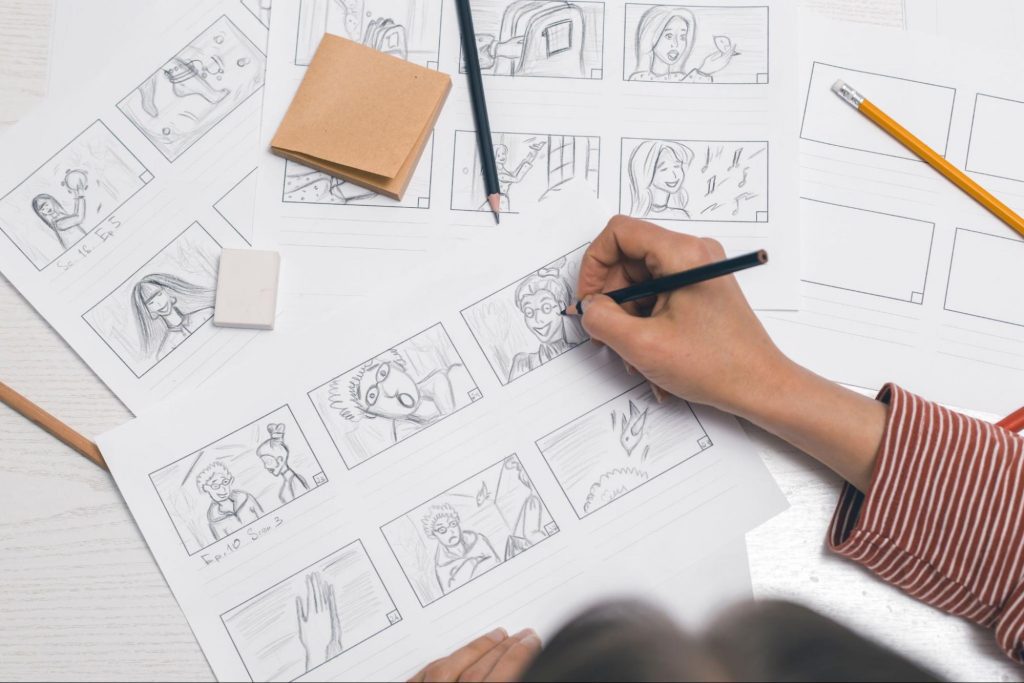 Creating a storyboard helps you to plan out your video across the team. It allows you to understand the objectives, approach, and tactics before heavily investing in video production. This makes it easier to create your quality video and drastically reduces the number of iterations. 
You can create a storyboard with just a sheet of paper and some drawing tools. However, this method has many drawbacks as it's not easy to share across the team (especially remote teams), it's not easy to edit and modify the sequence, and your storyboard can get lost in the shuffle of papers. A better solution is to have software that enables easy collaboration, editing, and long-term archiving to support updates. 
Storyboard videos for Education
Storyboards are a popular tool for teachers and students alike. Educators use storyboards to structure their video lessons. They are perfect for applying one of the standard instructional design models such as Bloom's Taxonomy. Students can develop creativity and storytelling skills through storyboarding. Students can collaborate in a group and better plan their assignments using text, visual and audio aids to unlock creative learning. 
Educators and students can benefit from using storyboards in their creation process for:
Flipped lessons:

mapping out a theory, presenting history in context, and explaining steps to create a software program can all benefit from structured videos starting with storyboards.

Student Video Project:

teachers can use storyboard templates to provide an outline and structure for students to collaborate and unlock their creativity without having to be expert video producers. A storyboard can improve how students present their ideas.

Interactive Learning:

using a storyboard to construct your video and then adding a quiz to that video requires good structure and messaging that resonates with your students. Investing in a little planning up front can help your students better absorb the content and improve their comprehension as measured through quiz scores. 
Storyboard videos for Business
Every business owner, manager, designer, and marketer knows the value of planning. Storyboards help businesses clarify their message, gather feedback, improve collaboration, and ultimately save time and money while creating higher-quality content. Across HR, marketing, engineering or operations, storyboards can be used by any employee to help create high-quality videos.
Product Overview:

explainer videos require a well-thought-out plan to present your product and engage your customers. A storyboard allows you to create an outline that considers your audience, the steps to present your product, and what value prop you intend to communicate.

Marketing Video:

a marketing video for your site or social media is closer to the process of producing a commercial. You have a target audience, need to convey a specific brand message, want to create excitement, and need a call to action. Stories provides a great structure to achieve these goals quicker and more efficiently.

UX Design:

User Experience Designers use video to present design concept walkthroughs that may include sketches of potential designs, interaction models, research data and more. A video storyboard is a great way to create your video and present how users would experience your product, especially for remote teams or where customers aren't co-located.

Training and Compliance Videos:

HR needs to produce standard onboarding, training and compliance videos that may also include interactive components to meet regulatory requirements. A storyboard can save tons of time for creating these types of videos and archiving storyboards as templates can improve velocity in an ever-changing training environment. 
Get started with Stories
Now that you know how storyboards can streamline your video planning and creation process, get started creating with Stories! Stories is available in all ScreenPal paid subscriptions, both Solo and Team plans. We offer affordable plans for individuals and businesses of all sizes, as well as significant education discounts for educators, districts and universities.